Love of South Korean Culture Leads to Recognition
---
Posted on July 31, 2020
Joy Washington
---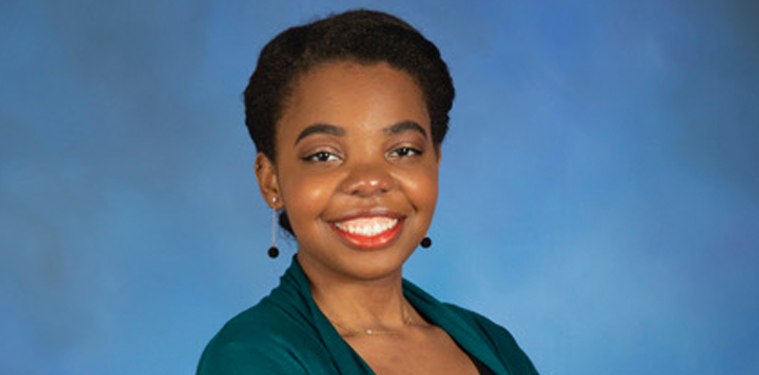 Jazzlyn Hatcher has been named the undergraduate recipient of the University of South Alabama's Global Student Leadership Award.
---
Senior Jazzlyn Hatcher, a major in international studies with a concentration in Asian studies and a minor in business has been named the undergraduate recipient of the University of South Alabama's Global Student Leadership Award.
Hatcher's connection to South Korean culture, along with her dedication to academic excellence and advancing diversity and inclusion as a student ambassador in the USA Office of International Student Affairs positioned her for this recognition.
"I was so surprised and thankful to receive this award," Hatcher said. "It's important to live and learn in different cultures and share your experiences. As a student ambassador, I serve as a mentor to students, helping them understand the importance of connecting with different cultures. We all share this beautiful earth together. And, I want the students to make the most of their study abroad experiences, especially those who want to travel to South Korea."
Hatcher, a native of Troy, Ala., was inspired to study abroad by the friendship she shared with one of her friends from South Korea while attending Charles Henderson High School. While at South, she participated in her first study abroad experience in Seoul, South Korea, as the recipient of the competitive Freeman ASIA Scholarship.
Jan-Dominique Santos, education abroad advisor at South, said Hatcher has a sense of adventure and drive that can't be stifled. And, she brought this excitement back from her travels.
"Jazzlyn believes that by speaking to students and educating them on cultures, traditions and values from other countries, it fosters diversity and inclusion," Santos noted. "As the president of the USA Korean Club on campus, she organized events with these goals in mind. During her time in South Korea, Jazzlyn received some attention by being a person of color in a homogenous society. She used these instances as opportunities for communication and connection, growth and education. She is a strong, intelligent, and creative young lady, which makes her worthy of being a Global Student Leader for Diversity and Inclusion."
Bri Ard, director of international education and study abroad at USA, first met Hatcher in 2016 when she was a freshman aspiring to study abroad in South Korea. From the very beginning, she conveyed a deep curiosity and passion for Korean culture.
"Jazzlyn decided to apply for the nationally competitive Freeman ASIA Scholarship, and I had the opportunity to work with her on a regular basis," said Ard. "She is always well prepared for our meetings with new ideas and well-crafted essays. I am honored to have Jazzlyn represent USA and the Office of International Education as the undergraduate recipient of Diversity Abroad's Global Student Leadership Award."
Following graduation in May, Hatcher plans to pursue a career as either a foreign services officer or a diplomat. Hatcher will receive her award this fall at the eighth annual Diversity Abroad Conference to be held in New Orleans, La.
---