USA Freshman Begins Classes in Russia
---
Posted on August 1, 2017
Alice Jackson
---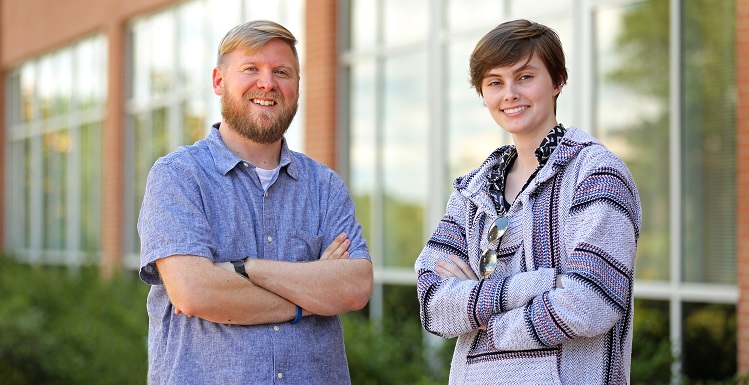 Anna Kate Greer, a freshman from Ocean Springs, Miss., studied abroad in Russia under the direction of Dr. Nick Gossett, assistant professor of modern and classical languages and literature.
---
Freshman Anna Kate Greer has the distinction of being the first student to begin her University of South Alabama studies in Russia.
The Russian language major was in Moscow for the summer term studying with Dr. Nick Gossett, assistant professor of modern and classical languages and literature, and other South students.
The Ocean Springs High School graduate plans to major in Russian, and she said starting her college studies there was both simple and practical.
"The opportunity was available, and I saw no reason not to take the class," she said.
The 18-year-old is already well traveled. She returned from a trip to China only five days before leaving for Russia and her first day of college.
"I honestly feel all this travel and studying in Russia will make me more prepared for my college classes in the fall," Greer said. "I'd recommend it for anyone studying a foreign language, as I've developed good (Russian) grammar habits and an ear to recognize words, regardless of someone's accent."
Gossett said Anna Kate and her mother, Marsha Greer, suggested the idea of beginning USA abroad after the pair visited the USA campus and Anna Kate was already enrolled for the fall semester.
"It made sense because she was anxious to begin her studies, and our high schools don't teach Russian," Gossett said. "Dr. Holly Hudson (director of international education) worked with us on the details since no incoming freshman had done this before at USA, and I think other students and parents will be highly interested in this as an option as well."
Greer also attended orientation at USA before heading abroad.
The South group attended morning classes in Russian Monday through Thursday at the National Research University Higher School of Economics in Moscow, which has a partnership agreement with South. Afterward, the students and Gossett toured Moscow as well as other areas of the country, often focusing on historical sites as well as the culture. They visited Stalin's bunker, newspaper offices, some embassies and the United Nations office.
"I studied my Russian and explored Moscow outside class," Greer said. "I found the city and the country are both extremely interesting."
Gossett, who has spent a total of about three years in Russia, said the students also met and talked with various business owners, young people their age and visited a Russian hospital.
"It was a very busy time, but the students made a lot of connections," Gossett said.
They also contributed to a blog, where students went into greater detail about their Russian experiences.
"Hopefully, Anna Kate will start a trend among students who want to begin college at USA while studying in other countries," Gossett said.
---