South Grad Receives Prestigious Urann Fellowship
---
Posted on August 3, 2022
Lance Crawford
---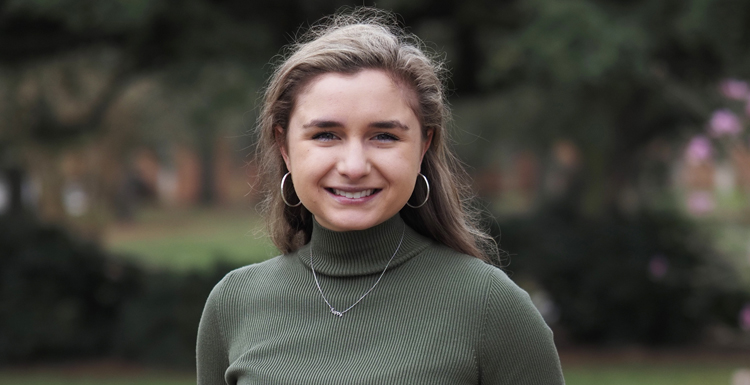 Hannah Giannini, a 2022 graduate of the University of South Alabama has been selected for one of six $20,000 Marcus L. Urann fellowships by the Phi Kappa Phi Honor Society. Giannini plans on becoming a physician-scientist.
---
Hannah Giannini of Orange Beach, Alabama, has been selected as a recipient of a Marcus L. Urann Fellowship by The Honor Society of Phi Kappa Phi—the nation's oldest and most selective collegiate honor society for all academic disciplines. Giannini is one of only six recipients nationwide to receive the prestigious $20,000 fellowship, named for the society's founder.
Giannini received a bachelor's degree in chemistry from the University of South Alabama in May. She is pursuing both a Doctor of Medicine and Ph.D. in biochemistry at Vanderbilt University School of Medicine and was moving into her apartment in Nashville when she received the news that she had been selected as a Urann Fellow.
"I got the email from Dr. Sally Steadman that I was selected," she said. "I had to reread the email several times — I was in shock! I was humbled to be representing our university on a national level and incredibly grateful for the wonderful experiences and mentors I had at USA that led me be in this position."
Academic achievement is nothing new for Giannini. As a sophomore she was named a Goldwater Scholar, considered one of the most prestigious undergraduate science, technology, engineering and mathematics scholarships in the nation. She credits the support she received while at the University for her success.
"I was initially hesitant toward coming because my big brother was a student here at USA," she said. "However, between USA's research programs, the Honors College and the USA College of Medicine Early Acceptance Program, I chose South because I felt like I was wanted here and that there was a supportive environment. This turned out to be the case, and I could not be happier with my decision."
Giannini plans on becoming a physician-scientist. Her research interest is in cancer biology while her clinical interest is oncology.
"I hope receiving both M.D. and Ph.D. training will give me a unique perspective on medicine so I can help bridge patient needs and academic medicine to improve health care," she said.
Founded in 1897, Phi Kappa Phi is the nation's oldest and most selective collegiate honor society for all academic disciplines. Membership is by invitation only to the top 10 percent of seniors and graduate students and 7.5 percent of juniors. Faculty, professional staff and alumni who have achieved scholarly distinction also qualify. The society's mission is "To recognize and advance excellence in all fields of higher education and society and engage the community of scholars in service to others."
---