#MyFirstJob: Jasmein Davis
---
Posted on August 13, 2019
Alice Jackson
---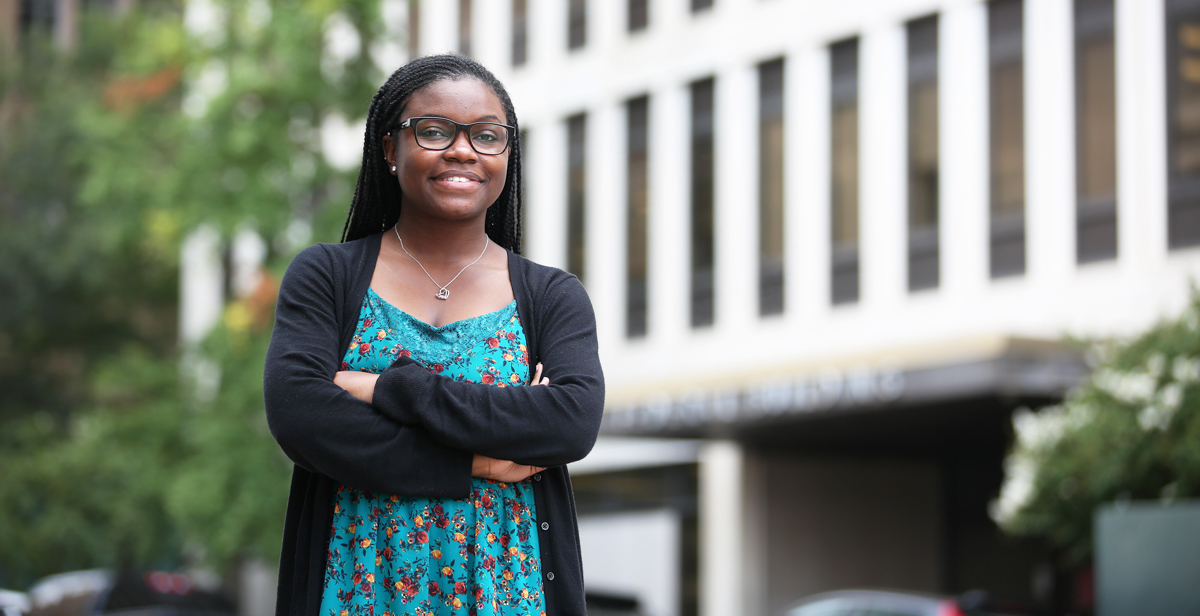 Jasmein Davis works in the old federal building in downtown Mobile, where she is an accountant for the U.S. Army Corps of Engineers Mobile District.
---
#MyFirstJob is a series focused on University of South Alabama Class of 2019 graduates who are beginning their careers.
New University of South Alabama graduate Jasmein Davis is one of those rare individuals who loves words, but settled on numbers for her career.
Immediately after graduating from South in May with a bachelor's degree in accounting, she began working in accounting for the U.S. Army Corps of Engineers Mobile District, located at the old federal building in downtown Mobile.
"My favorite subject in high school was English, but I took accounting in my sophomore year. I was also able to shadow a forensic accountant at the FBI, and I discovered I loved accounting too," she said.
The Birmingham native, a graduate of Ramsay High School, came to South because of the friendly presentation of a recruiter during her senior year. "She was really welcoming, and then I found out about how the Mitchell College of Business was highly accredited and how nice the professors were."
She credits internships during her junior year and going into her senior year as the reason she landed a federal job so quickly after graduation.
"My first internship was with the state of Alabama in the department of revenue in Birmingham. I worked with a mentor to gather information, then write reports. My second internship was with the Corps of Engineers," she explained. "Now, I feel at home here because my co-workers make me feel at home, and they have been patient with me. It's a flexible job."
While at South, Davis participated in the Women of Excellence, Abeneefoo Kuo Honor Society, the Accounting Club and Students Today Alumni Tomorrow. She also pledged and became a member of Alpha Kappa Alpha Sorority, Inc.
During her first year on campus, she lived in Epsilon 2, then the remaining three years she lived in The Grove. Now she lives by herself, and she admits that has been an adjustment.
"Going to work has really been a big change because I'd been so involved in school, but I've grown to enjoy it now," Davis said. "The best thing about working full-time is the freedom to enjoy the things I enjoy doing and not have to study all the time." She enjoys trips to visit her family in Birmingham and going to the movies.
And, she admits she has hopes of getting another degree that will help her in future work with the federal government.
"I hope to eventually get into forensic accounting and work with the FBI at some point in the future," Davis said. "But, right now, I'm just going to enjoy where I am."
---