Jaguars Pounce On Move-In Days
---
Posted on August 13, 2021
Thomas Becnel
---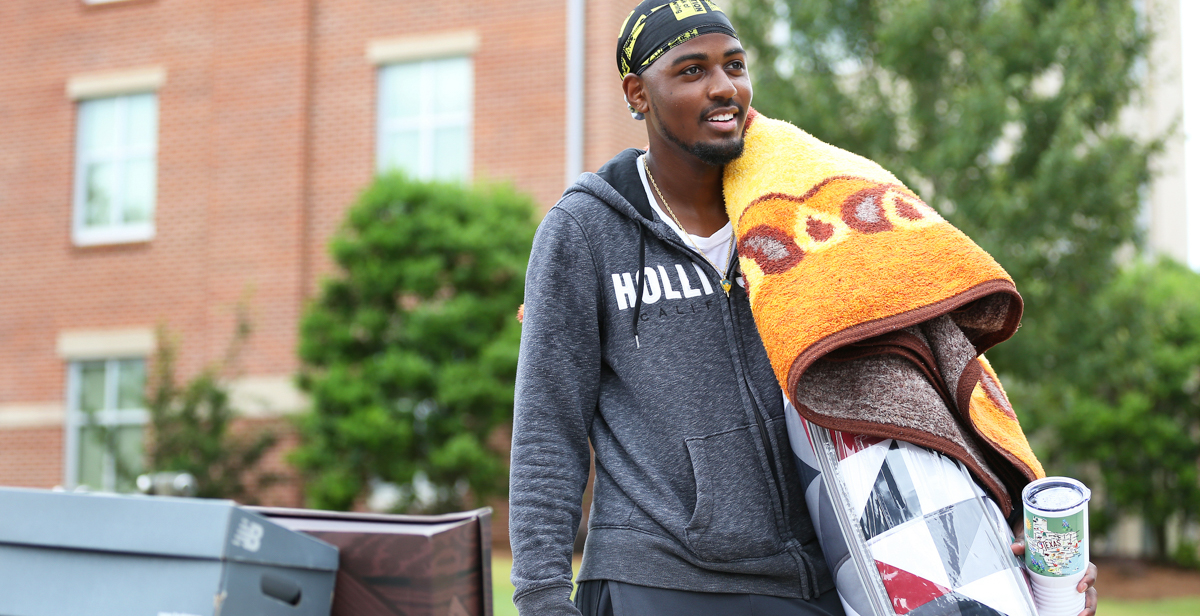 Jeffery Baity of Selma, Alabama, moves his belongings, including a blanket given to him by his aunt, into Camellia Hall at the University of South Alabama. Students are arriving on campus for fall semester before classes begin Tuesday.
---
Jeffery Baity had his hands full of bedding, with a bright blanket draped over one shoulder, when a student worker offered him a rolling bin during Move-In Days at the University of South Alabama.
"I switched tactics," announced the South freshman from Selma, Alabama. "I stopped holding and started pushing."
Baity's gold and orange blanket won't match his bed linens, but some things are more important than color-coordinated fabrics. Sometimes a bedspread covers family history and memories from home.
"It's from Afghanistan," explained Jeffery's mom, Verlisa Baity. "His aunt was in the Army and she sent it to him."
This week, more than 2,400 students are carrying clothes and computers, along with hopes and dreams, into residence halls at the University of South Alabama.
This year, Move-In Day became Move-In Days that began Thursday and will continue through Sunday. Week of Welcome and Beyond will extend through Aug. 29.
"There are programs every morning, noon and night. We want to make sure students know that there are plenty of things to do on campus," said Dr. Krista Harrell, assistant vice president of Student Affairs. "We're also trying to do an additional focus on our rising sophomores. Because of COVID, they didn't have a traditional first-year experience. It was virtual, so we wanted to reach out to them this year."
Recent coronavirus restrictions include mask requirements and social distancing for indoor instructional settings. University policies will be reviewed each week this fall. For now, the student calendar is full of everything from scavenger hunts and trivia nights to outdoor movies and block parties.
"We have our USA First Night events on Saturday in the Mitchell Center," Harrell said. "The Convocation is scheduled for Hancock Whitney Stadium on Monday morning. We'll start off with a pep rally at 9:30 and do a welcome to the students at 10." (UPDATE: Due to inclement weather, outdoor events Monday at Hancock Whitney have been canceled; Convocation will be virtual.)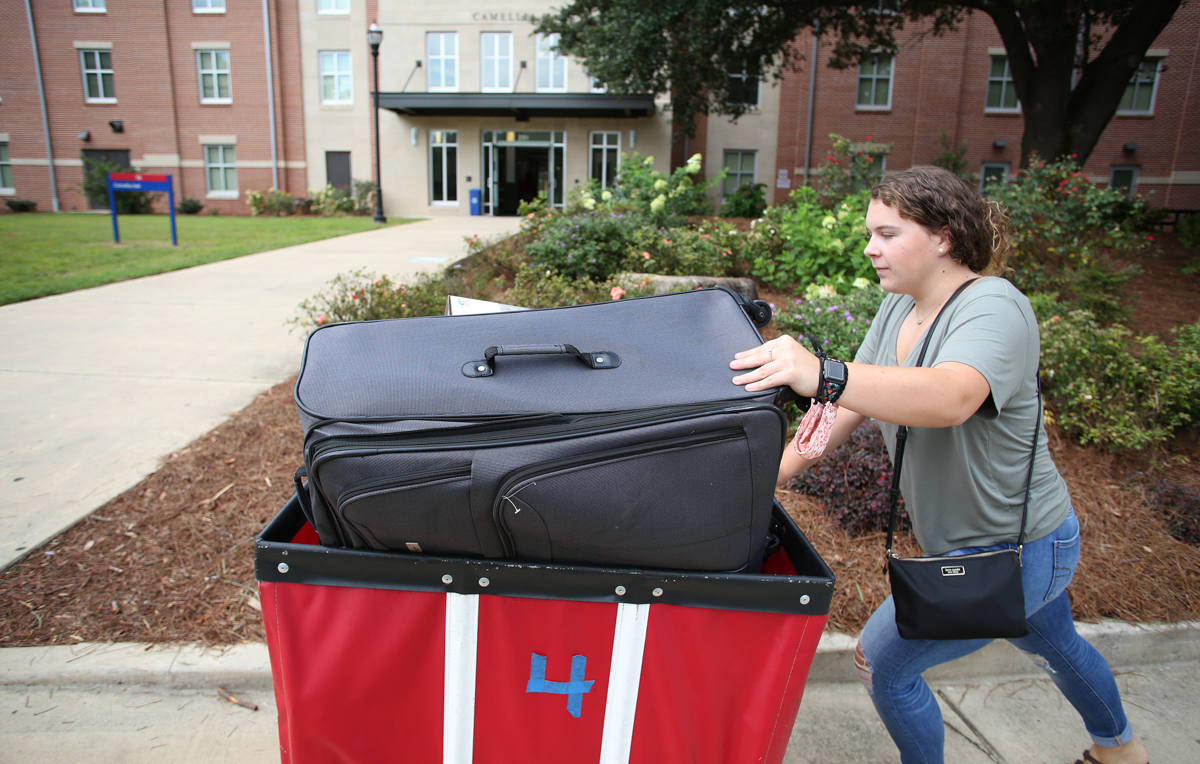 Patricia Brannan, a freshman from Hawaii, wheels her luggage to her new home on South's campus.
Rooms and Roommates
Move-In Day, an August tradition at South, offers staff and volunteer help for students going into residence halls. The weather, however, is often a mix of southern heat and scattered thunderstorms.
This year is no different.
On Thursday, in between showers, students and families carted in piles of pillows, bags of clothes, and boxes of school supplies.
Patricia Brannan met Rebecca McIntosh, her Camellia Hall roommate, in the room they will share. Both of them had received the other's e-mail address from the University, but neither one had sent a message.
"I was too nervous," McIntosh said, laughing.
"I was too nervous, too," Brannan said. "I didn't want to sound like a stalker."
They discussed shower curtains and bathroom mats while unloading clothes, arranging desks and making beds.
Brannan carried all of her belongings in a single bin. She has family in Alabama, but moved to Mobile from Hawaii, where her father is stationed in the military. She spent several minutes arranging a duvet and slipping a foam pad into a fitted sheet.
"My cousin told me that the No. 1 thing you need is a mattress topper," she said. "This looks better than it did in the bag."
McIntosh, who's from Fairhope, Alabama, used hanging racks to organize her shoes, pants and shirts. Her share of room decor included a tapestry of two hands forming a heart, along with string art that spelled out "Hello."
The Parent Trap
In residence halls across South, parents tried to be helpful without doing too much. There's a fine line somewhere between bossy and concerned, careful and smothering.
Amelia Filer and her parents spent two days driving to Mobile from Manitowoc, Wisconsin. They have family nearby in Spanish Fort, Alabama, which makes them feel a little better about their daughter moving across the country.
Amelia's mother, Gwen, tried not to cry.
"I did a little tiny bit the first day," she said, laughing. "I'm sure the waterworks will come later."
Amelia's back-to-school supplies included a Keurig coffeemaker and a "Sunshine State of Mind" coffee mug. She's a yoga enthusiast who looks forward to classes at the Student Recreation Center. She chose the twin bed on the left side of her room.
"This one's a little higher," she explained, "so I can put more stuff under it."
Joseph Davis, a father from Huntsville, Alabama, followed his son Wesley to Mobile in a U-Haul moving van. Lots of room for lots of stuff.
"He's got futons, luggage, you name it," Davis said. "The kid planned ahead — it was his idea. With the rain, he said, 'We're getting a van.'"
Tyrell Williams, a freshman from Northport, Alabama, had his mother and grandmother leading a family move-in crew.
He wore a backwards baseball cap with "Big Bruh" embroidered on the side. His little brother had a matching cap that said "L'il Bruh."
The new Jaguar slept through most of the drive to Mobile.
"I had all four of my wisdom teeth removed last Friday," he said. "I'm just getting back to eating."
His grandmother said she'd been praying for her grandson. His mother said she wasn't prepared for her boy to start college.
"It came so quick," said Yvette Williams. "He was just in my arms, and now I'm about to leave him."
Baity, the freshman from Selma, carried his Afghan blanket. His other prized possession is a PlayStation 4 console, which allows him to relax with videogames such as "Grand Theft Auto" and "Rainbow Six Siege."
During the move, he allowed his mom to take the lead in unpacking and organizing his things at Camellia Hall. Baity's sister joked that he was just the supervisor. He said that sounded pretty good to him.
He planned ahead with Jeremy Robinson, the freshman sharing his room, who happens to be his best friend from Selma High School.
"He hadn't decided on a college, so I said, 'Come to South, you can be my roommate,'" Baity said. "He applied the same day."
---