New School Year Begins with Service for Jags
---
Posted on August 14, 2017
Joy Washington
---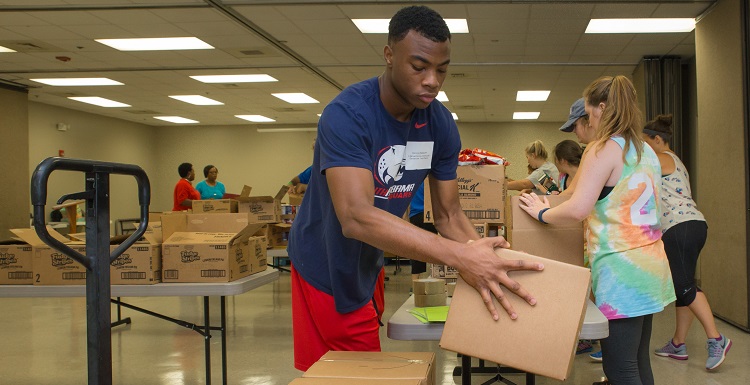 South volunteers participated in the 2017 Jaguars Care: WOW Day of Service on Monday at 11 sites on campus and across the community, including at A Servant's Love, top photo, and at Langan Municipal Park and Three Mile Creek, bottom photo.
---
The University of South Alabama places a high value on giving back to the community. It's included in the mission. The freshman Class of 2021 started college on Monday, Aug. 14, serving the community.
The 2017 Jaguars Care: Week of Welcome Day of Service is now the University's back-to-school annual day of service. It connects South Alabama volunteers, which also includes upperclassmen, student organization members, faculty and staff, to community service by working with non-profit partners. Nearly 100 volunteers from South gathered on campus this morning to be transported to more than 11 volunteer sites in Mobile and on USA's campus.
"Jaguars Care is a very important event because it connects our students, faculty, and staff with each other and with the needs of the community," said. Dr. Angela Coleman, associate vice president for Institutional Effectiveness at South Alabama. "Each South volunteer who participated made a valuable contribution to his or her desired project. Our hope is that the students feel more connected to the University, the community, and the organization's specific needs."
About 20 South volunteers who participated in the apple snail cleanup with the Mobile BayKeeper organization at Langan Municipal Park got the chance to really get close to nature, and help remove a species that could devastate local wetlands.
"This is wonderful to have students come out and help with this important effort to remove the apple snails and their eggs from our ecosystem here at Three Mile Creek in Langan Park," said Jamie Bullock, education and outreach coordinator for Mobile BayKeeper. "They are a serious threat to the Mobile Delta. The volunteers from South Alabama were actually in the water in kayaks for this service project. They were connecting to nature and helping collect and dispose of the apple snails, who are not native to our area. We have built a great relationship with South, and we appreciate the support."
Freshman Josh Holmes, a graduate of Cottage Hill Christian Academy in Mobile, volunteered to clean up at Langan Park. He was able to collect several of the apple snails, which can be a challenge to find.
"I am happy to be serving my community in this way," he said. "I love protecting my environment and that's why I selected to volunteer with this service project. I had to be patient, but I was able to collect several of the apple snails and their eggs."
At another volunteer site, more than 15 students gathered to work at A Servant's Love Community Garden and Food Pantry. The non-profit organization provides food for senior citizens 60 and older. The students helped sort and pack the non-perishable items and snacks to distribute to the clients.
"We are happy to be connecting with this group of students," said Lisa Davis, co-founder with her husband, Rod, of the organization. "We have several who have agreed to come back and continue to volunteer with us. We also provide our clients with meat donated by our partner, Super Target, vegetables from the community garden, and we make sure they have fresh fruit as well."
Freshman Kaylie Williamson, a native of Montgomery and a graduate of Eastwood Christian School, was excited to pack food for the elderly.
"This was great. I have done similar volunteer work at home," she noted. "I love giving back and serving the community."
Some of the other volunteers cleaned up the 11-mile USA Bike Trail and helped with processing at the University's Recycling Center.
---