Jaguars Sing, Shuffle to Kick Off the Academic Year
---
Posted on August 15, 2022
Thomas Becnel
---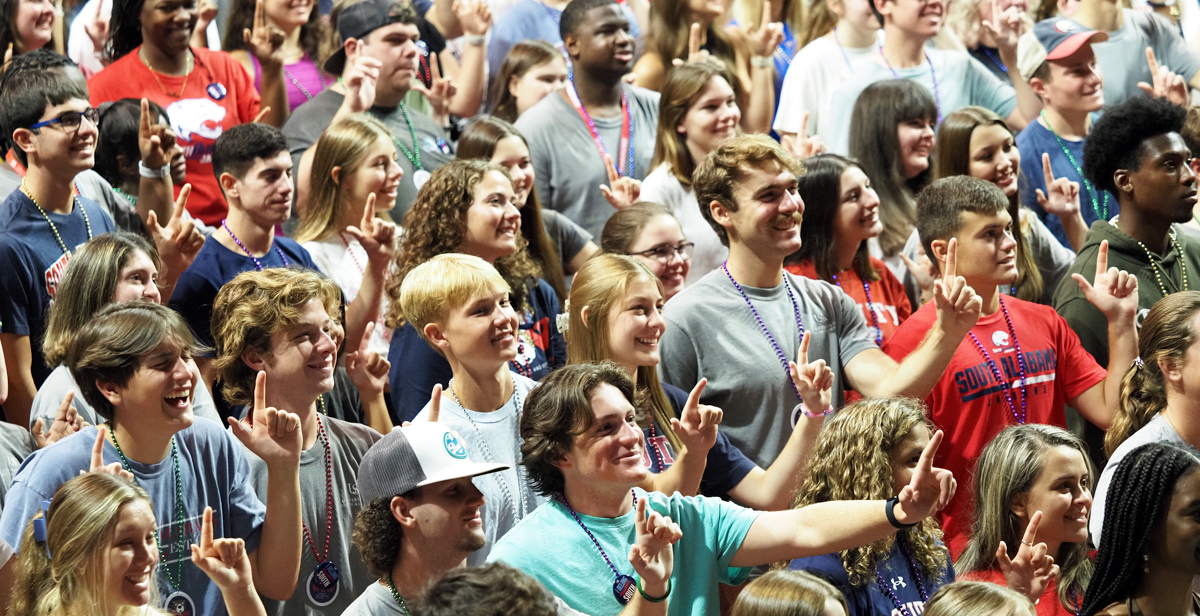 First-year students get a primer on school spirit at Convocation on Monday at the University of South Alabama. Among the lessons: How to properly show your J. Convocation welcomes freshmen and new faculty.
---
First-year students at the University of South Alabama marched through the Mitchell Center on Monday morning for a pep rally, class photo and Convocation that turned into a line-dancing party.
The red, white and blue scene featured the Jaguar Marching Band, sports teams and cheerleaders. New Jaguars learned the school fight song, while many raised their left hands to throw their first J.
President Jo Bonner offered three pieces of advice for the Class of 2026.
"The first one, and it sounds obvious, is you have to go to class," Bonner said. "If you don't go to class, you're going to fall behind. The second thing is you've got to ask for help if you need it. It's not a sign of weakness. It's something we all go through. The last thing is something you're going to hear a lot, and that is you've got to get involved. There's so much to do here, but it takes a little gumption on your part to get started."
After several speakers and "Fight Song 101," led by Dr. Will Peterson, director of bands, the first-year students got a live music surprise that started with an advertisement for JagTran buses.
New shuttle buses on campus sport musical themes such as "Busta Move," "Let the Good Times Roll" and "Cupid Shuttle."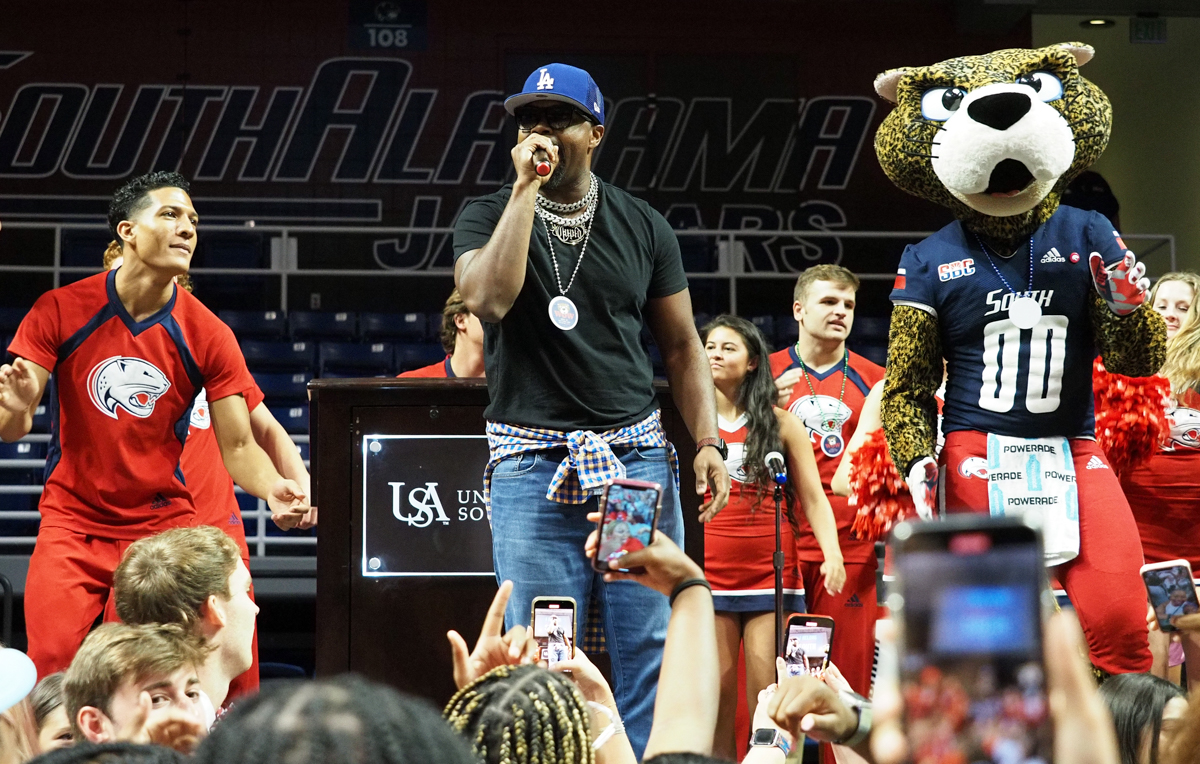 Bryson Bernard, who goes by the name of Cupid, closes out Convocation with his hit song and dance "Cupid Shuffle."
That last pun caught the eye of Bryson Bernard, the Louisiana songwriter who goes by the name of Cupid, and is most famous for the "Cupid Shuffle," a 2007 hit that is now a wedding and prom standard. Fast forward to Monday, when Cupid closed Convocation by leading the crowd in the "Cupid Shuffle" and a new song, "Flex," with cheerleaders and Prowlers dancing behind him and freshmen gathered in front of the stage.
Students walked out of the Mitchell Center with a bounce to their step.
"I love that Cupid came," said Niemah Purdy, a first-year student from Gulfport, Mississippi. "Now I'm hyped."
For Convocation, lots of students wore red, white and blue T-shirts that said "Go Jags," "SOUTHBOUND" and "Destination South." Others wore souvenir shirts promoting WOW – Week of Welcome events on campus.
Activities include a movie night, Get on Board Day, First Year Council open house, a step show, sorority and fraternity recruitment and a large block party. Convocation, part of Week of Welcome, welcomes new students and faculty with the goal of encouraging involvement to support academic success.
Michael Scott Pierce, a senior ambassador in the Southerners program, wore their traditional red sport coat to Convocation. He handed out buttons that said "I Belong Because Together We Are South Strong."
Like others, he feels a post-pandemic change in mood.
"Everyone's excited for the new year," Pierce said. "There's a lot of good vibes with the students. It feels like a new school. Rebirth. Like we're pioneers."
Michael Reynolds, a freshman from Lucedale, Mississippi, is a mechanical engineering student. On Monday, he wore a red Honors College T-shirt that said "The Light That Comes When You Connect The Dots." One of the perks of the college is moving to campus a week early and attending an orientation and retreat.
Reynolds doesn't have a car, so he's had to rely on the hospitality of South Alabama.
"A lot of people here are really nice," he said. "I've been able to get rides everywhere I need to go."
Alysia Martin, a first-year student from Mobile, plans to study nursing. She's living in Camellia Hall. Her roommate is from Pennsylvania.
Family members helped her move on campus last weekend. They didn't have any advice, but they did offer good wishes.
"Be great," Martin said. "Make us proud of you."
During Convocation, Student Government Association President Camille Bonura welcomed first-year students to the South family.
"We're all on this journey together," she said. "In this room will be your very best friends. On this campus is where your very best stories will be made. This week marks a new chapter in your life, but this one is different. It's a chapter with a blank page. Now you'll be the author. You have the opportunity to choose the direction of your story. You get to navigate your journey at South."
---