Center for Real Estate and Economic Development Expands Role
---
Posted on August 16, 2016
Alice Jackson
---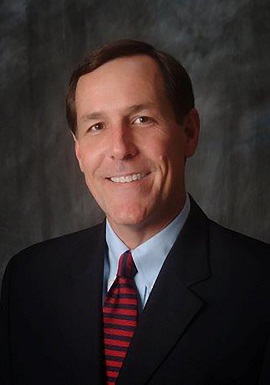 Dr. Reid Cummings, assistant professor of finance and real estate, is director of USA's Center for Real Estate and Economic Development.
---
The Gulf Coast Real Estate and Economic Education Conference in Mobile on Thursday, Aug. 18, will highlight a new direction and new leadership for the University of South Alabama's Center for Real Estate and Economic Development.
The one-day conference at the Battle House Renaissance will draw on a broad spectrum of industry leaders, policy makers, economic development advocates and educators presenting to participants from residential and commercial real estate, real estate appraisal, title insurance, commercial banking, mortgage lending, accounting and the law.
Attendees may earn up to six hours of continuing education credit by attending both the morning and afternoon sessions.
Presenters include Robert Moline, president/CEO, brokerage, Home Services of America Inc., a Berkshire Hathaway affiliate; Warren Laird, senior counsel and chief underwriter, Stewart Title Insurance Company; Brian Bailey, senior financial policy analyst, Federal Reserve Bank of Atlanta; Wiley Blankenship, president/CEO, Coastal Alabama Partnership; Dr. Alvin Williams, professor of marketing, USA; Tom Oldweiler and Duane Graham, partners, Armbrecht Jackson LLP; and Carolyn Norman, Realtor, Real Living Norman Realty.
The keynote speaker during lunch will be Walt Coleman, a fourth-generation dairy farmer during the week, and for the past 27 years an NFL referee on weekends. Offering an insight to his unique sense of humor, Walt says he has "been applauded by hundreds, yet booed by millions."
The conference is directed by Dr. Reid Cummings, assistant professor of finance and real estate, and director of the Center for Real Estate and Economic Development in the Mitchell College of Business. In addition to offering high-quality undergraduate real estate course content and instruction, and promoting the academic study of real estate as an undergraduate major concentration, the Center is increasing its focus on conducting public and private entity-sponsored real estate, finance, and economic development research and providing forums for professional education.
"The University of South Alabama is uniquely positioned to provide not only thought-leadership, but institutional support and guidance to foster growth and economic development across a broad spectrum of industries and professions throughout the Gulf South and Coastal regions. The Mitchell College of Business plays a key role in this process, and the Center works integrally with Dean Bob Wood's office in support of such efforts," Cummings said. "Since its inception, the Center has been a leader in the provision of expert real estate and economic data analysis, and will continue to do so. Additionally, the Center will increasingly focus on producing a wider range of services, including business, economic impact, demographic, and cost-benefit analytics for those in private, public and government sectors. Already we have forged some crucially important public and private partnerships, and we look forward to developing new ones in the future."
Before joining USA's faculty full-time, Cummings was a visiting instructor of finance and real estate in the Mitchell College of Business. He earned his DBA, MBA, and bachelor's degrees from Kennesaw State University, University of Mobile and the University of North Carolina at Chapel Hill, respectively.
Cummings has more than 30 years of experience in real estate development, leasing, management, brokerage, financial consulting, mortgage lending and construction services, having completed multiple large-scale commercial and residential projects around the nation. He is a member of the Alabama Real Estate Commission and former chair of the Mobile Board of Zoning Adjustment. Earlier in the summer, Gov. Robert Bentley appointed him to the advisory board of the Alabama Center for Insurance Information and Research. Recently, Mobile Mayor Sandy Stimpson appointed Cummings to the Board of Commissioners of the Mobile Housing Authority.
For more information about the Gulf Coast Real Estate and Economic Education Conference, call Rachel Backlin at (251) 460-6735, or email rbacklin@southalabama.edu.
---