A Multi-Talented Scholar
---
Posted on August 19, 2020
Lance Crawford
---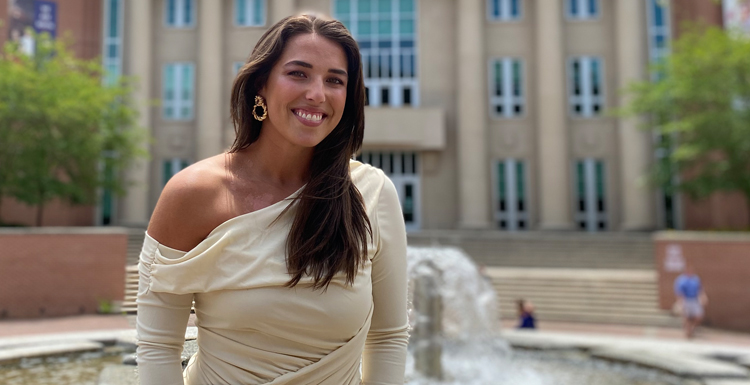 2020 USA civil engineering graduate, Evan Mazur is awarded one of six Hohenstein Fellowship by the Phi Kappa Phi Honor Society.
---
Evan Mazur is the academic version of a Swiss Army knife. She can do it all. Analytical thinking? She graduated in May with her Bachelor of Science in civil engineering.
How about creative thinking? She minored in music, singing opera in multiple languages.
"Evan has such a tremendously natural talent, and she is incredibly gifted both academically and musically," said Dr. Thomas Rowell, professor of music. "Her voice really grew in her time at South, and I am so very proud of her for all her accomplishments. She has an incredible future ahead."
According to Mazur, as different as music and engineering may appear, they do share a commonality.
"Music allows me the opportunity to be dramatic and get creative in how I approach something as big picture as a performance or as small as mastering a difficult note or phrase of music," she said. "Much the same, civil engineering research and design projects require small-scale attention to create a safe, innovative big project deliverable."
Mazur has delivered time and time again in the classroom and the lab. She was South's nominee for the Phi Kappa Phi Honor Society national fellowship, and in June was selected as one of six Hohenstein Fellows, which go to the top-ranking nominee in each division, receiving an $8500 award for graduate study.
"Once the initial shock wore off, I was overcome with gratitude for this university, the USA College of Engineering, every single professor and mentor who has helped mold me into the woman, researcher, and engineer I am today," she said.
Phi Kappa Phi is the nation's oldest, largest, and most selective honor society for all academic disciplines. Mazur is the fourth USA nominee in five years to win the fellowship.
It is just one of numerous academic honors Mazur collected during her time on campus.
"As a researcher, Evan is the hardest working student I've ever had. She is driven, incredibly smart and talented," said Stephanie Smallegan, assistant professor of civil and coastal engineering, who has mentored Mazur.
Mazur's academic excellence led to a full scholarship to the University of Delaware. She begins work on her Ph.D. in coastal engineering this fall, but South remains in her DNA. Although she grew up in tiny Cache, Oklahoma, her parents Mike and Joni are USA alums, and she still considers herself a Jaguar.
"As soon as I visited South, I was super excited about the opportunities I believed it had to offer. I fell in love with the people I met in the music department and was impressed by the involvement and research prospects in the College of Engineering," she said. "South was the perfect size for me coming from a very small high school in Oklahoma and turned out to be a great fit."
---