Meet USA Alum and Georgia's 'Turnaround Principal'
---
Posted on August 24, 2017
Joy Washington
---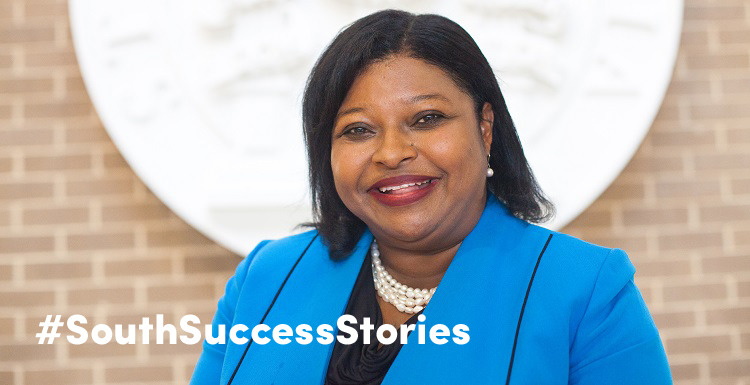 Stephanie Johnson graduated from the University of South Alabama College of Education and Professional Studies and is a 23-year veteran educator. "Mediocrity is not an option for our children," she said.
---
#SouthSuccessStories is an ongoing series featuring University of South Alabama alumni who are life-savers, innovators, game-changers, music-makers and creative-thinkers, successful in their careers and supportive of their communities.
Stephanie Johnson, a native of Chatom, Ala., and a 23-year veteran educator, has spent 12 of those years as a "turnaround principal," helping to resurrect and re-energize low-performing schools in Georgia.
Johnson, who graduated from the University of South Alabama College of Education and Professional Studies with her masters of education and educational specialist degrees, has a track record of improving struggling schools. She led a team of administrators, teachers, parents and community supporters in clearing three schools from the No Child Left Behind "In Need of Improvement" status.
"I don't focus on remediation," said Johnson, a finalist for 2017 National Principal of the Year. "Mediocrity is not an option for our children. As educators, we must motivate and support our students to be lifelong learners. All schools and districts have the ability to be highly effective. Customer service and community engagement are cornerstones of school culture."
Her tenacity and courage allowed her to take on her third challenge, becoming the turnaround principal for Maynard Jackson High School in Atlanta in 2012.
According to Johnson, there were gangs and crime, along with few extracurricular activities for the students. She was faced with declining enrollment, low test scores, a declining graduation rate and safety concerns on campus. Johnson built her team by having to terminate some who were low-performing, and hire other teachers and administrators who believed in high achievement and making sure children had the best educational environment. Part of the strategy was to build professional learning communities for teachers.
When she arrived at Maynard Jackson, Johnson created a strategic plan of action from the SOAR model, which is strengths, opportunities, aspirations and results. And then she met with 20 parents who told her their expectations for improving the school.
At Maynard Jackson, as in other schools, Johnson got results. She added Advanced Placement courses, collaborated with local colleges and universities, and created a work program for students to earn money and stay out of gangs.
During her tenure, Maynard Jackson's College and Career Ready Performance Index — an annual tool for measuring performance in Georgia — increased from 53 to 76 on a 100-point scale.
The Georgia Department of Education and State Superintendent of Schools Richard Woods recently selected Johnson to take on her fourth "turnaround" assignment, which is to manage the department's Office of School Improvement.
"Johnson is a phenomenal educator," Woods said. "I met her when she was the principal of Maynard Jackson High School, where she not only transformed the school culture but could introduce me to every student by name and tell me their goals and future plans. Stephanie's a dynamic leader and she brings a clear sense of urgency to the crucial work of supporting underperforming schools."
Johnson started her new position as deputy superintendent for the Office of School Improvement on July 17.
"It was hard to leave Jackson High School," she said. "Basically, my assignment there is completed, and we achieved our goals. And the school has a diverse population of students. I appreciate my former students, faculty, administrators, staff and community stakeholders for working with me to make Jackson High School better for our children. It's now nationally recognized as one of the best schools in the country."
Before Johnson was a champion for reform in Georgia, she was in classrooms in South Alabama. In 1994, Johnson started as a reading teacher at the Mobile County Training School and went on to be a counselor at Scarborough Middle and Blount High schools in Mobile and Prichard. She also taught one year in Clarke.
She was born with a love for education. Her father was a principal at Leroy High School in Washington County, and her mother was a teacher and media specialist at Chatom Middle School.
"Growing up, I have watched both my parents fight for a great education system for students," she said. "My mom taught me that every child should have a strong foundation in reading. My mom believes and says, 'reading impacts every academic area.'"
Johnson's theme at Maynard Jackson started with "Mission Possible" and ended with "Mission Motivate, Educate, Accelerate!" This South graduate is a force of nature in the field of education, and she gives praise to God, her parents and South Alabama for all her achievements and success.
"My parents are my mentors," Johnson said. "They gave me the foundation to be able to see greatness in every child and a passion for excellence in education. And, my wonderful college experience at the University of South Alabama helped prepare me to be a better teacher, counselor and administrator. I am extremely humbled and honored to take on this new position with the Georgia Department of Education. We have more schools to 'turn around.'"
---