Hargrove Engineers + Constructors Commits $1.5 Million to USA's Hancock Whitney Stadium
---
Posted on September 3, 2019
Julie Jackson
---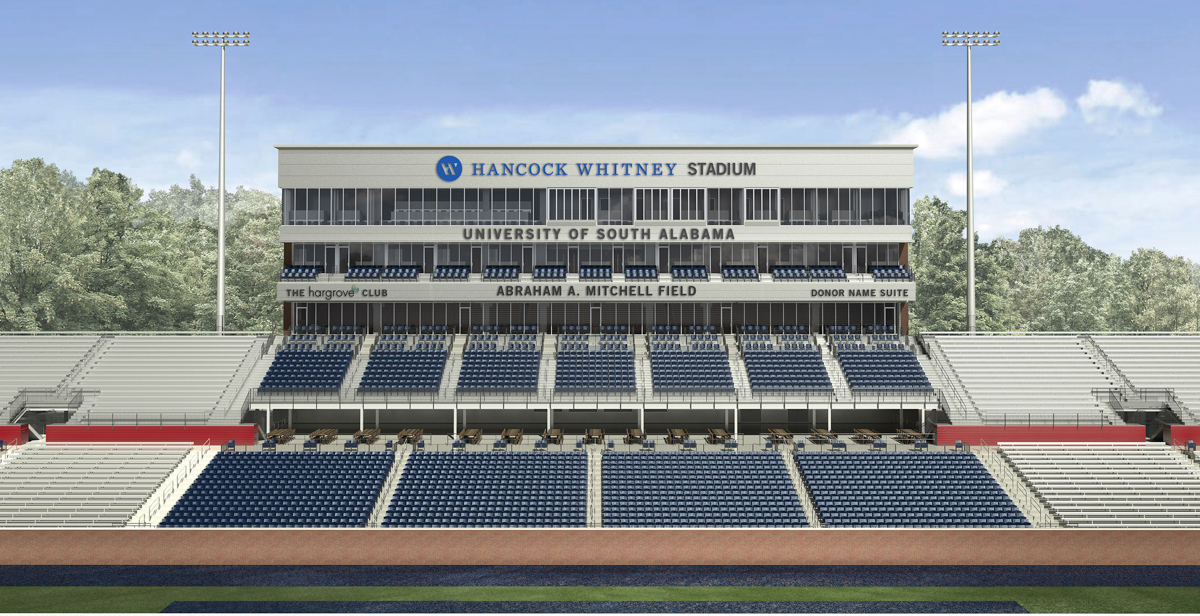 The club level at Hancock Whitney Stadium will be named The Hargrove Club. Hargrove Engineers + Constructors has committed $1.5 million to the stadium project.
---
Hargrove Engineers + Constructors has committed $1.5 million to the University of South Alabama's Hancock Whitney Stadium. As a result of their investment, the club level at the stadium will be named The Hargrove Club.
Hargrove has previously supported the University with philanthropic gifts to the College of Engineering, School of Computing, Jaguar Athletic Fund and the MacQueen Alumni Center, as well as USA Health's Mitchell Cancer Institute, Children's & Women's Hospital and University Hospital.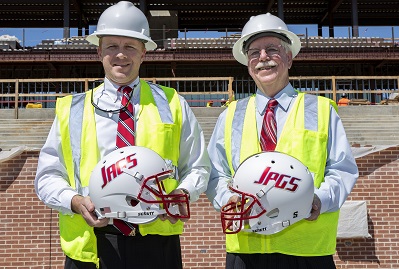 Jeb Shell '00, Hargrove Engineers + Constructors chief financial officer, left, and Dennis Watson, Hargrove project director, helped announce a $1.5 million gift from Hargrove to Hancock Whitney Stadium.
"We take pride in teaming with our clients and communities to build great projects with positive impacts – especially when it enhances the development of the future workforce," said Jeb Shell, Hargrove's chief financial officer and a graduate of South Alabama. "We are proud to play a part in this exciting stadium project and to help the Jaguars get on campus."
University of South Alabama President Dr. Tony Waldrop recognized Hargrove and its leadership for making this significant investment.
"Hargrove has a long history of supporting the University and the local community," Waldrop said. "We are honored to have such a well-respected company recognize the importance of our new stadium and the impact it will have on Mobile."
Dennis Watson, project director at Hargrove Engineers + Constructors, acknowledged the importance of partnering with the University. "Our mission is to team with our clients to drive mutual and sustained success. This mission extends to the communities where we live, work and play. We are proud to be able to support the continued growth and success of the University of South Alabama."
USA Director of Athletics Dr. Joel Erdmann emphasized the impact that Hargrove's gift will have on the football program and South's student-athletes. "Support from Hargrove provides opportunities for our student-athletes to thrive both on and off the field," Erdmann said. "Having a state-of-the-art football stadium on campus will give a competitive advantage to our football team and all of our student-athletes."
The Hargrove Club will have 5,000 square feet of indoor space and 800 outdoor seats. The 25,000-seat Hancock Whitney Stadium is located on the west side of campus, adjacent to the Jaguar Training Center, Football Fieldhouse and football practice fields. The stadium will feature a state-of-the-art video board and sound system, an end-zone terrace and concert stage, 18-seat suites and bench-back seating options. The site will include hospitality areas for tailgating, events and recreational vehicle parking.
Fundraising for the stadium continues, and additional sponsorship and donor opportunities are available. To support Hancock Whitney Stadium, contact Erdmann at jerdmann@southalabama.edu or 251-460-7121, or Jacob Ludwikowski at jludwikowski@southalabama.edu or 251-461-1553, or visit usajaguars.com.
---