Second-Generation Jaguar Named Board of Trustees Scholar
---
Posted on September 6, 2018
Bob Lowry
---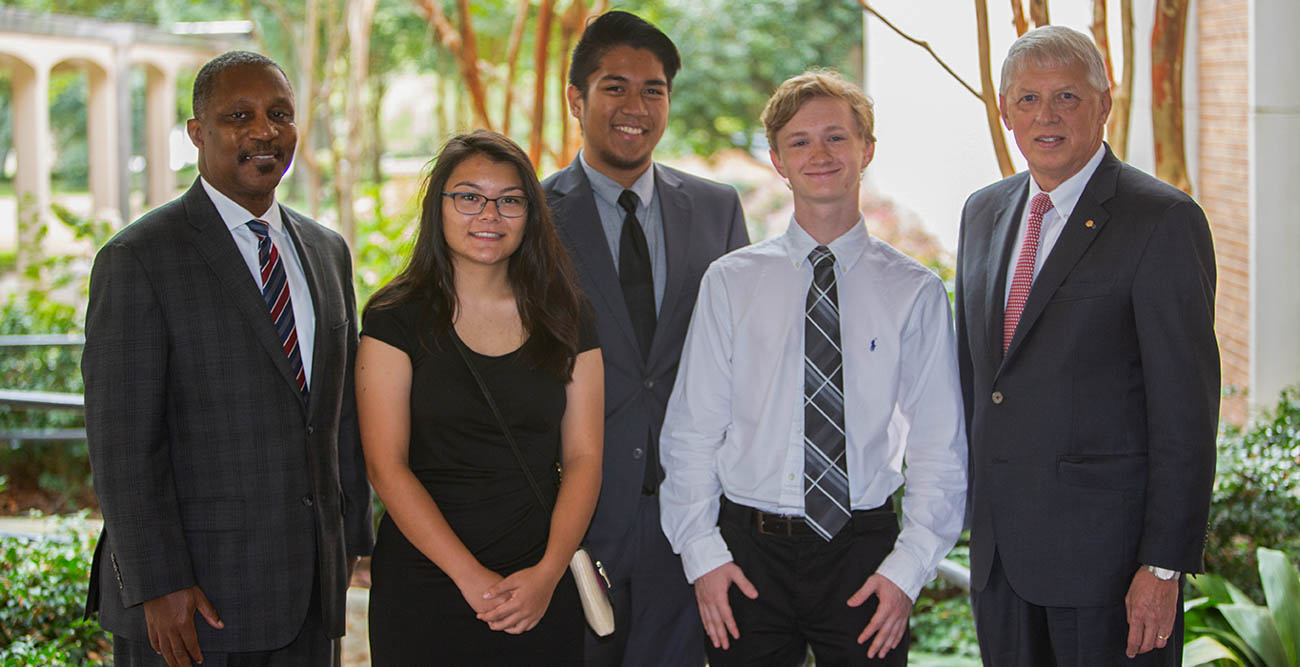 Board of Trustees Chair Pro Tempore Ken Simon, far left, along with other trustees recognized the 2018 Board of Trustees Scholar Cody Dunlap, second from right, at their fall meeting. Also attending were, from left, Ada Chaeli van der Zijp-Tan, 2017 recipient; Christian Manganti, 2016 recipient; and Dr. Tony Waldrop, University president.
---
University of South Alabama freshman Cody Dunlap, the son of a University graduate, has been named the USA Board of Trustees Scholar for the 2018-2019 academic year. The announcement was made at the University's board of trustees meeting on Aug. 31.
The USA Board of Trustees Scholarship program recognizes the most academically talented student in each incoming freshman class, based on ACT/SAT score and, if needed, GPA, followed by rigor of high school coursework.
A graduate of Mobile's Baker High School, Dunlap registered a 35 composite ACT score (the highest possible score is 36) and a 4.67 weighted grade-point average. He plans to major in mechanical engineering at South, at least at the beginning.
"There are some family friends within the field of mechanical engineering and other branches of engineering, but I chose engineering because I've always been interested in math and science," Dunlap said. "I don't have a specific career in mind at the moment, because I am not sure if mechanical engineering is what I want to stick with, but I do plan to stay within the engineering field."
Dunlap is the first Board of Trustees Scholar to be a second-generation Jaguar. His father, Kevin Dunlap, graduated from South in 1996 with a degree in occupational therapy.
"My family did not influence my decision. They were always supportive of me going wherever I chose to go. I chose South because it is a large, local university, and it has a good engineering program," Dunlap said.
Dunlap learned he received the Board of Trustees Scholarship directly from University President Tony Waldrop. "When I first heard that Dr. Waldrop wanted to speak to me, I was a little nervous because I had no idea what he would want to speak to me about," Dunlap said. "And when he told me I was chosen for the scholarship I didn't really know how to respond. I was speechless."
In high school, Dunlap was active in the National Honor Society and Hi-Q, an academic competition where teams from different schools are quizzed on a variety of subjects. At USA, in addition to the Board of Trustees Scholarship, he has received a Presidential Scholarship and a USA Housing/Dining Scholarship.
The Board of Trustees Scholarship Program was created in 2014 after the trustees gave the University more than $125,000, which was matched by the Mitchell-Moulton Scholarship Initiative, to create the USA Board of Trustees Scholarship. Each recipient is awarded a financial scholarship as a supplement to other scholarships or awards. If total scholarships exceed the cost of tuition, the Board of Trustees Scholarship may be used for study abroad, research or other programs that enhance a student's education.
---