Doy Leale McCall Rare Book and Manuscript Library Celebrates 40 Years
---
Posted on September 10, 2018
Alice Jackson
---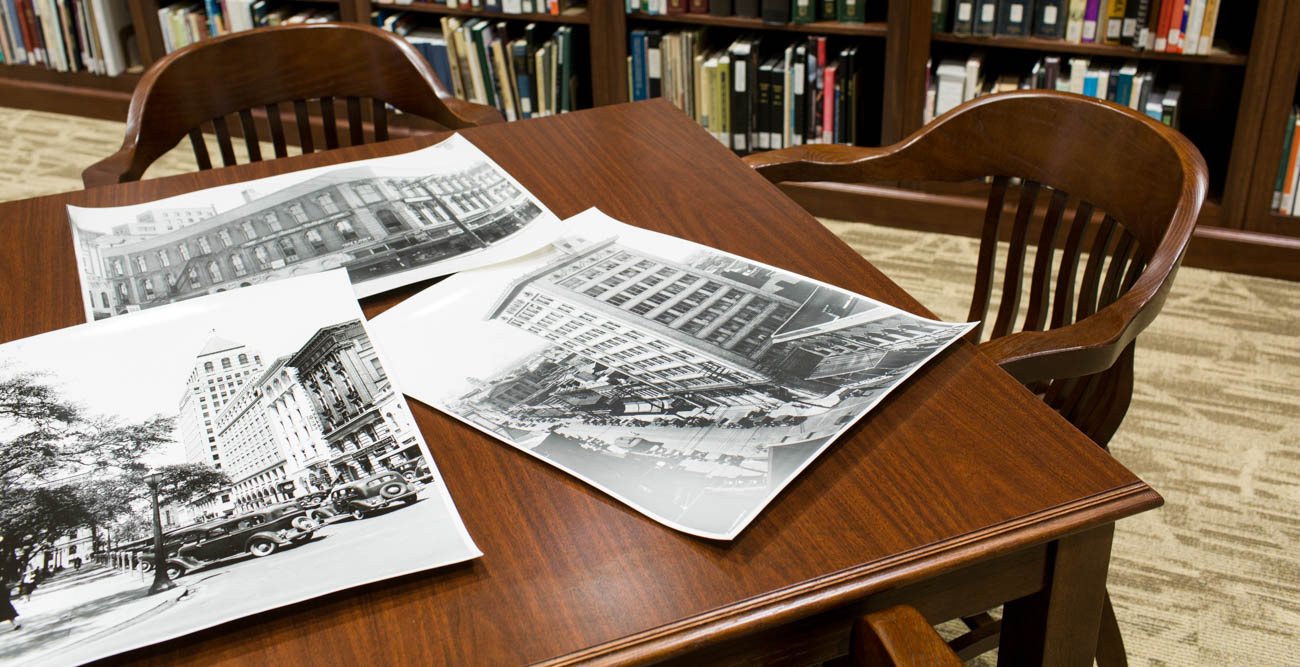 The Doy Leale McCall Rare Book and Manuscript Library moved in to new space at the USA Marx Library in 2016. The archives was begun 40 years ago with $2,800 and use of a building at Brookley Field. Among its collections are extensive photo archives of the University and the Mobile area.
---
The University of South Alabama's past and its future, and that of Mobile's, meet inside the Doy Leale McCall Rare Book and Manuscript Library, located inside the USA Marx Library.
From 4-6 p.m. on Sept. 13, the University will celebrate the repository's 40th anniversary with a reception at the Faculty Club. Frances Robb, Alabama Humanities Foundation Bicentennial Scholar, will present "Alabama in Photographs." Carol Ellis, director of the Doy Leale McCall Rare Book and Manuscript Library, will talk about highlights through the years.
The event is part of the USA Marx Library's year-long celebration of its 50th anniversary.
The archives were founded in 1978 when Dr. Mike Thomason, a USA history professor who also taught photography in the art department, received $2,800 with the help of Dr. David Horton, former University vice president for academic affairs, and space at Brookley Field for a "photography archives." Today, it is recognized as a regional treasure trove that attracts worldwide interest.
The facility later relocated to USA's Springhill Avenue campus before finding a permanent home on the main campus in June 2016. The facility was renamed in May 2011 when the grandchildren of Doy Leale McCall Sr. donated a valuable and historically significant collection of 18th, 19th and 20th century documents, which had been amassed by McCall, and valued at $3.1 million.
Recently, Thomason shared memories from the early days.
"Fellow faculty member Milton McLaurin and I were doing a history, 'Mobile, America's River City,' for the bicentennial when we found a bunch of old glass plates and negatives at the Mobile Library that they had gotten in 1964," said Thomason, who retired from South in 2006. "They weren't secured or stored very well because the library didn't have the people or the money to look after them. There were about 100,000 of them, and the library was allowing people to check them out for duplication by others off-site. Sometimes they were returned damaged or broken, or not returned at all."
The public library eventually gave the materials to USA, and they occupied most of the space Thomason had been given at Brookley.
"During those days, everyone was interested mostly in colonial Mobile, and these glass plates and negatives had been taken by commercial photographers Erik Overbey and William Reed from about 1880 to 1963. We also got city directories going back to antebellum times to add to the photos," Thomason recalled. "The Mobile City Museum gave us some additional negatives, and gradually we were growing."
The city museum donations included photographs taken by T.E. Armitstead, photographer for the land company of the Mobile and Ohio Railroad.
The Overbey collection included many iconic photographs of Mobile and its residents, including Cudjo Lewis, the longest survivor of the Clotilda, which docked in Mobile as the last known ship to transport African slaves to America. A resident of Africa Town, Lewis died in 1935.
Speaking of Lewis, Thomason said, "When we began to go through the negatives, we found one of a man smoking a pipe in his house. I had worked for one and one-half years in South Africa, and I knew I'd never seen a pipe like that one anywhere except in South Africa. We spent a lot of time identifying the photos of Mr. Lewis."
Thomason especially remembers a collection of photographs donated by the late Julien E. Marx, a long-time Mobile realtor.
"He had photos of hundreds of homes and buildings in the area that he'd acquired over the years. Today, those photos, as well as the Overbey photos, are often used by architects, contractors or preservationists to see how to restore older buildings," Thomason said. (In 2013, the Julien E. Marx Foundation Trust donated $3 million to renovate space in the University's library for today's existing facility as well as to establish an endowment to provide annual support to the re-named Marx Library.)
In 1979, Hurricane Frederic struck Mobile. "We put everything in the hallway that we could, and we could barely walk around, but the collection survived that experience and continued to grow over the years," Thomason added.
In the mid-1980s, the Circuit Court, which was running out of space, donated its older records, including land records and some civil and criminal records. Some of the materials dated back to the 1820s.
"Around that same time, some of us began giving talks to various civic groups, and we got a lot of offers of documents or photos. It was very successful, but I can't tell you how many basements we went through and how many wasps' nests we fought to collect material," Thomason said. "We also put an old photo in Sunday's edition of the newspaper and asked people to call us with any details they knew about it. On Monday mornings, our phone rang off the hook."
"We also put an old photo in Sunday's edition of the newspaper and asked people to call us with any details they knew about it. On Monday mornings, our phone rang off the hook."
The acquisition of items other than photos resulted in a name change to University Archives.
Disaster came when a waterspout struck the Brookley campus in May 1989, ripping off the archives' roof.
"When I got there, water was all over the floor, and you could see daylight in the building," Thomason said. "I called everybody I knew with a truck or a car that would hold material. In two days, we hauled the archives to the old Providence Hospital (today's USA Springhill Avenue campus), where it would stay until it was moved to the present location," Thomason said.
The facility now is directed by Ellis, who began working under Thomason while she was a graduate student.
"It's really amazing how much Dr. Thomason did with so few people and so little money, but today we have one of the largest photograph collections in the region," said Ellis, who also worked in the archives at Rice University.
"Hardly a week goes by that we don't get a call from someone offering us a donation, and we're always working to add material to our collections," she said.
She fondly remembers the day in 2009 when a man walked in to the facility while it was in the basement of its USA Springhill Avenue location .
"While I was talking to him, I could tell he had been inside an archive before, so I offered him a tour. Before long, he was telling me about his family's collection, talking about how he intended to get it organized. I encouraged him to see that it was cared for," she related.
The visitor was John McCall, the grandson of Doy Leale McCall Sr.
"Soon after, I and a couple of people from the development office were invited to look at a portion his collection. We sat around his table, and I began to see papers with signatures of John C. Calhoun, Raphael Semmes and other prominent people. It was just unbelievable. You could work your entire life in this field and never see anything like this."
"You could work your entire life in this field and never see anything like this."
Ellis is accustomed to prominent scholars, authors and news media using the archives for research.
Writer Lawrence Leamer used it for his 2016 book, "The Lynching," about the grisly murder of Mobile resident Michael Donald, whose body was hung from a tree in the early 1980s. Donald's death by a Ku Klux Klan member led to a lawsuit, filed by Donald's mother, that broke the hate group financially.
Earlier this year, when the slave ship Clotilda was believed to have been found, more attention followed.
"We were completely inundated by newspapers and television from all over this country and the United Kingdom," Ellis recalled. The situation was similar in May when the book "Barracoon" was published. The book chronicled the late Zora Neale Hurston's interviews with Cudjo Lewis shortly before he died. When she submitted the book to publishers in 1931, none would buy it. Again, there was interest in Lewis' photos.
"We often get calls for photos that are used in advertising campaigns around the world. We've had requests for some photos to be used for printing on fabrics, for mugs, and one woman used some for placemats for her wedding," Ellis said.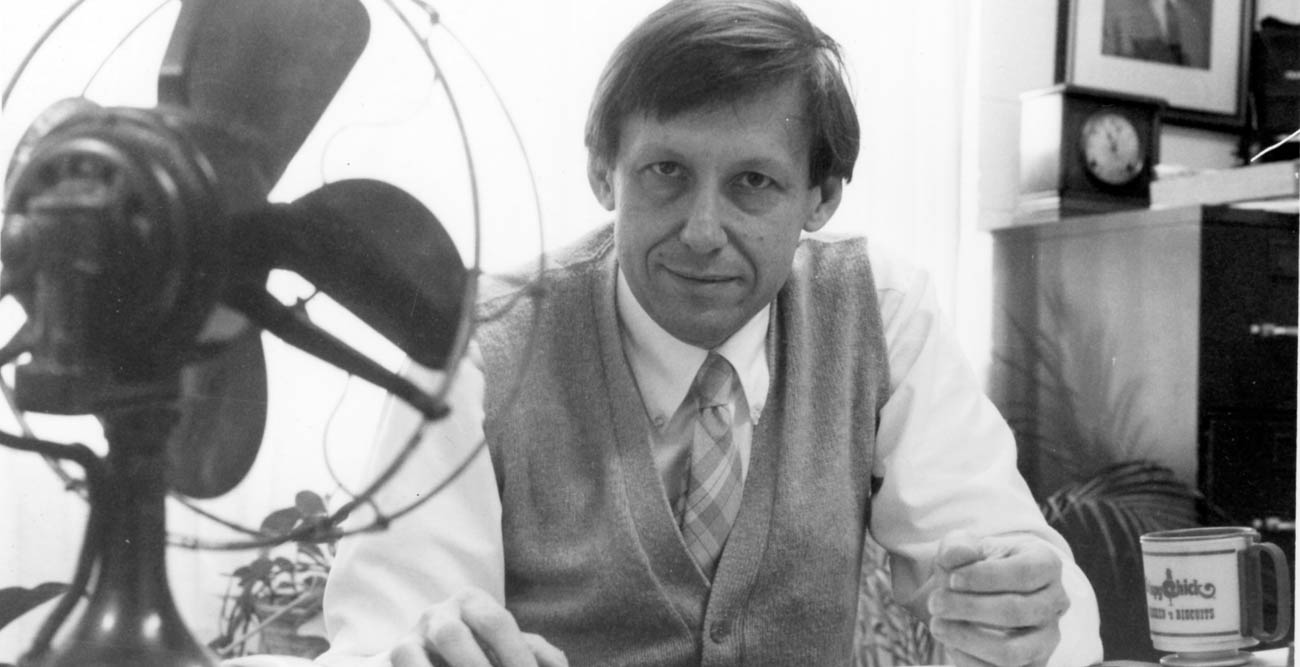 Dr. Mike Thomason, who taught history and photography at South, began the University's archives. Here he is where it started, at a building at Brookley Field. Photo courtesy of the Doy Leale McCall Rare Book and Manuscript Library.
---