South Wins AI Forecasting Grant
---
Posted on September 10, 2020
Lance Crawford
---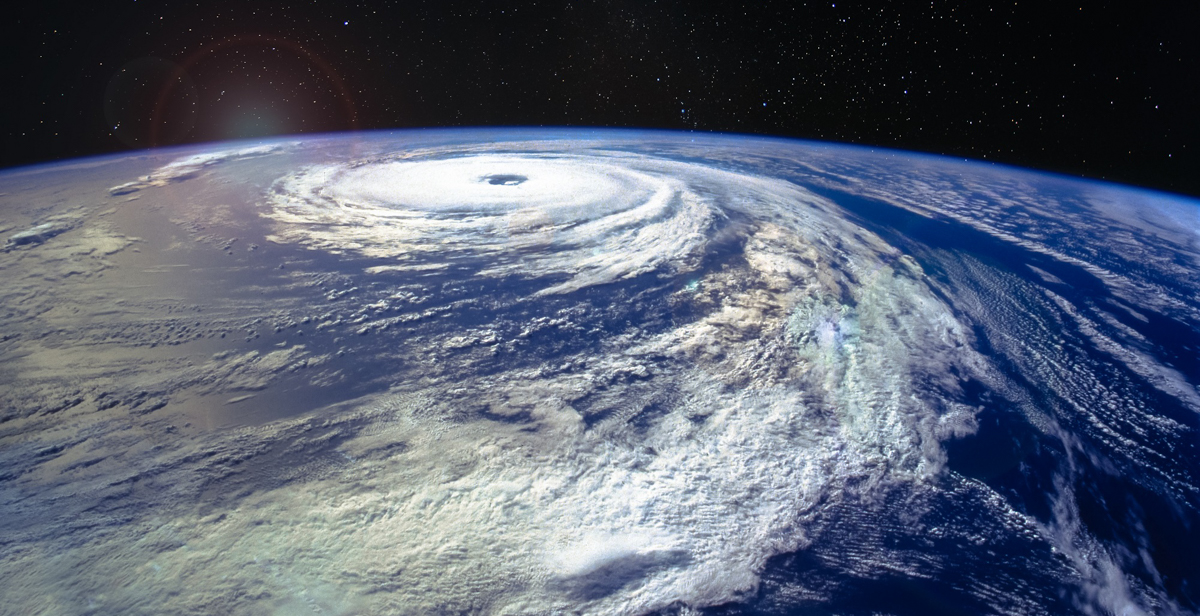 Hurricane Florence as seen above the Atlantic Ocean from the International Space Station. Florence made landfall along the Atlantic Coast on Sept. 14, 2018, and is the wettest tropical cyclone on record in the Carolinas. While weather forecasting has improved dramatically in the last century, it is expected to improve even more using artificial Intelligence and machine learning.
---
Nothing grabs our attention here on the Gulf Coast quite like an approaching hurricane. Tracking and forecasting the strength of storms has improved dramatically over the decades, especially since the arrival of satellite imagery in the 1960s. But now, accurate weather forecasting is expected to take a giant leap forward thanks to artificial intelligence.
The University of South Alabama is one of five institutions to receive a four-year, National Science Foundation grant totaling five million dollars for a project called: Using Artificial Intelligence and Machine Learning in weather forecasting.
The University of Louisiana is spearheading the project, while LSU, Western Kentucky and Southern University are also involved. South's portion of the grant is more than $780,000. This is also a collaboration between USA's School of Computing and meteorology in the department of earth sciences.
"We have collaborated on smaller projects in the past, but this really solidifies a good fit between two programs at the University," said Dr. Sytske Kimball, department of earth sciences chair. "Artificial Intelligence in meteorological forecasting is a new emerging field with a lot of potential. It is fantastic to see South at the forefront of this new emerging technology."
The grant will provide much needed funding to support the South Alabama Mesonet, a network of 26 automated weather stations located in the north-central Gulf Coast that Kimball founded in 2004. They collect meteorological data that is used by a wide range of applications from agriculture, to air quality and health to climate change.
Forecasting is done using numerical models on computers. These models consist of complex equations that computers solve on so-called grids. The smaller the grid, the more accurate the forecast. The problem is sometimes they are not solved until after the weather event has already happened. That is where artificial intelligence comes in.
"Simple neural network models — dubbed modelets — are being developed and will be deployed to predict weather related parameters of a target region. We suspect it will take tens or hundreds of modelets to accurately forecast a target region," said Dr. Tom Johnsten, associate professor in the School of Computing.
The AI models are trained, given hundreds or thousands of weather events with their resulting outcomes. This allows them to know what to look for and can tell by patterns, temperature observations, moisture observations what the storm is going to do based on what has happened in the past.
"We cannot yet predict exactly where a hurricane will make landfall, or precisely how intense it will be at landfall, and in which specific locations the wind or flooding is going to be the worst," Kimball said. "If we did, we could employ targeted evacuations with only people in the most dangerous areas having to leave."
Students will also benefit from this grant program providing opportunities for undergraduate and graduate student research in both disciplines.
"The goal is for the students to be exposed to multi-disciplinary information and activities," Kimball said.
---