Medical Student Secures Sock Donation for Free Clinic
---
Posted on September 17, 2019
Mia Grizzle
---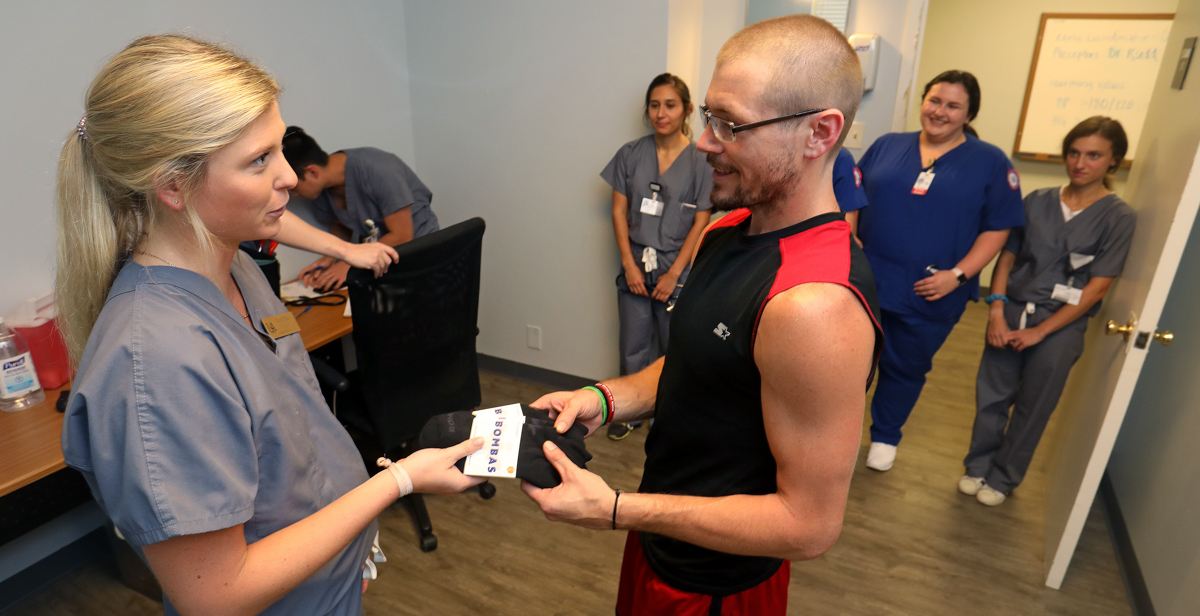 University of South Alabama College of Medicine medical student Corey Phillis gives a pair of socks to Paul Brown at the USA Student-Run Free Clinic.
---
Corey Phillis, a student at the University of South Alabama College of Medicine, applied to the Bombas Sock Giving Program in an effort to make sure patients who are cared for at the USA Student-Run Free Clinic could leave their visit on a solid footing with a new pair of socks.
It was actually Phillis' mother who let her know about Bombas' commitment to charity, specifically their pledge to donate socks to homeless people. Following their conversation, Phillis, who serves as the student government association liaison for the clinic, applied on the company's website on behalf of SRFC. Recently, she received notice that Bombas was donating 2,250 pairs of socks to the clinic valued at approximately $25,000.
USA's student-run clinic is located at the Salvation Army of Coastal Alabama in Mobile. Every Friday afternoon, patients are seen at no charge by students who are enrolled in USA's healthcare professions.
"We work to cover the patients' immediate medical needs in a comprehensive way through the cooperation of all of the health programs at South," Phillis said. "Student volunteers are training in different disciplines, and they bring their backgrounds from different medical specialties into the clinical care setting. The collaboration gives the students a great chance to work as a team as they grow as healthcare providers in an authentic clinical setting. It also provides the patient with access to just about every facet of their care in one location at no cost."
Alison Rudd, director of the USA SRFC, explained the significance of Bombas' donation. "Many of our patients are homeless, and it can be a challenge for them to maintain proper foot care," Rudd said. "Our patients may walk several miles or more each day. High-quality socks are a highly successful way to prevent health conditions – from bacterial infections and frostbite to blisters and diabetic complications."
Founded in 2013 and in response to the need of socks in homeless shelters, Bombas designed a sock specifically for those who aren't able to wash their socks often or put on a new pair every day. For every pair of socks bought, Bombas donates a pair to a local shelter or another one of their 1,500 giving partners. With their giving partners across the United States, Bombas has been able to donate more than 23 million pairs of socks since their launch.
---