Freshman Anita Nguyen Gets a Busy Fall Start
---
Posted on September 17, 2021
Thomas Becnel
---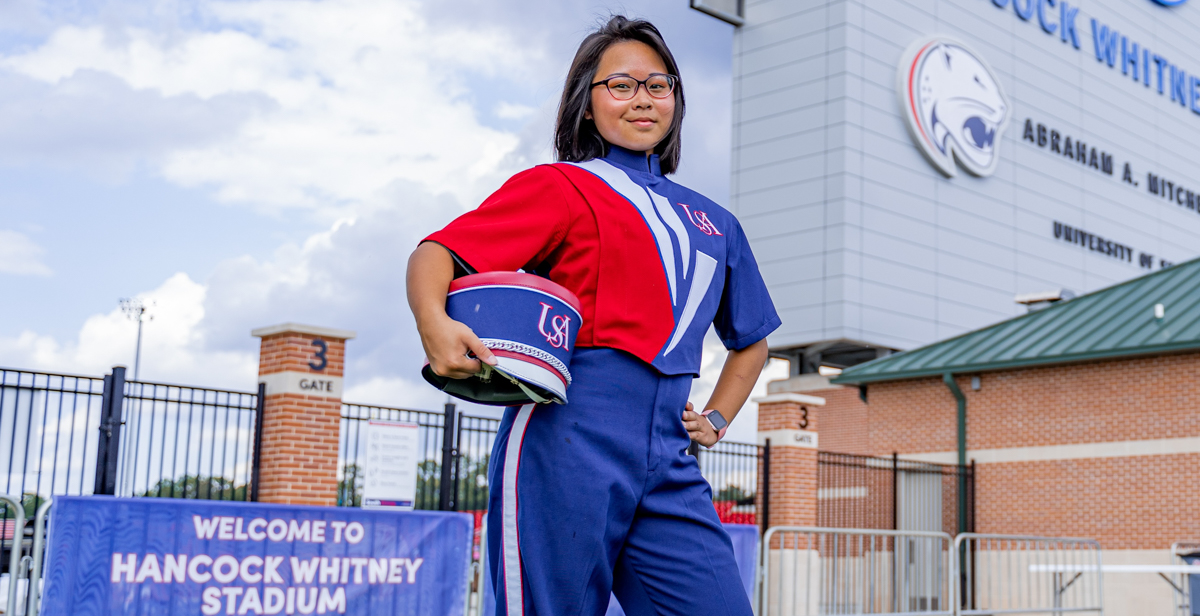 Anita Nguyen, an Honors College freshman, says a lot goes into an on-field marching band routine. The experience is energizing.
---
#FreshmanFocus is a series of stories on incoming students at the University of South Alabama.
Anita Nguyen didn't grow up playing music, much less marching in a band, but high school friends finally wore her down.
"I had so many friends in the band and they kept egging me on," she said. "I saw what they did, and it looked like so much fun, so I started playing the clarinet during the spring of my sophomore year."
Nguyen performed with the marching band at the UMS-Wright Preparatory School in Mobile. Then she enrolled at the University of South Alabama. Now she's playing with the Jaguar Marching Band.
When she isn't practicing routines with the band, Nguyen works with other freshmen on the First Year Council, which is part of the Student Government Association. She's a member of the Honors College who's majoring in biomedical sciences. Managing her schedule is a priority.
"I'm a huge planner, I'm a huge scheduler," she said. "I really like organization."
Her parents were born in Vietnam, came to the United States and settled in West Mobile. She and her father share a philosophy of facing problems and finding solutions.
"He has this saying, 'Big becomes small, and small becomes nothing,'" she said. "I really believe in that. You can minimize any problem you have, make it smaller, and get rid of it right away."
Nguyen stands just 5-foot-1, but she has a deep voice and makes herself heard. She's outgoing and eager to meet her fellow Jaguars.
After South, she would like to attend dental school and become an orthodontist. She spent two summers as an intern at a dental office.
Nguyen enjoyed watching the reactions of people getting their first look at a new smile.
"I would sometimes hand a mirror to patients for them to look at their teeth just after they got their braces removed, and they were so happy," she said. "I want to make people happy like that."
How did you decide to stay in Mobile for college at the University of South Alabama?
"Originally, I thought I wanted to leave Mobile and explore new cities and meet new people, but I visited some other campuses and didn't like them as much as I liked South. I visited South eight times on different tours, events and tailgates. I just find it really beautiful. It's prettier than most parks I've seen."
Do you have a favorite spot on campus?
"I really like going to the third floor of Marx Library. I would go to the fourth floor, but I feel like I'm too noisy for that. People say the higher you go, the quieter it gets. But the third floor is always there for me. There's that whole wall made of glass. I like to sit and just look at the view for a while. It's so calming."
What's the best advice you've gotten about starting college?
"I've been told several times that it's OK to take a break, it's OK to take some time to breathe, relax and focus on myself, rather than just schoolwork. And I found that to be really good advice. I have to remind myself to stop and say, you know what, I can just hang out with my friends today."
What drew you to the First Year Council?
"It's a good way to make connections and be around people who are socially driven in a leadership way. I like making other people happy, and FYC makes it easier for freshmen to transition to college life and make new friends. I like the idea of helping others improve their first year experience."
Are you prepared to spend a decade in school and training to become an orthodontist?
"Am I ready to work harder to retire faster? Yes. Absolutely."
What are your other interests?
"Knitting, sewing, crocheting – I do it all. I love working with my hands."
What's something most people don't know about being in a marching band?
"It's harder than it looks. There's so much that goes into a routine. It requires so much coordination. You have to move, you have to know where you're going, and you have to match with the music. I like that it's fun. I like that it's entertaining for people."
By the end of a game, are you just exhausted?
"There are times when I'm tired, but most days I'm just energized. You're filled with the hype of playing, screaming and cheering for your football team. You're in the moment, so it's more energizing, actually."
---