Grant To Fund Science Lab Upgrades
---
Posted on September 20, 2021
Lance Crawford
---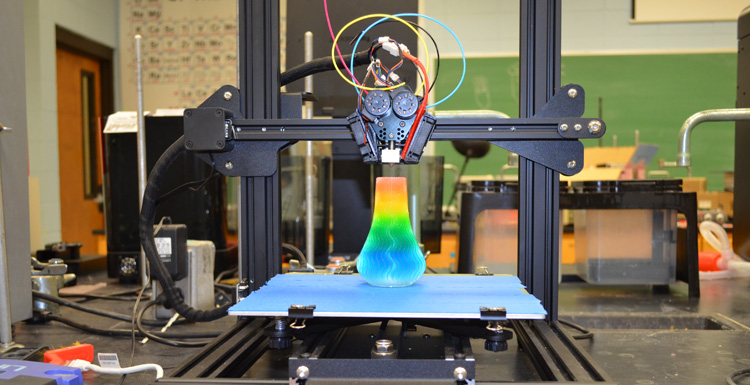 A vase manufactured with a small 3D printer in South's chemistry building. Larger projects will now be possible after South landed an Economic Development Administration grant. The funding will be used to renovate the Science Laboratory Building and purchase mid-sized 3D printers. The University and local manufacturing companies will now be able to collaborate on research projects, in turn strengthening the local economy and providing students with the skills to work in a booming industry.
---
The University of South Alabama will expand its research capabilities with additional 3D printers and renovate laboratory space with a $644,045 CARES Act Recovery Assistance grant. The University is providing a match of $161,011.
The funds, granted from the U.S. Economic Development Administration, will be used for renovation in the Science Laboratory Building and to purchase several mid-range 3D printers, including a metal printer and several smaller printers.
"This project will be a huge increase in the 3D printing capabilities on campus and the local area," said Dr. Matthew Reichert, assistant vice president in the office of research communications.
The University had letters of support for their proposal from numerous local companies including Arkema, Airbus, Austal, Continental and Evonik.
"This EDA grant is excellent news for the University of South Alabama and the surrounding Mobile area," said U.S. Sen. Richard Shelby. "I am pleased EDA recognizes USA's ability to benefit the local economy."
This project was made possible by the regional planning efforts led by the South Alabama Regional Planning Commission. EDA funds SARPC to bring together the public and private sectors to create an economic development roadmap to strengthen the regional economy, support private capital investment and create jobs.
"Our students will benefit from being trained on some of the latest equipment and software for additive manufacturing," Reichert said. "Collaborations with local industry will provide support for prototyping objects to inspect before production as well as provide productions quality objects for testing before full implementation."
3D printing, also known as additive manufacturing, is the process of creating an object by depositing material layer by layer to build up the object. In subtractive manufacturing, material is removed until the desired object is produced. Sculpting, lathe-turning, and milling are examples of subtractive manufacturing.
First developed in the early-1980s, 3D printing has been a booming industry for about a decade, but the technology has improved dramatically in the past several years.
"We can now 3D print materials that people 10 years ago would never have considered, such as edible food or high-strength polymers," said Dr. Edward Duranty, assistant professor in South's chemistry department. "New printing technologies can yield parts that are almost indistinguishable from their traditionally molded or casted counterparts."
Duranty is excited about the smaller 3D printers that will be purchased through the grant because they'll be used for testing new materials and printer modifications. The additional technology and renovated lab space will greatly benefit researchers University-wide.
"3D printing is still very much an art form in some respects and the knowledge that a researcher gains while working with various printers and materials used in printing can be incredibly valuable to others in the field," he said. "Hopefully this new lab space will promote collaboration among these faculty scattered across the various colleges while also providing a place for researchers interested in starting with 3D printing to come and find out more information about the field."
---