Jaguar Volleyball Player Dives into College Life
---
Posted on September 21, 2022
Thomas Becnel
---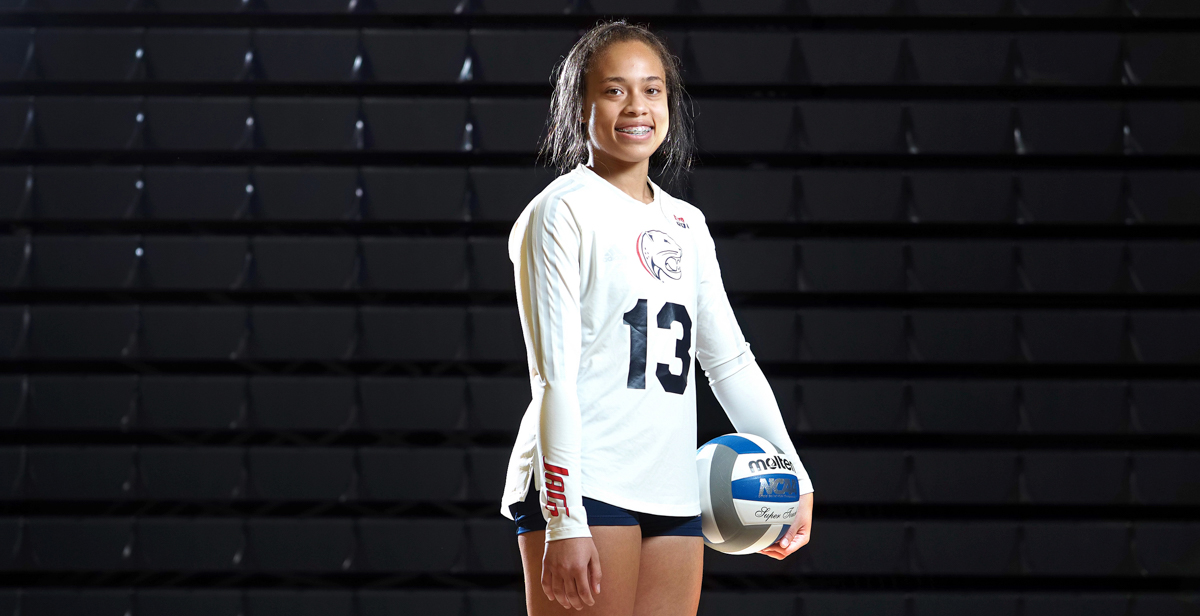 Bri Wilson, a volleyball player from Alabaster, Alabama, followed her sister's lead in wearing No. 13. "I'm not superstitious, but I do like to do everything the same way."
---
#FreshmanFocus is a series of stories on incoming students at the University of South Alabama.
In women's volleyball, a sport dominated by 6-foot-3 hitters and blockers, Bri Wilson is a 5-foot-4 defensive specialist.
The freshman from Alabaster, Alabama, plays along the back row, passing the ball to taller teammates. On defense, she scrambles to return 50-mph serves and spikes.
"You've got to stick it," she said. "Don't move your arms too much. Absorb the ball."
The 18-year-old also is learning to control her nerves in the opening weeks of her first college season.
"The very first time I went in, I thought I was seeing stars, I was so nervous," she said, laughing. "The first time I served, I got my serve in, but we lost the point. Every time I come off the court, I'm still shaking."
Bri – it's short for Briana – lives in the Stokes Residence Hall. Her roommate is a nursing student. She's a computer science major.
"I like coding," she said. "In school, we did the code.org program and that was fun. This semester at South, I've got CSC 120 – Problem Solving and Computer Concepts. We do labs every Thursday and I like them. Once you get it, once you figure out a problem, it's really satisfying."
Your sports bio on the Jaguar Athletics website says you met Oprah Winfrey. Tell us your Oprah story.
"My first year playing club volleyball, I was 9 or 10 years old, and we played a tournament in Montgomery around the time they were filming the movie "Selma," and they were staying at the same hotel that we played at and stayed at. We had just gotten done playing for the weekend and everybody was running around because they realized Oprah was about to come downstairs. So she comes down and says, 'How was the tournament?' We all said 'Good' and I held up a No. 1, because we'd just taken first place in the tournament, so she gave me a high-five and then we went in front of the hotel and took pictures. And that's my Oprah story."
What's your schedule like as college athlete?
"On Mondays and Wednesdays, we go to weightlifting at 6:45 a.m. Yeah, that's early, but I don't mind. It makes me feel better, knowing that I was productive in the morning. On Tuesdays and Thursdays, I go to class at 9:30, but I don't even sleep in, because I'm already up. On Fridays, I don't have class until noon. We have practice and games most days and I've been gone the last three weekends."
Was that a big adjustment for you?
"I adapted more than I thought I would. Freshmen have to do six study hall hours each week. It's out by the football stadium. I usually go in the morning when there aren't that many people."
What about when you're not training or studying?
"I like to sew. I actually brought my sewing machine with me to South. It's the same kind they used on 'Project Runway.' Most of the time, I'm just fixing things, like if my pants don't fit, or if I've got a tear in my shirt. Once people found out, they wanted me to sew things. One of my teammates brought me a dress that had a hole in it."
How much do you charge?
"Free. Free.99."
What was it like growing up in Alabaster?
"There's not much to do, but I did get to go to a new high school – an $88 million high school. We called it Thompson University, rather than Thompson High School, because it was so nice. Our gym, we couldn't call it a gym. It was called the arena, because it was so big."
Were you always a volleyball player?
"I started out in gymnastics. I was pretty good. I could do a back handspring in the third grade. Then I started going to volleyball practices with my big sister, Germashia. I would pick up a ball and pass it against the wall.
"My sister wore number 13, so that's the number I took in middle school. It's been pretty good for me. I'm not superstitious, but I do like to do everything the same way. Like, I have to put on my right knee pad before my left one."
Your sister went on to play college volleyball. Did she have any advice for you at South?
"Be yourself. That's all she told me. Don't change for anybody. Have fun."
---