Ocean Springs Freshman Wins Board of Trustees Scholarship
---
Posted on September 30, 2022
Thomas Becnel
---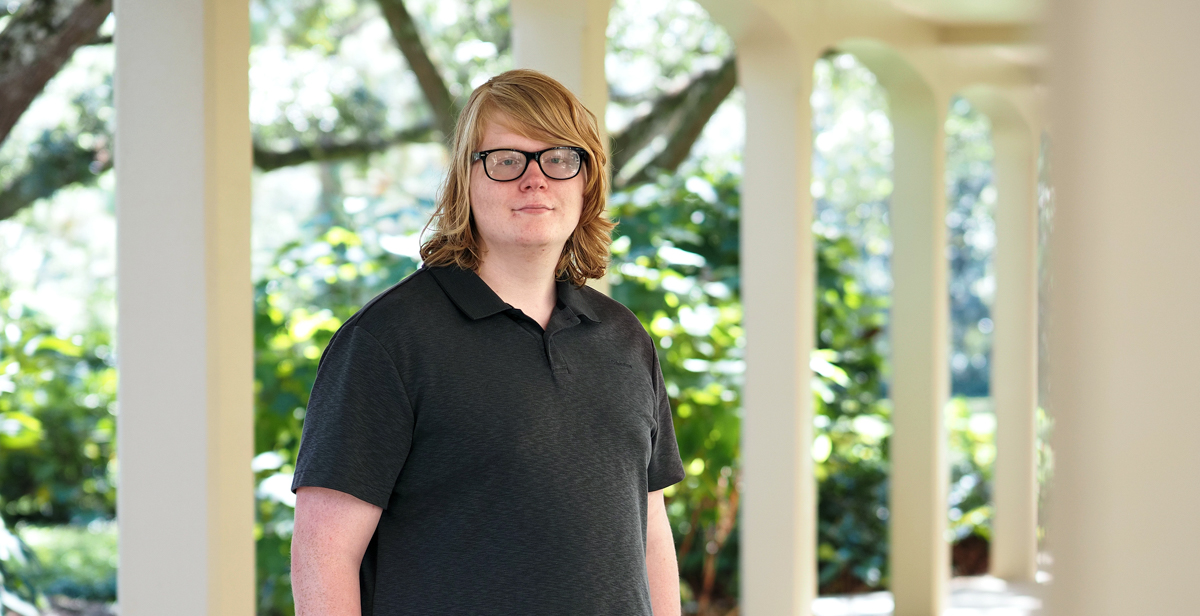 Nealan Armstrong, who has been named a University of South Alabama Board of Trustees Scholar, is studying computer science and hopes to work in software development or cybersecurity.
---
At Ocean Springs High School in Mississippi, Nealan Armstrong concentrated on Advanced Placement courses in the school's International Baccalaureate program. Along the way, he earned a 4.3 grade point average and picked up a knack for self-deprecating humor.
On his ACT test, for example, he scored 35 out of 36, but manages to make that sound like a fluke.
"It was my first try, so I still think I got lucky," he said. "And it was free. They had a free ACT test at my high school, so I took it then."
After completing school assignments, Armstrong enjoyed his friends and free time. He wasn't a joiner. He didn't play sports, lead clubs or build a resume of extracurricular activities.
"I wasn't named Mr. School Spirit," he said, laughing. "I won Most Likely to Write a Paper in One Night. And Most Likely to Pursue Stand-Up Comedy as a Side Job."
Armstrong earned a Freshman Admissions Scholarship to the University of South Alabama, where he is studying computer science, and now has been named winner of the 2022 USA Board of Trustees Scholarship. The award, which is renewable for the first four years of undergraduate study, is given to the most academically talented student in each freshman class.
"I'm blown away by this award," Armstrong said after he was introduced at the most recent meeting of the Board of Trustees. "I didn't expect any of this when I came here. It feels good to be awarded for all of the hard work I've done."
Armstrong chose South because of the computer science program and hopes to work in software development or cybersecurity. On his campus tour, he remembers visiting Shelby Hall, where a four-story atrium features a grand mural of Mobile Bay and a huge hanging sculpture.
"It blew my mind when I walked in there," he said. "That one building probably has more classrooms than my whole high school. And there's a Starbucks."
Armstrong's mother, Lisa Byrd, studied communications at South 20 years ago. She told him it was a lot smaller back then. Now she's the sales manager for a Biloxi casino. His father works for an oil company in New Orleans. Armstrong has a little brother in the 7th grade.
At South, Armstrong lives in the Epsilon I residence hall. He decorated his room with a "Pulp Fiction" movie poster. He listens to the alternative rock of Radiohead.
He doesn't have a car – or a driver's license – so he's been using the JagTran shuttle system and getting rides from his roommate. He says college life agrees with him.
"The professors trust you to do what you need to do, and I like that," he said. "I find that, once I finish my assignments, I have all this free time. I'm a big believer in free time. Just having a blank spot on your calendar doesn't mean you need to fill it. It's good to take a step back and let your mind and body recharge."
His fall schedule includes classes for calculus and English composition, along with programming concepts and problem solving.
Before college, Armstrong had no computer science training and no experience writing code. Now he's learning the basics. There's a learning curve.
"I used to be very intimidated by the idea of programming, but it's coming together," he said. "They're called programming languages, and it is like learning a new language."
---