South Alumnus Clyde Higgs' Career Path Leads to Atlanta BeltLine Inc.
---
Posted on October 1, 2019
Marketing and Communications
---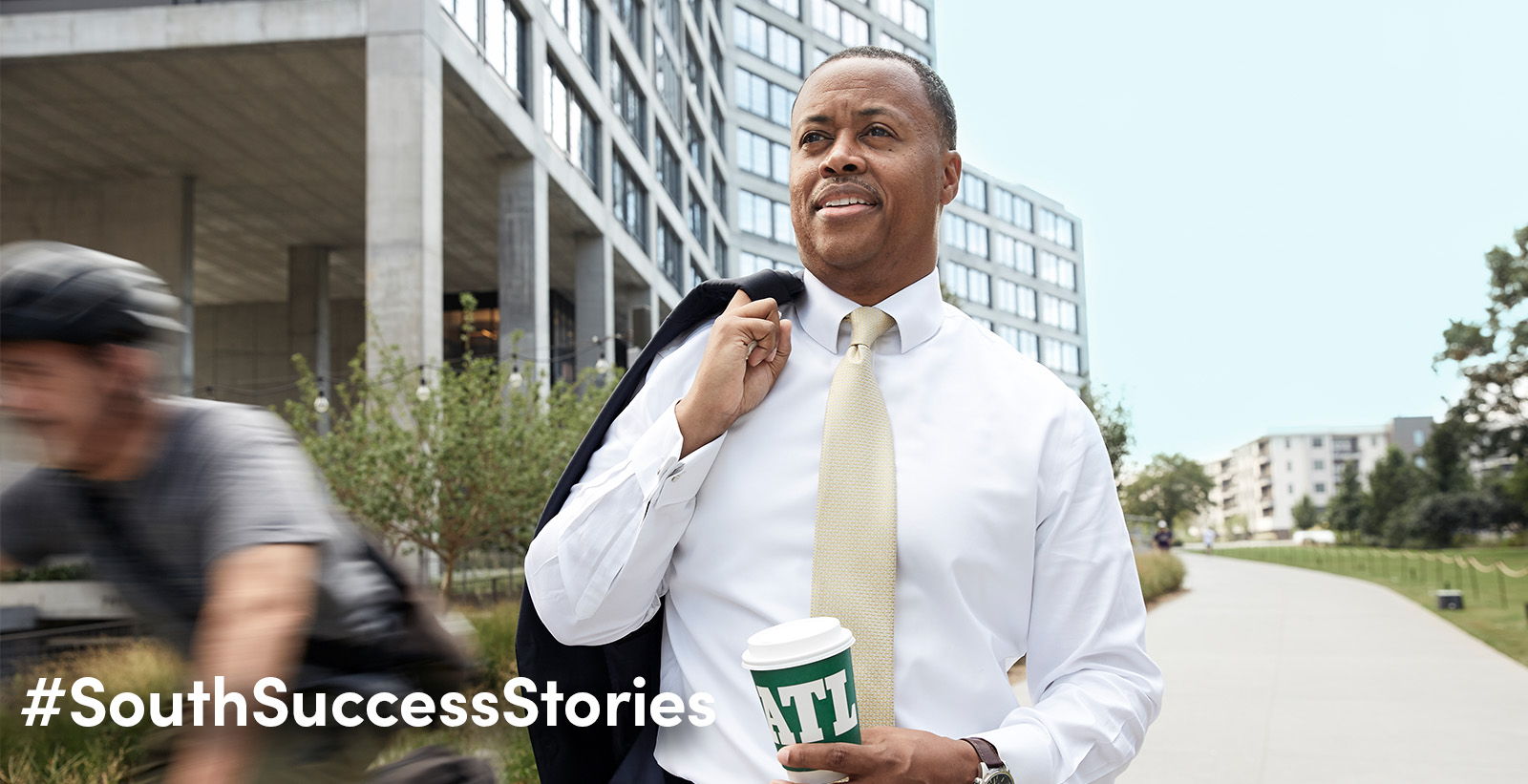 University of South Alabama alumnus and Atlanta BeltLine CEO Clyde Higgs has spent his life's work at the intersection of private and public sectors, or, as he says, "where the magic exists." Photo courtesy of Atlanta BeltLine Inc.
---
As CEO of Atlanta BeltLine Inc., Clyde Higgs leads one of the most anticipated and ambitious urban land use development projects in the nation.
The 22-mile Atlanta BeltLine promises to link 45 neighborhoods across Atlanta with multi-use trails, parks and a modern streetcar along a historic rail corridor that encircles the city, transforming the way residents of the South's most notoriously gridlocked traffic city travel, interact and live.
With an expected 2030 completion date, the project has already brought in $500 million in public dollars and $4.7 billion in private investment. It includes plans to produce 5,600 affordable workforce housing units — more than half that number has been created within walking distance of the BeltLine — while generating 30,000 new full-time jobs.
While Higgs, 48, may not have seen himself in such a role when he enrolled as a freshman in allied health at the University of South Alabama many years ago, it is clear today that his whole life has been leading to this.
From a childhood as a military kid spent exploring places as diverse as Mississippi to Madrid, to an academic and career trajectory that put him in contact with public leaders who championed using private interests to elevate academic research as a means of benefiting the public good, Higgs has learned that this is his happy place: Working at the intersection of private and public sectors.
"This is where the magic exists," he said.
Higgs' father was a master sergeant in the U.S. Air Force whose job it was to make sure airplane navigation systems were working properly. Avionics literally propelled the Higgs family from North Carolina to Mississippi to California to Madrid, Spain. While moving from community to community came with its challenges, Higgs said he learned early that the world is large and that the way people live can vary by geography. It gave him a perspective on what is possible that he might not have known had his own geographical footprint been more contained.
"In retrospect, obviously, it was a really terrific experience — it makes you more resilient and allows you to adapt," Higgs said. "That is a great experience for a youngster in their developing years."
With his father stationed at Keesler Air Force Base in Biloxi, Miss., Higgs graduated from Ocean Springs High School and, on the advice of a mentor who was a South alumnus, discovered and fell in love with the campus. By the time he graduated 1997, Higgs had changed his major to psychology, taken on leadership roles in student government and gotten involved in a fraternity.
"Outside of the exceptional academic exposure, one of the most important parts about my experience at South was the abundance of opportunities to train for leadership," he said. "The day I was elected as a senator in SGA was life changing for me. Before then, the concepts of introspection, emotional IQ, people skills and decision-making acumen were still abstract. South provided an amazing opportunity to lead in a safe space."
It wasn't long before those developing leadership interests began to mix with his growing desire to use his skills to make a public impact. Accepted into East Carolina University in Greenville, N.C., Higgs obtained a master's in public administration in 1998 and landed the competitive James E. Webb Internship at the Smithsonian, further broadening his interest and understanding of the potential interplay between private and public interests.
From there, Higgs' career opportunities expanded. He was paired with North Carolina's Secretary of Health and Human Resources under a program instituted by Gov. Jim Hunt to help repopulate the senior and executive ranks in state government. While involved in that work, an opportunity arose to work with Martin Lancaster, a former North Carolina congressman who was now running the North Carolina Community College System.
Higgs spent a year as Lancaster's executive assistant and said he was moved by Lancaster's vision — one that identified educational interests as a clear catalyst for economic development and job creation. "That was a novel concept to me at the time," Higgs said.
He went on to serve in jobs supporting technology incubation, acceleration and commercialization in North Carolina and Texas before another opportunity came his way back in the state where he was born and where his family still lived.
The North Carolina Research Campus, a multi-billion dollar revitalization effort led by the state of North Carolina and real estate developer Castle & Cooke, was seeking someone to help lead the effort to leverage science and technology as a way to redevelop the Charlotte suburb of Kannapolis. Higgs signed on, inspired again by the potential to help create positive change in a community by leveraging science and academic pursuits as a way to create opportunities for those who live and work there. Working on that project for nine years, he oversaw a multi-million dollar operating budget and worked with numerous stakeholders, including universities, local and state government and other investors.
"The only thing I recognized of a similar scale was the BeltLine, which launched in 2006 as well," Higgs said.
It would make sense, then, when in 2015, that grand-scale project down in Atlanta would turn to Higgs when it found itself in search of a chief operating officer. He had the work experience, the leadership experience and the passion to make it work. In February, after four years in that role, he was named the organization's chief executive officer and president. Those who know him lauded his track record.
In the six months before he was hired for the top post, organization leaders noted that Higgs had already ushered in several key design and construction projects, acquired two key stretches of land, overseen the ninth season of the public art installation known as "Art on the Atlanta BeltLine" and led the production of 121 additional affordable housing units.
"Clyde Higgs' leadership has served as a valuable asset during a critical time of transition for the Atlanta BeltLine Inc.," Atlanta Mayor Keisha Lance Bottoms said at the time.
The vision for the Atlanta BeltLine began as a master's thesis by then-Georgia Tech student Ryan Gravel and is a potential game-changer for one of the South's leading cities.
At completion, the plan calls for 1,300 acres of new and 700 acres of restored green space, public art, historic preservation, 28,000 new housing units, 30,000 permanent jobs and up to $20 billion in total projected economic development.
Higgs said he loves the project for the diverse ways it seeks to improve life for Atlantans, its grassroots origins and its high rate of ongoing community support, as evidenced by a recent survey that showed 80 percent of respondents say they are satisfied with the project. He is excited about the challenges inherent in trying to ensure the project is implemented equitably.
But perhaps his favorite part of the project, he said, is that 30,000 jobs figure.
"You love all your kids the same, but it is the economic job creation impact that really excited me," he said. "When you can say that you created through this infrastructure 30,000 jobs, that's an economic developer's dream."
---