Innovation that Leads to Surgical Solutions
---
Posted on October 3, 2018
Marketing and Communications
---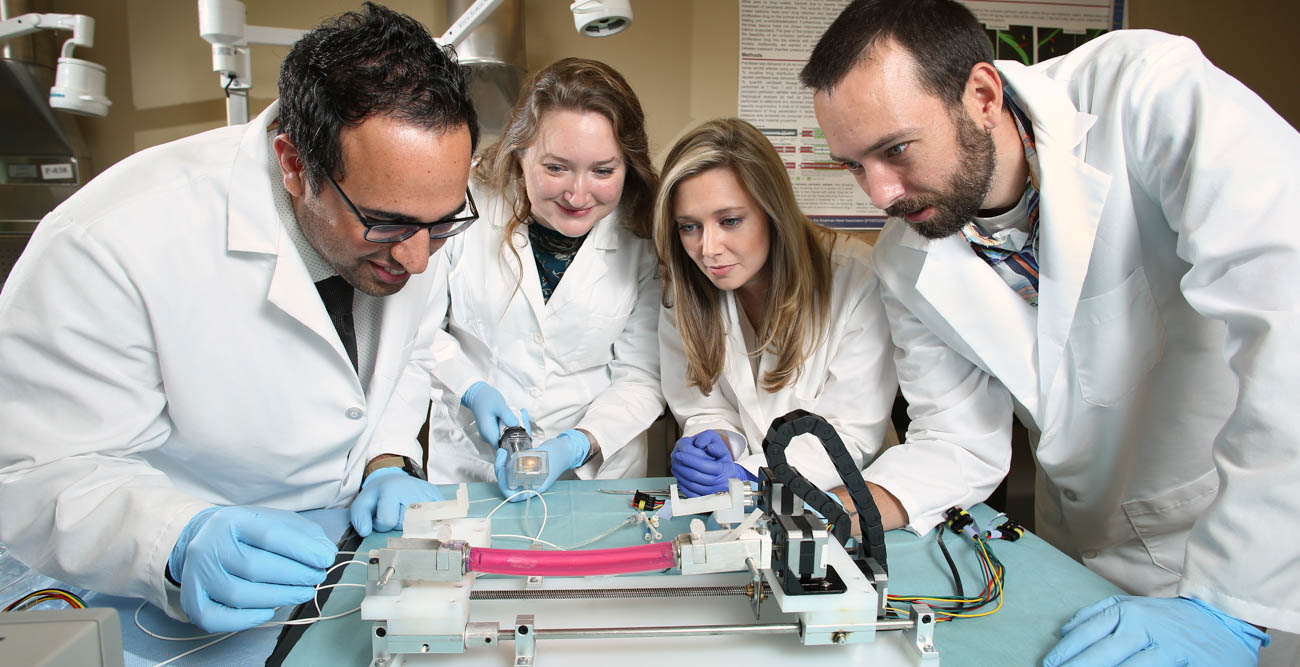 Dr. Saami Yazdani, associate professor of mechanical engineering, feeds a balloon catheter through a pig artery with, from left, Claire Cawthon and Kathryn Cooper, gap-year research assistants, and mechanical engineering major Clifton Huett at Yazdani's lab in the College of Engineering.
---
University of South Alabama Mechanical Engineering Associate Professor Dr. Saami Yazdani and student researchers are working on new local drug delivery methods that would not only benefit cardiac patients with circulation issues, but also diabetes and dialysis patients.
"There's a huge population that this research can one day help," said Yazdani. "Especially with everyone's diet and lifestyle these days."
Yazdani's work on peripheral arterial disease, or blockage of vessels that move blood from the heart to the legs, is a glimpse into an expanding health care focus inside South's mechanical engineering department. Among the faculty, half have research experience that intersects with health care, and recently the College of Engineering was approved to offer a biomedical engineering concentration for undergrads.
Yazdani's research could be significant for a broad group of patients. Peripheral arterial disease (PAD) affects 8.5 million people in the U.S., according to the Centers for Disease Control and Prevention.
It occurs more frequently in people age 60 and up, but other risk factors can introduce the disease to younger people; smoking, poor diet, lack of exercise, genetic background and high cholesterol all contribute to PAD.
Traditional cardiac stents largely have failed as a long-term solution. The arteries are embedded in leg muscles, and the twisting, turning, elongating and shortening of muscles in everyday movement eventually breaks stents.
"We know stents don't work for treating occlusions in legs," Yazdani said, "but we like the drugs coated on the stents. The question is, 'How do we deliver the drug that's on the stent to the artery in your leg without the stent being there?'"
Enter the balloon and catheter perfusion methods, two drug delivery methods Yazdani is testing for safety and efficiency through grants from the American Heart Association and National Institutes of Health.
The former is a small balloon, coated in dry drugs, that is guided through the vessel then pressed against the walls to prevent cellular build-up that naturally occurs when an occlusion is removed. The catheter perfusion is a liquid drug delivery method that involves inserting medicine into the thickness of the artery walls.
"Your legs have large arteries that get smaller toward the ankles, and each device has different characteristics and might work better in a different scenario," Yazdani said.
What comes after this developmental stage? Comparing the modalities against each other to see which one wins in safety, efficiency and effectiveness. Yazdani predicts that in a few years, his research will enter local clinical trials.
"In five years, we'll see what the gold standard is, but no magic bullet has been found yet," said Yazdani. "Progress has been made in treating occlusions above the knee but not below the knee." That's the area that's critical for diabetic patients, he said, and the research could also help physicians keep smaller leg arteries open, providing better care for diabetics and preventing leg amputations.
Yazdani's research points to the core of biomedical engineering — innovation that leads to surgical solutions.
"Biomedical engineering is the main field in engineering that helps patients, and it's all about getting research from the lab to the bedside," Yazdani said.
"Biomedical engineering is the main field in engineering that helps patients, and it's all about getting research from the lab to the bedside."
This past summer, South's College of Engineering was approved to offer a biomedical engineering concentration within the mechanical engineering department. New faculty members have been brought on board who have a research and teaching interest in using mechanical solutions to improve human health and medicine.
The environment is rich for students who want to attend medical school or work in a clinical setting, but who also want to study engineering, said Dr. David Nelson, chair of mechanical engineering, whose research interests includes the heating effects on tissues and organs from exposure to radio-frequency fields. He has developed and patented a new type of blood flow sensor based on that research.
The biomedical concentration is an outgrowth of the evolution of mechanical engineering education at South and cross-disciplinary opportunities with the University's College of Medicine.
"We're developing the ideal department, where we are very focused on teaching, but we also have a strong and sustained research mission," Nelson said. "They aren't in competition with each other; they complement each other.
"The research we're doing here addresses a lot of important and fundamental problems that will make people's lives better. That's what engineering is all about.
Cliff Huett already had a background in health care before enrolling in mechanical engineering at South, having worked as a cardiac sonographer and a nuclear medicine technician assistant. One of the highlights was being in the room during medical procedures.
"I've always been fascinated," Huett said, "with new technology in medicine."
So it stood to reason that when he got the chance, Huett asked Yazdani for a tour of his lab. That eventually led to a student research assistant job.
Because of Huett's work experience, he fills a niche role on the team. He has helped by operating an ultrasound, the same kind he learned on when earning his certification as a sonographer. Another of his tasks — harvesting pig arteries from a local slaughterhouse. Those arteries are then used to test the drug-delivery methods in a bioreactor.
As a junior with a family, Huett said he plans to get a job after graduation, but eventually return to school for a graduate program in biomedical engineering.
"The biomedical engineering research experience is valuable, whatever career direction students may take," Nelson said. "We usually think in terms of the 'rule of thirds.' We expect about a third of our graduates will go to medical school, another third to graduate school and a third will go directly into biomedical engineering careers. Regardless of the route, we want to make sure our graduates are equipped for success."
---