Celebrating 50 Years of Archaeology at South
---
Posted on October 11, 2021
Amber Day
---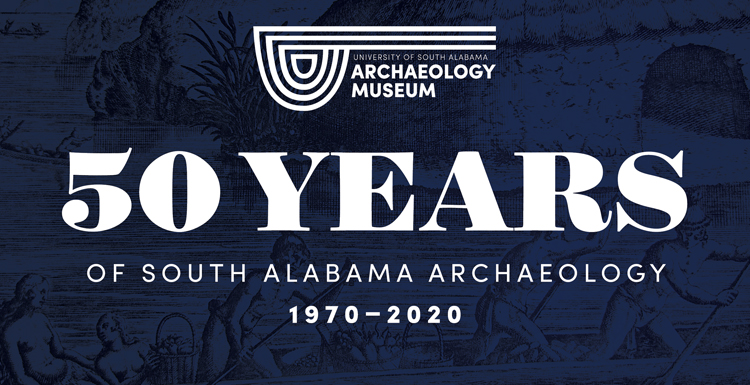 The new exhibit celebrating 50 years of archeology at South will be on display at the USA Archeology Museum until spring 2022. The museum showcases a variety of artifacts year round from the Gulf Coast that covers more than 12,000 years of prehistory and history.
---
Between 1970 and 2021, University of South Alabama archaeologists—faculty, staff, students and volunteers— have carried out more than 1,250 research projects. The extraordinary results of 50 years of archaeology in southwest Alabama and adjacent areas have transformed our knowledge of Gulf Coast history. An exhibit celebrating this work is currently on display at the University's Archaeology Museum.
"South celebrates 1970 as the year when the University added archaeology to its curriculum with the hiring of its first instructor, Noel Read Stowe, who established the first Archaeology Research Laboratory on campus," said Jen Knutson, education curator for the University of South Alabama Archeology Museum. "The Alfred and Lucille Delchamps Archaeology Building houses the Archaeology Curation Facility, which opened in 2006, and the USA Archaeology Museum, which opened in October 2012 and will celebrate its 10th anniversary next year."
The "50 Years of South Alabama Archaeology: 1970- 2020" exhibit will be on display at the museum until spring 2022. Visitors can view exhibit panels that include information and images from a variety of South archeology research projects, including the Native American Canoe Canal discovered in Gulf Shores, Civil War sites in Mobile and Spanish Fort, the Colonial Rice Fields uncovered in downtown Mobile and more. The exhibit also includes accounts from South students about their archaeology field school experiences.
"The USA Archaeology Museum is important to our community because it shows students of all ages why protecting and preserving the past is important for future generations and helps them to learn about other cultures," Knutson said. "The museum is a field trip destination for more than 3,000 K-12 students every year."
All archaeologists are anthropologists, and students can major in anthropology at South. Faculty also teach a variety of courses for associated interdisciplinary minors, including forensic science, gerontology, museum studies and Native American studies.
"Our anthropology students are extremely lucky to have access to a vast number of curated artifacts on campus at South," Knutson said. "Scholars come from all over the country to study collections curated at South."
The University of South Alabama established the Center for Archaeological Studies in 1992 to conduct archaeological research, teaching and public service in the north-central Gulf Coast region. The Center promotes the archaeological study and appreciation of the region's prehistoric and historic past; disseminates to the public information about the region's archaeology; and preserves archaeological evidence of the region's past for future study, use and enjoyment.
Most of the research projects over the past 50 years, ranging from reconnaissance surveys to in-depth excavations, have involved South students, who gained first-hand practical experience at some of the most significant archaeological sites in the region.
In addition to the new exhibit that celebrates 50 years of archeology at South, the museum showcases a variety of artifacts year round from the Gulf Coast that covers more than 12,000 years of prehistory and history. Artifacts are contextualized using a series of life-size scenic representations depicting archaeologists at work and glimpses into the ways of life of ancient Woodland cultures, mound-building Mississippian peoples, early French settlers and an African American family after the Civil War. In addition to the curation facility, the museum also houses a vast archaeology research library that students can access.
"One of the more popular life-scenic areas in the museum is the one depicting life on the Gulf Coast 1,200 years ago and how archaeologists are able to conduct excavations to understand it," Knutson said. "Students love to compare and contrast what life was like then compared to today."
The University of South Alabama recently received its largest ever grant -- and indeed the largest ever grant in the humanities – $453,000 from the National Endowment for the Humanities. The funds will be used to support the Doy Leale McCall Rare Book and Manuscript Library, the USA Archeology Museum and the Honors College. Faculty like Dr. Kern Jackson, director of the African-American Studies program, and Dr. Philip Carr, director of the USA Archaeology Museum and Chief Calvin McGhee Endowed Professor of Native American Studies, have been working with Mobile's historically marginalized communities for years to document their stories and voices.
"It's engaging with the community through the humanities portion, as evidenced in the unifying title of our grant application, 'History, Humanities, Community, and Justice in Alabama,'" said Dr. Kathy Cooke, Honors College dean and history professor. "That is the most exciting part of this."
The USA Archaeology Museum will benefit from the grant by providing paid internships for students, summer consulting fees for K-12 teachers to develop curriculum, and speaking fees for scholars and community members to share their knowledge with the public.
The USA Archaeology Museum is hosting International Archaeology Day and celebrating Alabama Archaeology Month on Saturday, October 16 from 10:00 a.m. to 3:00 p.m. Visitors will enjoy a fun-filled day to include atlatl throwing (atlatls are the precursor to the bow and arrow), a flint knapping demonstration and an opportunity to play early colonial games. There will also be guided tours of the Archaeology and Bioarchaeology Laboratories at 11:00 a.m. and 1:00 p.m.
To schedule a tour or field trip, email archaeologymuseum@southalabama.edu. Follow the museum for latest news and events on Facebook at facebook.com/TheArchaeologyMuseum. Visit their official website at southalabama.edu/org/archaeology/museum/.
---