Freshman Starts on Path to Med School with EMS
---
Posted on October 14, 2022
Thomas Becnel
---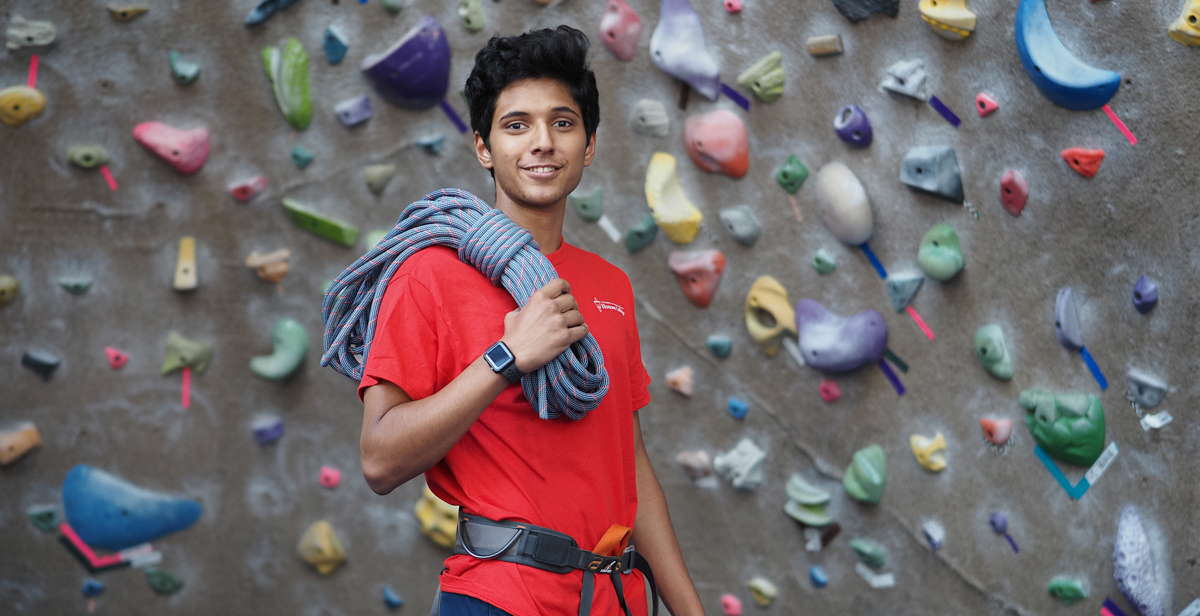 Among the organizations Suhas Patil has joined as a first-year student is the Rock Climbing Club.
---
#FreshmanFocus is a series of stories on incoming students at the University of South Alabama.
Suhas Patil plans to become a doctor, like so many biomedical sciences students at the University of South Alabama, but he's taking a different path with his pre-med schedule.
During his first semester, he's doing coursework and training in EMS – Emergency Medical Services.
"I just wanted some medical experience in patient care," he said. "It's not a very common thing, and it's ridiculously hard. I consider myself a good student, but the way EMS is taught is very practical, integrated with textbook work. That's been extremely challenging."
Patil, who was born in India, moved to Alabama with his family when he was 4 years old. He grew up in Mobile and went to Davidson High School. During his junior year, due to visa issues, his family moved back to India for seven months, then returned to Mobile.
He wound up starting his junior year studying remotely at an Indian school – on Indian time.
"I was going from 9 p.m. at night to about 2 p.m. the next day," he said. "I had to sleep in the afternoon and go to school in the evening, so it was like time was flipped."
At Davidson High School, Patil ran cross country and played No. 1 singles on the tennis team.
"Tennis was a major part of my life," he said. "Just the versatility of sports and the lessons you learn. You know, every point matters in tennis, and if you lose that one, the next one becomes even harder, so it teaches you something about procrastination."
Your graphic T-shirt says "Seek Discomfort." What does that mean?
"This is merch from a YouTube channel called "Yes Theory." Their entire ideology is saying yes to things, stepping out of your comfort zone, making new experiences, because only then can you grow and mature as a person. They're very cool. That's kind of how I'm taking college, going out and making friends, being interactive, talking to people after class."
And you joined the Honors College at South. Was that because of the focus on undergraduate research, or is there more to it?
"My friend suggested the Honors College, actually, and I said, 'Sure, I'm down with that.' I want to do research and community service is important, too. The other day, I was supposed to be studying for a class, but I spent two hours tutoring non-English-speaking Spanish kids. I've also signed up for tutoring at Wilmer Hall and being a PASSAGE USA mentor.
And you're already busy. How many clubs have you joined at South?
"I'm in five or six different clubs – I made a list, so I don't forget any. Let's see, I'm in the HCA, the Honors College Association, the HSAC, the Honors Student Advisory Committee, and AED, Alpha Epsilon Delta, the health professionals group. I'm also in RCC, the Rock Climbing Club, and ISA, the Indian Student Association. And I'm starting an EMS Club. Put that down, so more people will join."
What were your groups in high school? What was your most important one?
"I did Model United Nations all through high school. My senior year, I was the Security Council delegate for the United States. It's all about current events, so it's very interesting.
"The first time I went up to speak, my voice was shaking – I could hear it, but I couldn't stop it, which was embarrassing – because I was so nervous, because I was so excited to be there. But it was great. We ended up winning an award as the second-best delegation."
You want to be a physician. Do you know what you'd like to specialize in?
"I'm interested in oncology, oncology or surgery. In middle school, I shadowed a researcher at the Mitchell Cancer Institute. It was eye-opening to see how cancer advances, how it basically makes our own bodies work against us."
Outside of school, what are your big family activities?
"Every summer, or every other summer, we go to India. We visit our grandparents and all our relatives. We go hiking once or twice a year. We'll go to Tennessee or northern Alabama. My dad likes driving, so it's always a road trip, which is fine with me. Bring a good book, read it along the way, that's my thing."
---