An Eye for Coding, A Voice for a Scholarship
---
Posted on October 19, 2020
Joy Washington
---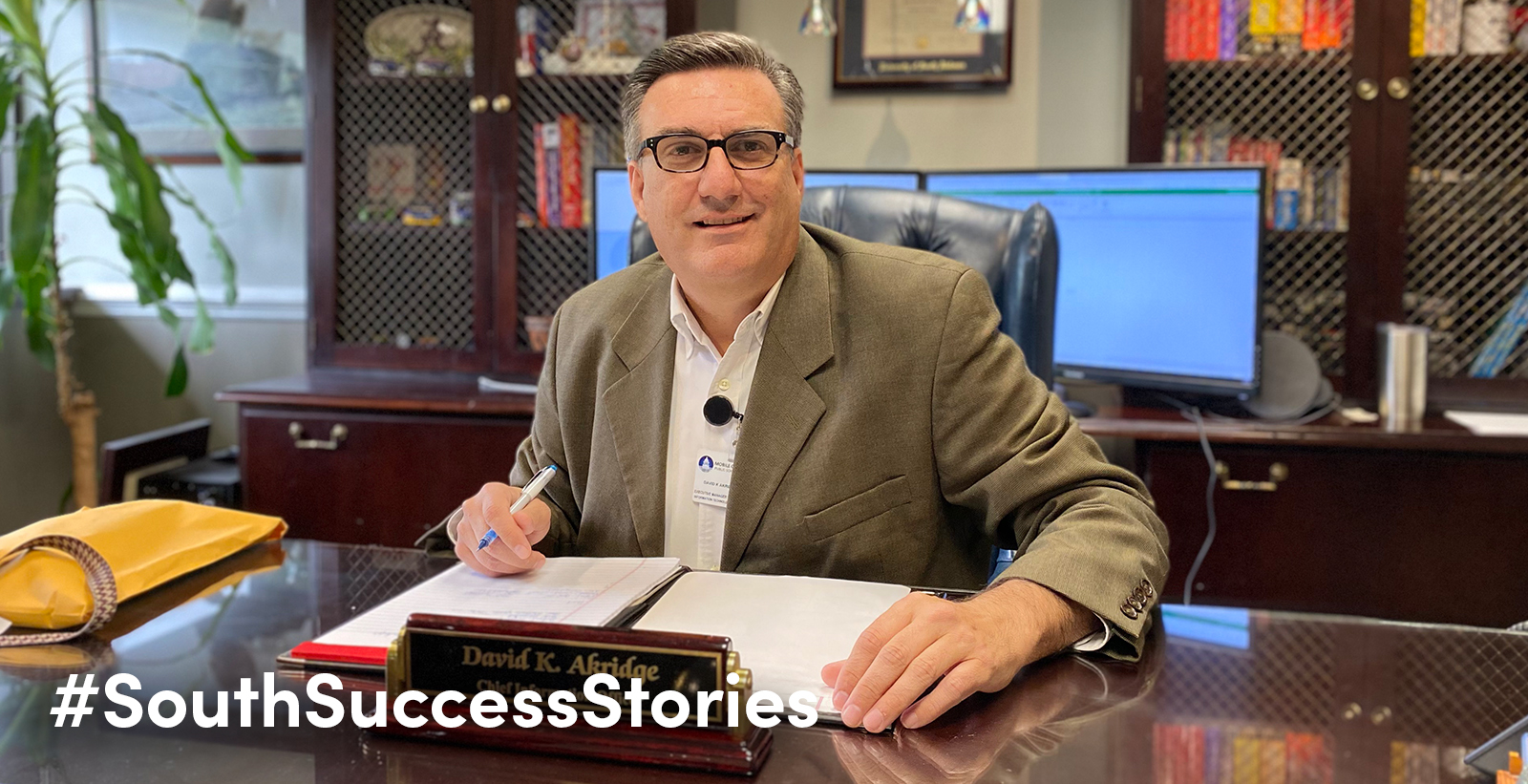 David K. Akridge, chief information officer for the Mobile County Public School System, said support from faculty, determination and a music scholarship led to his degree in computer and information sciences from the University of South Alabama. Photo courtesy of the Mobile County Public School System.
---
#SouthSuccessStories is an ongoing series featuring University of South Alabama alumni who are life-savers, innovators, game-changers, music-makers and creative-thinkers, successful in their careers and supportive of their communities.
David K. Akridge, a native of Bayou La Batre and a 1985 graduate of Alba High School, initially wanted to major in forestry. But after he attended an after-school class in basic computer programming and fell in love with the field of computing, he decided to attend the University of South Alabama's School of Computing.
"I am so grateful to have received my educational foundation from South Alabama," he said. "I am thankful for the positive experience I had at this great University. I had a tough time academically, but I persevered because of the support of professors and a great advisor."
Akridge, who graduated in 1991 with a computer and information sciences degree, is the chief information officer at Mobile County Public Schools, where he's worked for 29 years. Akridge is proud to say that his experience at USA carried him into his long career.
"I had a great time learning how to code, and I decided to major in the field of computer science," Akridge noted. "I started researching the possibility of this new field of computing at South Alabama. Personal computers were very new back in the '80s. I discussed with my parents about going to South. I had a girlfriend, who is now my wife of 32 years. And, most important, I didn't want to leave home for college. South Alabama was the obvious choice."
What wasn't obvious, however, was the path that Akridge would take to help him earn his degree. Although he had been singing and performing since the 8th grade and played the trombone in his high school band, he had no idea that a computer sciences major could qualify for a music scholarship. That changed when he auditioned for the late Dr. Andrew H. Harper, then the music department chair, seeking a place in the USA Chorus and other musical ensembles.
"During my audition, I sang for Dr. Harper, and he was so impressed with my voice that he offered me a scholarship. I was surprised," Akridge said. "He is probably one of the single most influential persons in my life. I wouldn't be where I am today if Dr. Harper had not offered me a music scholarship. I didn't have the top ACT scores, but I was determined to earn my degree."
Since Akridge was a computer science major, he was surprised that he was able to receive a scholarship in music. The confidence that Harper showed, he said, transformed his college life.
"School comes easy for some students, but for others, it can be a challenge," Akridge said. "I spent a large amount of time studying to pass my classes. And because of the scholarship, I was also able to study computing."
Akridge said there were other faculty and staff who took a chance on helping him when he was applying to and studying at South Alabama.
"Sometimes, when you help others, you don't even know the impact you have had on their lives," he said. "It's quite strange the person that would help me the most would be in music, but I'm also grateful to retired Professor Emeritus Dr. Roy Daigle, who was my professor in computer science. He was a big influence on my database programming experience."
Akridge also shared how Janet Kemp, retired CIS instructor and advisor, helped him change his major instead of dropping out of the program when he didn't pass a required math class.
"I was giving up. I couldn't pass my pre-calculus class," Akridge recalled. "But she said 'Look, I want you to start this new program, which was computer and information sciences.' She said 'Stay the course, and you are going to be fine.' That was a big deal to me. She could have told me to drop out, but she wanted to help me graduate. And I finished."
Once he graduated from South, Akridge secured his first professional position at Alabama's largest school district, the Mobile County Public School System. He is a third-generation employee of MCPSS. His grandfather, mother and father worked there, and his son is also employed at MCPSS. He has served under five superintendents, and currently manages 43 employees in three divisions. He and his team are in charge of managing data and technology for 54,000 students and 7,500 employees. He also is responsible for a 24-hour television network.
"Our goal is to use emerging technology to support teaching and learning, in the classroom or virtually, and the work of our employees," he said, adding that he's still grateful for how it all started.
"Years ago, I saw Dr. Harper eating dinner at a restaurant with his family," Akridge said. "I went over to his table and Dr. Harper said 'You look familiar.' I told him who I was. And I shared how I owe everything I have achieved in my career to how he supported me as a student at South Alabama. We both shed tears."
---