The Ride of a Lifetime
---
Posted on October 26, 2020
Lance Crawford
---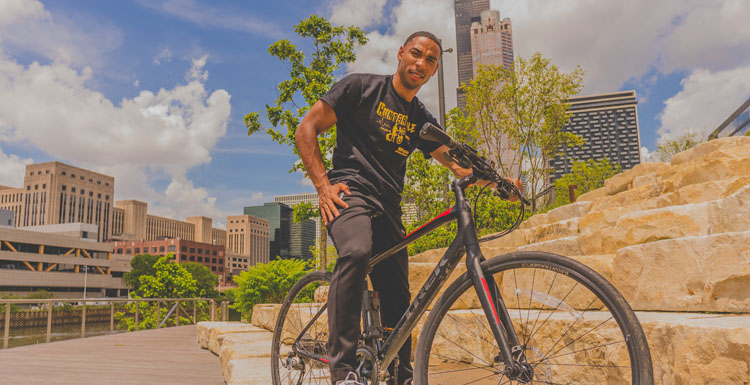 2009 South graduate, Jaysum Hunter completed a 21-day, 1,000-mile bike ride from his home in Chicago to his hometown of Mobile.
---
Growing up off Dauphin Island Parkway in Mobile, love and support were in large supply for Jaysum Hunter even if money was not. But at age 6, he received a bicycle as a surprise gift, and it was memorable.
"That bike gave me a sense of freedom and purpose," Hunter said.
His grandmother played a major role in Hunter's life, emphasizing a strong work ethic and willingness to help people. After graduating from B.C. Rain High School, he spent one year away before his desire to be closer to home took over and he transferred to South and the Mitchell College Business.
"I always admired and respected business leaders, so it was only fitting to study business administration, plus I wanted to understand the stock market," Hunter explained.
He also decided he need a bike to get around campus. Shocked by the high prices of quality bicycles, Hunter bit the bullet and decided if he was going to spend that much money, it was going to be a commitment -- he rode it everywhere during his time at South.
Following graduation in 2009, he started his career and eventually landed a job in Chicago as a financial analyst for a large healthcare company. The job was fine, but Hunter wanted more—knew he should be doing more—to inspire and motivate others.
"In May, after a long and exhausting fast, the Huntertale idea was born. I knew this idea was given by God as a test and testimony," he said. "I wanted to do something cool that I could share with my kids and grandkids."
That something needed to be epic, something inspiring. That's when he went back to his bike. Hunter had been riding some but was spending most of his time sitting at his desk. He decided to quit his job, get into shape, and make the 1,000-mile trek from his home in Chicago to his hometown of Mobile.
"My family and friends were worried because they thought I would be a victim of racism due to our current political climate," Hunter said. "Someone almost persuaded me to not take the trip, but as soon as I laid my head on the pillow, I remembered my motivation."
Hunter wanted to use his social media savvy to promote, not only his ride but also the businesses he visited along the route and share ideas with others. But first, there were plenty of details to iron out. He thought he might be able to make it in 10 to 14 days before thinking better of it and decided to extend the trip to 21 days.
His business partner insisted he map out a detailed route and she would update his progress on his website jaysumhunter.com.
"Doing this and putting it out to the world made it real and at that point I was all in," he said.
After 45 days of hard training and preparation, he felt confident about the trip. On Aug. 3, he set off on his journey, making his way south but the road took its toll.
"The toughest part was being exposed to the sun all day and becoming mentally and physically fatigued after seven days, knowing you have two more weeks to go," he said.
It wasn't all hardship, Hunter experienced many memorable moments including crossing the Ohio River from Illinois into Kentucky, seeing wildlife along the route and the amazement of people when they learned what he was doing. He allowed himself the comfort of a hotel bed each night and savored every moment he was able to coast downhill giving his aching legs a much-needed break.
Finally, on Day 21 Hunter pedaled into Mobile and into the teeth of Tropical Storm Marco that was lashing the area. Perhaps a fitting end to a difficult endeavor.
"I was planning a grand celebration of me taking a photo with the bike over my head, but after biking in the tropical storm I just wanted a hot shower and to see my grandma," he said.
Back in Chicago, Hunter is looking to restart his career, confident of his future knowing he can step far outside of his comfort zone and succeed. He also has a great story to tell.
---