USA Celebrates Record Fundraising Year
---
Posted on November 1, 2021
Lance Crawford
---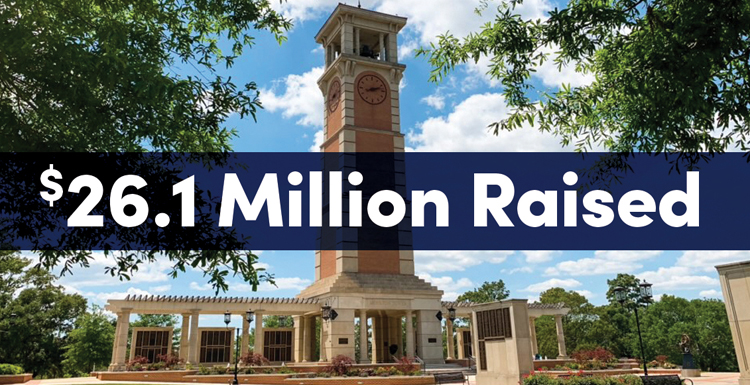 South and USA Health raised $26,147,447 for the fiscal year ending September 30, 2021, the largest total in its 58-year history. This record comes on the heels of the nearly $161 million raised during the University's 5-year Upward & Onward fundraising campaign.
---
A growing alumni base, combined with committed supporters willing to give, has led to the most successful fundraising year in University of South Alabama history.
In all, 4,440 donors contributed $26,147,447 to the University supporting everything from scholarships for social justice to a new USA Health campus in Baldwin County to major endowments for the colleges of nursing and engineering to the construction of a pediatric emergency center.
"What is so exciting about this total is the impact those dollars have on our students, our healthcare system and our community," said Margaret M. Sullivan, vice president of development and alumni relations.
Of the donors who gave to the University and USA Health, 1,314 did so for the first time. Employees and retirees of USA and USA Health gave more $1.2 million dollars through the USA Employee and Retiree Campaign.
This generosity is even more inspiring as this record-breaking year of fundraising comes on the heels of the University's five-year Upward & Onward campaign that raised $160.9 million, far more than its $150 million goal.
"In the past, it only took a year or two to get federal funding, now the process takes five, six or seven years to complete," said Dr. Martin Heslin, director of the USA Health Mitchell Cancer Institute. "Individual donor money supports our academic physician scientists and is the difference that allows us to create those new therapies right here at the Mitchell Cancer Institute and USA Health."
Donations also helped student success by supporting 336 existing scholarships and establishing 25 new endowed scholarships. One of the new endowments is the Holt Sisters Nursing Scholarship, which was created in memory of Dr. Shirley Holt-Hill and in honor of Dr. Bobbie Holt-Ragler, to give new opportunities to the Mobile-area nursing community.
"We wanted to leave a legacy of the Holt Sisters and show the love that so many have shown us," said Holt-Ragler. "Most of all, it gives us an opportunity to honor the legacy of our parents for teaching us some valuable lessons about the importance of never forgetting where you came from, always encouraging others, giving back to the community and maintaining a strong community connection."
New initiatives supporting underrepresented students were created over the past year. Kennedy Reese was one of three seniors who received the first Leadership in Social Justice and Perseverance Scholarship.
"Winning this scholarship has been a major blessing for me," said Reese, a secondary education major. "It has helped me continue my education and given me more financial opportunities to apply for graduate school."
A common theme among many donors is that education is the key to changing the world for the better, not only the life of the college graduate, but also the trajectory for future generations.
"Our donors see immense value in the University of South Alabama and USA Health," said Sullivan. "They are choosing to invest because it is a force for good in our region."
---