South Graduates Remake History at Barton Academy
---
Posted on November 17, 2021
Thomas Becnel
---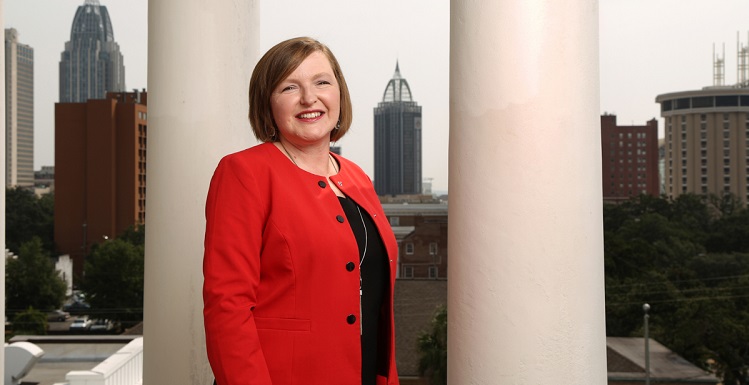 Principal Dr. Amanda Jones, a University of South Alabama alumna, stands under the rotunda at the Barton Academy for Advanced World Studies, Mobile County's newest magnet school. The school serving 6th-9th graders opened this fall in the renovated Greek Revival building that housed Alabama's first public school.
---
This story originally appeared in Pillars, the magazine of the University of South Alabama College of Education and Professional Studies.
On a busy summer day, less than a month before the reopening of Barton Academy, Principal Amanda Jones weaves down a middle school hallway. No straight lines. She dodges workmen, avoids crates and slips between stacks of office supplies.
"I've got people carrying in furniture," she said in mid-stride. "I've got people running back and forth. Literally, my desk was delivered today."
Dr. Jones, who earned four education degrees at the University of South Alabama, can't wait to show off the Barton Academy for Advanced World Studies. The oldest public school in the state of Alabama has a new mission and identity.
From the outside, the magnet school remains a Greek Revival monument in downtown Mobile. On the inside, it features labs with 3D printers and lounges with mod furniture that invite students to sit down and share problems and solutions.
"It's an 1836 exterior," Jones said, "for a 21st century learning environment."
Most of her teachers are South graduates who embrace the challenge of starting a new school with a nontraditional approach to education.
Barton Academy offers flexible schedules to pursue unique learning experiences. There is an emphasis on global studies, foreign languages and fine arts. Another priority is entrepreneurial skills such as communication, creativity and critical thinking.
"We have a lot of collaborative spaces for students to work together," Jones said. "We're doing project-based learning that is driven by student questioning, exploration and critical thinking."
The historic school building, designed by James Gallier and Charles and James Dakin, has been a fixture on Government Street for nearly two centuries. The walls of the three-story structure appear bright white behind live oaks and a black wrought-iron fence.
Barton Academy remained a school until it closed in 1965. It served as the school system's administration office until 2007. It had been vacant for more than a decade.
It was listed as one of Alabama's "Places In Peril," but local preservation groups rallied support to restore the building. Mobile County Public Schools spent $4.2 million to renovate the exterior. The Barton Academy Foundation raised $14 million to rebuild the interior. Now construction is complete and the school has reopened for 250 students.
"We want them to realize how big of a deal this is," Jones said. "We gave a yard sign to every student that says, 'I'm Making History.'"
Teachers and Parents
Barton Academy is small for a middle school in Mobile County. Full capacity is 320 students. The magnet school draws students from Citronelle to Prichard to Grand Bay.
There are 19 teachers on staff for the first school year. Fifteen of them have degrees from South. They include Dr. Megan McCall, a science teacher who has done research in Antarctica and won a Fulbright Distinguished Teaching Award; Marcee Hinds, who was the 2020 Alabama History Teacher of the Year; and Amy McGowan, who taught English at the Clark-Shaw Magnet School for 25 years.
Will Edmonds, a French teacher, earned a master's degree in education at South. He taught in the International Baccalaureate program at Davidson High School for 20 years. Now he's working at Barton Academy.
"A school that's focused on world studies and world languages – that's right up my alley," he said. "It's an opportunity to do something new and different. I've worked at schools that were just starting before, but I don't think I've been around this level of excitement."
Before becoming a teacher, Edmonds worked at a downtown bank. He took the first step toward a new career at the old school administration offices.
"For me, Barton Academy is this huge circle," he said. "It's where I originally applied, and now I'm returning to teach."
Chris Estis, vice president of the new Parent Teacher Organization, has a son that entered sixth grade at Barton Academy. He and his wife like the idea of recreating Mobile history.
"We've been hearing rumors about Barton Academy reopening since the time our son was born," he said. "It's such a historic place that it makes sense to bring it back to life. What better way than with a bunch of energetic middle school students?"
Estis supports entrepreneurship as part of the school curriculum. He's heard great things about faculty drawn to the magnet school.
Magnet schools in Mobile County are open-zoned schools. To determine which students should be able to attend one of the system's eight magnet schools, students are chosen based on an application and lottery process and are required to meet entrance criteria.
Barton Academy Family
One of the unique things about the academy is its enrollment of students in sixth, seventh, eighth and ninth grades. This makes it less of a middle school and more like a junior high.
Jones thinks that's a good idea.
"A lot of times," she said, "that ninth grade year can be a tough transition."
When she was growing up, Jones always loved school and always knew she wanted to become a teacher. She's from Clarke County. She was a big Alabama football fan, but chose to attend the University of South Alabama.
"It had a little bit of a hometown feel," she said. "There was more of that feeling at South."
Jones earned her bachelor's degree in three-and-a-half years. She met her husband at South, got married and started teaching in Mobile. She got her master's degree, educational specialist degree and Ed.D., later returning to South as an adjunct instructor.
She became an assistant principal and then a principal before taking a district-level job in school administration. That was three years ago. Now she's returning to her own school at Barton Academy.
"I knew this was a great opportunity," she said. "The more I learned about it, the more interested I was. And I missed being in a school, being with kids every day."
Jones said she feels grateful to the Barton Academy Foundation, along with the school board and superintendent for Mobile County Public Schools.
As principal, she had a big part in shaping the school curriculum. Along with a committee, she helped select an academy mascot (the Explorers) and school colors (blue and gray), along with the egg-shaped white chairs that delight students in a first-floor lounge.
On a brief tour of Barton Academy, she points out the science lab that offers the "We Build It Better" program from Flight Works Alabama. The school music room, facing east, offers the best view of Mobile's downtown skyline.
School sports include soccer, track and archery. There will be cheerleading and dance opportunities.
Jones does a lot of her own social media work for the magnet school. The idea is to reach parents, attract downtown partners and recruit students.
"I like doing the marketing," she said. "I think it's important to tell your own story."
The first chapter of the new Barton Academy story includes a breaking-in period for students, teachers and parents.
Everything is new. Everyone is getting settled.
For Jones, there are some familiar faces this fall.
"I have several students coming from my previous school," she said. "It's going to be fun."
---