South to Host 'Wonderful Time of the Year' Holiday Concert
---
Posted on November 17, 2022
Joy Washington
---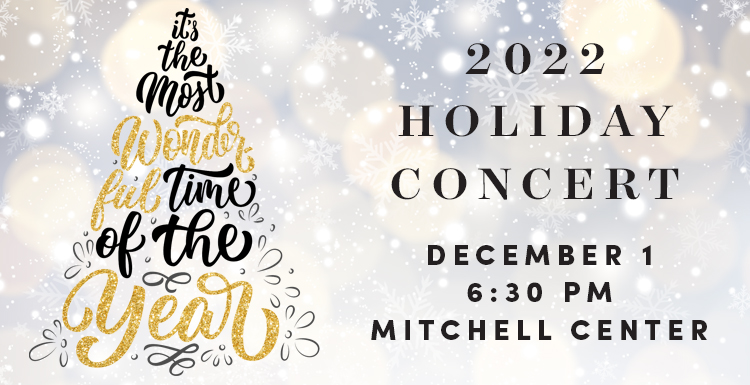 ---
An annual tradition will continue with the University of South Alabama Holiday Concert featuring multiple ensembles from the Department of Music performing at 6:30 p.m., Dec. 1. Doors open at 5:30 p.m. in the USA Mitchell Center.
Admission is free, and faculty, staff, students, alumni, donors and the public are invited to attend. Refreshments will be provided.
This year's theme, "It's the Most Wonderful Time of the Year," will feature popular holiday classics. The concert is hosted by the Office of the President and the Department of Music in the College of Arts and Sciences.
"Ensembles from the South Alabama Music Department, including the USA Concert Choir, University Chorale, USA Wind Ensemble, USA Opera Theatre, Celtic Crúe, Clarinet Ensemble and other small instrument and vocal ensembles will be playing the music of the season," said Chair and Director of Chorale Activities Dr. Laura Moore. "This event shines a light on our amazing student and faculty artists who perform each year. The decorations, staging, lighting and narration will enhance the production."
Moore said that the departmental vocal and instrumental ensembles would also be joined by the Jaguar Marching Band, singing and playing familiar tunes like "Jingle Bells" and "Joy to the World!" in a sing-along medley.
Free parking will be available in the following lots: Mitchell Center (Lot 401), Engineering (Lots 501 & 502), Humanities (Lot 607), and Gamma (Lot 303). Handicapped parking will be available in the Mitchell Center lot. The JagTran will be providing round-trip transportation from these parking lots to the Mitchell Center before and after the event.
---