From 'Shirtless Chef' to Food Network Stylist
---
Posted on November 20, 2019
Alice Jackson
---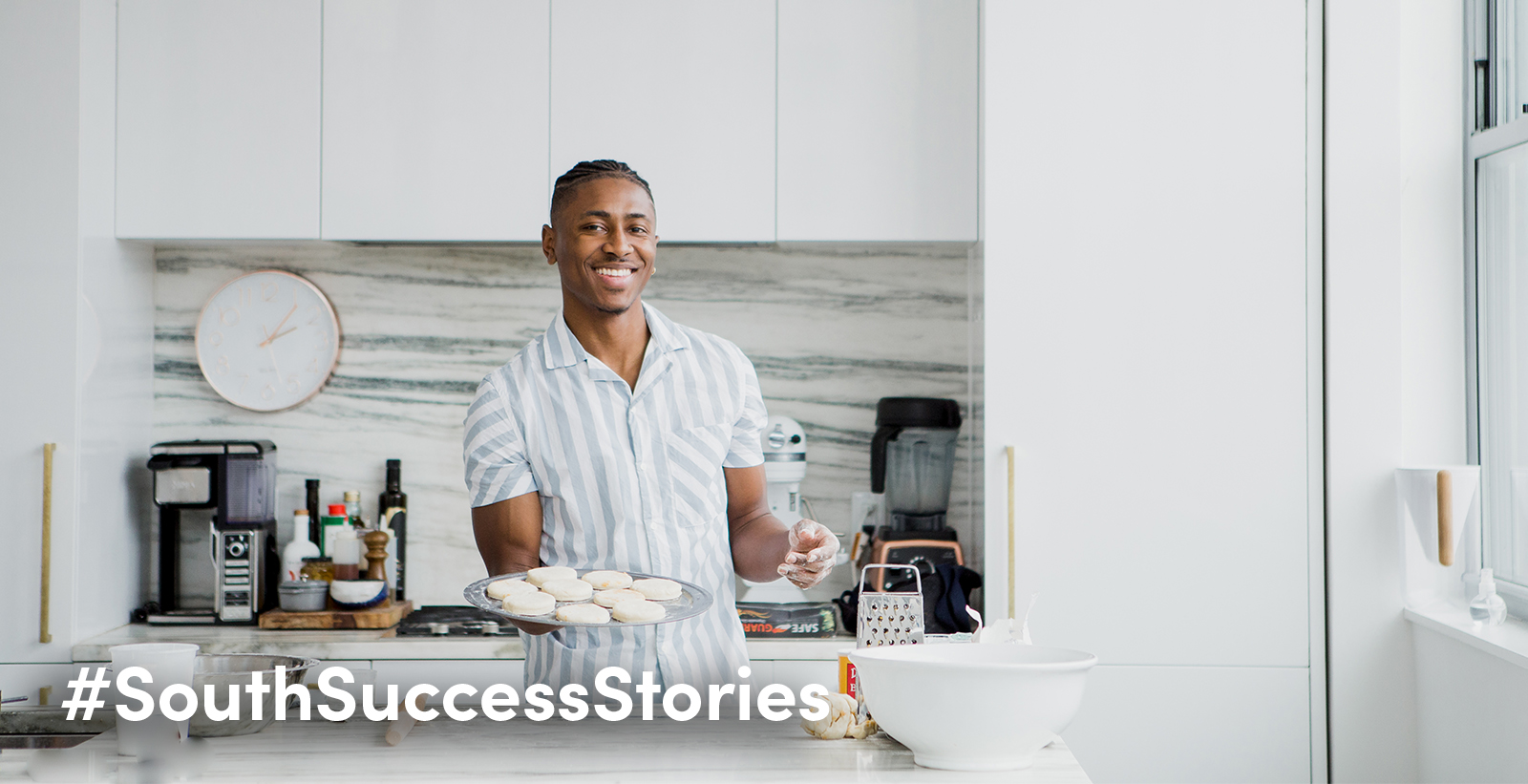 Devin Epps, a 2018 graduate of the Mitchell College of Business, works as a food stylist on contract with the Food Network and is in the process of building his own company. "I see myself as a storyteller, and hopefully that will translate into whatever I'm drawn to."
---
#SouthSuccessStories is an ongoing series featuring University of South Alabama alumni who are life-savers, innovators, game-changers, music-makers and creative-thinkers, successful in their careers and supportive of their communities.
Devin Epps isn't afraid to try something new. If fact, he prefers to blaze his trail. That way, he says, he knows he's ahead of the pack.
That pioneering spirit fed his unconventional approach to pursuing his dreams from his days as a University of South Alabama marketing student to today. The 2018 graduate splits his time between Nashville, Tenn., and New York, works as a food stylist on contract with the Food Network and is in the process of building his own company.
That business ultimately will offer food styling, recipe production and recipe development to networks and cooking shows.
Epps, who grew up in Tennessee, credits his mother with instilling the entrepreneurial drive that inspires him today. He sees that drive, the need to create something new and original, as a necessity in today's economy.
"If your dream, your goal, is deeply understood by everyone, then I would encourage you to dream bigger because there is something out there that isn't being done, that can be done," Epps said.
Getting Away From His Roots
Epps admits he has never been a person to shy away from a challenge. Even when the Murfreesboro, Tenn., native was looking at colleges, he knew he wanted to go somewhere that would take him out of his comfort zone.
"I wanted to go to a school in the South, for sure, but I didn't want to go to a school in Tennessee," he said. He wanted to be far enough from home that he had to depend on himself.
"I knew for me in order to grow as a man, I needed to get away from my roots a little bit. It's different when you're not able to go home versus when you simply don't go home," he said.
A walk-on player for the USA men's basketball team, Epps majored in marketing and quantitative methods with a concentration in international business in the Mitchell College of Business. And even though he was a day's drive away from home, he infused a bit of his family experience into college life.
As a child, Epps occasionally helped out with his mom's catering business. That experience fed his love for food, cooking and hospitality. Epps wanted to share that, so he started hosting Sunday meals out of his apartment. Students paid $5 for a home-cooked meal and a communal vibe.
"I can count on my hands the number of times I made a profit from that," he said. "I wasn't making a lot of money. I just wanted to create something communal. I wanted my apartment to be a gathering place for friends."
That was how "The Shirtless Chef," Epps' first branding experiment, was born.
Building a Brand
He posted videos of himself cooking (sometimes shirtless) and photos of his food and meals on Instagram and Facebook. He even landed appearances on local news programs for their cooking segments.
He built a following, and loved the combination of digital marketing and food. Epps said he realized personal branding was crucial to his future successes and unavoidable for most people nowadays.
"Everything you put on social media or into the public is being consumed and shaping people's perceptions of who you are," he said. "Whether you like that, whether you want it, whether you don't, it's true. Some people are afraid of it, so they avoid it, and that's OK. You don't have to participate. But if you do, learn how to use it to your advantage."
Epps set his sights on moving to New York to work with the Food Network after he graduated in 2018. He adapted his brand to match his long-term goals, trading "The Shirtless Chef" moniker for "Chef Dev."
He said he wanted something that was "not so much of a joke," something that he could carry throughout his life.
"The Shirtless Chef is part of my history, part of my story, and I'm proud of it. But I was thinking about when I'm 50, and I have a daughter, and she would be like, 'Yo, dad, put a shirt on!'" he said, with a laugh.
Life After College
He moved back to Nashville in September 2018 after graduation without a job. He got an offer to intern without pay for Skyway Studios in Nashville for a couple of months. He lived with his parents and tried to learn as much as he could while helping out on a daytime lifestyle show called "Pickler & Ben" (starring country singer Kellie Pickler.)
Meanwhile Epps kept looking for opportunities, and even reached out to a representative of BSTV via direct message about getting a job working on one of the production company's culinary shows. That boldness landed him a two-month paid gig as a production assistant on the show, "Trisha's Southern Kitchen," which is filmed in Nashville and stars country music singer Trisha Yearwood. He took out the trash, swept floors, and "did everything no one else wanted to do."
"It was not a glorious job, but it was on the set of a Food Network show, and I absolutely loved it," he said.
He would later work as a production assistant on the realty show "Christley Knows Best" and also continued to hustle outside of work as well, seeking out role models and mentors who were on a similar path. That's how he met Lazarus Lynch, a two-time "Chopped" winner, author of "Son of a Southern Chef" cookbook, and host of Snapchat's first cooking show.
Epps emailed the New York-based multimedia personality, looking for career guidance. They eventually met in Nashville and bonded over "hot chicken and actual tears" at Bolton's Spicy Chicken & Fish, Lynch said.
"Devin is tenacious. He has a drive like very few I know," said Lynch. "He also has a long view of things, that while miracles do happen in careers, patience and consistency are necessary."
Diversifying in a Gig Economy
In April 2019, Epps landed a six-month Food Network internship and moved to New York to work with the culinary team on the digital platform, styling food and learning about the logistics of filming a cooking segment.
That gig led to a contract food styling position with the Food Network's new app, Food Network Kitchen. He now helps style five to seven live cooking segments for the app every day.
Epps plans to continue doing contract work next year on culinary initiatives, but he is reluctant to put too many parameters on his company's main focus. "I want my business to be a platform for telling culinary stories," he said.
He sees possibilities in voice technology, animation and other digital innovations and wants to broaden his client base to include a wide range of shows, networks, production companies and mediums. Beginning in January, Epps and a business partner will launch the first season of a YouTube series called "Taste of Nashville," highlighting some of that city's influential chefs, restaurateurs and food purveyors.
"If you're going to be in a gig economy, don't lock yourself down to one company," he said. "I see myself as a storyteller, and hopefully that will translate into whatever I'm drawn to."
---