Dr. Robert Barrow's Mentorship Long-lasting, Impactful
---
Posted on December 5, 2016
Alice Jackson
---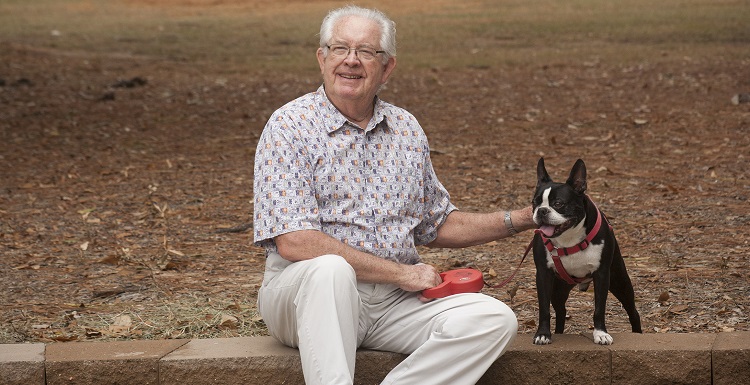 Retired in 1998, Dr. Robert Barrow remains a familiar face around campus, where he takes a daily walk with his wife, Margot; daughter, Audrey; and Bucky the Boston terrier.
---
Many graduates remember a favorite professor from their college days, and retired Coast Guard Vice Admiral William "Dean" Lee recalls vividly the professor and mentor who helped him the most while he was a University of South Alabama student during the late 1970s.
Lee, who will be Fall Commencement speaker on Dec. 10, recently shared his thoughts and gratitude for retired professor Dr. Robert Barrow, whom Lee said helped him during his student days, and ultimately steered him to a successful career in the Coast Guard.
"What a mentor Dr. Barrow was," Lee recalled. "I had student loans, and I also had to work. Dr. Barrow got me a job catching shoplifters at the mall. I also had to go to court and testify about the cases. It was the best internship in the world."
As Lee, who majored in criminal justice, approached graduation without the tuition money for law school, he turned to Barrow to discuss his future options.
"Dr. Barrow talked with me about the GI Bill, and encouraged me to do a tour in the Coast Guard to make me eligible for GI benefits," Lee said. "I took the test for Officer Candidate School in Mobile, and the rest is history."
Lee, who rose through the ranks of the U.S. Coast Guard to become Atlantic Area Commander, was operational commander for all missions from the Rocky Mountains to the Arabian Gulf, spanning across five of the Coast Guard's districts and 40 states, overseeing 60 percent of the Coast Guard, including 21,000 active duty members as well as thousands of reservists and civilian employees. In total, Lee served 14 tours of duty, commanding seven of them.
Barrow recalled the conversation with Lee, saying he thought he would have to argue with Lee a bit to convince him to join the Coast Guard. However, to his surprise, "Lee looked like a little light went off with him, and he was all for it."
"We went out to Coast Guard Base Mobile, the national training center for the Coast Guard's fliers, and he really caught fire then," Barrow said. "It's easy to get a job in the Coast Guard because they have so much to do, but for him to go up through the ranks, through the Officer Training Program, was a hard thing to do. He never aspired to be an admiral, but that was simply what he was intended to do because he has done it so well."
Barrow came to USA in 1966, three years after the University was founded. The Crestview, Fla., native was hired as an assistant professor of political science, and he concentrated on criminal justice. He was chairman of the department of political science and criminal justice from 1988-1998, and was named professor emeritus in 1998 while continuing to supervise the department's internship program. Today, he's still a familiar visitor to the campus where he, his wife, Margot, and daughter, Audrey, daily walk their Boston terrier Buckshot, or Bucky.
"During those days, I was also an officer in the Coast Guard Reserve, and I was the Coast Guard liaison officer to USA," Barrow said. "It was natural since I was in the Coast Guard myself to counsel students who were looking for a future in public safety and public law enforcement."
Barrow noted that as the first generation of his family to graduate from college, he shared a common history with many of his young students who sometimes floundered for direction. Before he entered the U.S. Air Force and served in Germany, where he met his wife, Barrow had worked laying concrete. Following high school, Lee worked as an apprentice bricklayer before he decided to attend South.
"Many times, people who become very successful may drift, fail or flounder for a while until they find their passion for what they want to do," Barrow said. "I saw that in Lee, but once he focused on a job that he felt great passion for, he was well on his way to success."
Barrow said he kept up with Lee's career throughout the years.
"I would hear great things about him through the Coast Guard network, and I would occasionally see him. He would always tell me how happy he was and how he'd done the right thing by joining the Coast Guard," Barrow recalled. "People always told me he would work long hours and do whatever the work demanded in the best way possible."
Barrow said he and his family are planning to see Lee while he's in Mobile.
"He and our son, Frank, were classmates, and they are good friends," Barrow said. "They have already talked, and Lee's been invited to a cookout at my son's home in Spanish Fort following Commencement. It will be good to see him again, and to hear what he's planning next now that he's retired."
---