Retired Coast Guard Vice Admiral William 'Dean' Lee, '79, to Address Graduates
---
Posted on December 5, 2016
Alice Jackson
---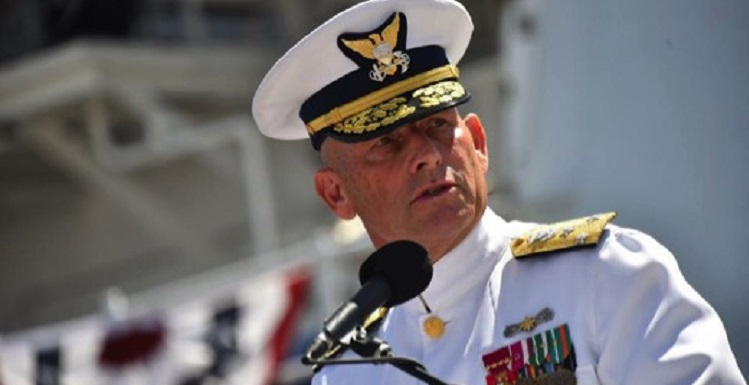 Retired Vice Admiral William "Dean" Lee, who served as Atlantic Area Commander of the U.S. Coast Guard, will deliver the Fall Commencement address on Saturday, Dec. 10, in the Mitchell Center.
---
Retired Vice Admiral William "Dean" Lee, who served as Atlantic Area Commander of the U.S. Coast Guard and is a member of the University of South Alabama Class of '79, will deliver the Fall Commencement address at USA at 2 p.m. on Saturday, Dec. 10, in the Mitchell Center.
South is scheduled to award 732 bachelor's degrees, 747 master's degrees, 19 doctorate degrees and six educational specialist degrees. Fall commencement is the graduation exercise for students who completed degree requirements in either the summer or the fall terms.
USA and the Mobile County Public School System will partner again this year to provide live streaming of the ceremony. The live coverage begins at 2 p.m. on the University's website. Recorded video of the entire commencement will be available online at the same address following the live web cast.
Retired Vice Admiral William "Dean" Lee
Lee, who retired on Oct. 1, spent 36 years serving at virtually all levels of the Coast Guard. As the Atlantic Area Commander, Lee was the operational commander for all missions from the Rocky Mountains to the Arabian Gulf, spanning across five of the Coast Guard's districts and 40 states, overseeing 60 percent of the Coast Guard, including 21,000 active duty members as well as thousands of reservists and civilian employees.
In addition to his duties at Atlantic Area, Lee served as Commander, Defense Force East and provided Coast Guard mission support to the U.S. Department of Defense and the Combatant Commanders. He also concurrently served as director of the Department of Homeland Security Joint Task Force-East, responsible for achieving the objectives of the DHS Southern Border and Approaches Campaign Plan, including oversight of the joint interagency maritime Counter Narcotics and Alien Migration missions. From 2014-2016, elements of Lee's task force interdicted 8,000 illegal immigrants, arrested 340 smugglers and seized nearly 100 metric tons of cocaine and other illicit drugs valued at $2.9 billion.
In total, Lee served 14 tours of duty, commanding seven of them.
In 1976, Lee took out a student loan and came to USA from his native Richmond, Va., because a high school friend told him the University had low tuition and was located close to Gulf beaches. He lived in a small cottage in Hillsdale, studied hard and spent any free time at Dauphin Island. Thanks to Dr. Robert Barrow, former chair of the department of political science and criminal justice, Lee found a job working 30 hours a week in security at a local department store. "What a mentor he was," Lee said of Barrow. "When I was close to graduation and couldn't afford tuition for law school, Dr. Barrow talked to me about the GI Bill and encouraged me to do a tour in the Coast Guard to make me eligible for GI benefits. I took the test for Officer Candidate School in Mobile, and the rest is history."
In 1979, Lee graduated from USA with a bachelor of arts degree in criminal justice administration. He entered the Coast Guard in 1980, then completed the Coast Guard's Officer Candidate School in 1981. Later, he received a master of arts degree in human resource development from George Washington University.
Lee's military awards include the Department of Homeland Security's Distinguished Service Medal, five Legions of Merit, the Defense Meritorious Service Medal, two Meritorious Service Medals, three Coast Guard Commendation Medals, two Coast Guard Achievement Medals and various other personal and unit awards.
Lee is still deciding how to spend his retirement, but he admits much of it will be spent with his young grandson. Outside of that, he is remodeling a home in Virginia and one located on the Outer Banks of North Carolina. Plus, he does some woodworking as well as fishing occasionally. Lee and his wife, Mary, are the parents of two grown sons.
USA Commencement Parking and Shuttle Information
Guests are encouraged to access the campus by USA South Drive or Jaguar Boulevard.
Graduating students should arrive well before the ceremony and park in the parking lot located behind the Mitchell College of Business on Student Services Drive. Admittance to the Health, Physical Education and Leisure Studies Building, where graduates line up for the event, will be limited to only graduating students. Graduates should not bring bags, purses or any "carry" items.
Limited handicapped parking will be available in the Mitchell Center parking lot for students, family and friends. Entrance to this parking lot will be from Old Shell Road only (south side of the Mitchell Center). Proper tags must be visible on vehicles for admittance to this lot.
Parking signs will be posted throughout the campus, and shuttle service will be available from posted areas. Directional parking signs will also be displayed.
The shuttle service will run continually from 11 a.m.
Shuttle pick-up and drop-off points are the parking lots at University Commons, Gamma Residence Hall, Humanities Building, Whiddon Administration Building, Student Services Drive and the east side of the Computer Services Center.
For additional commencement details, visit the Registrar's website.
---