Commencement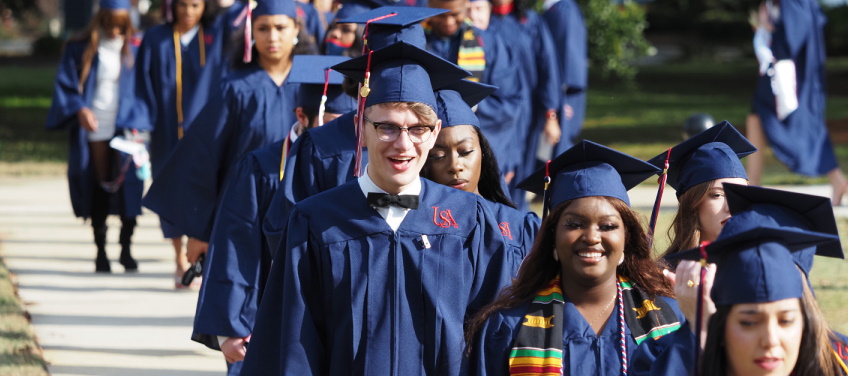 University of South Alabama Commencement
Congratulations, Class of 2023! We look forward to celebrating your accomplishments this December.

Fall 2023 Commencement
Location: USA Mitchell Center
Friday, December 15, at 10 a.m.
FAQs
Q: When and how do I order my cap and gown?
A: Regalia must be ordered from the university's approved vendor, Graduate Supply House, in order to participate in Commencement. Online regalia ordering for Fall 2023 Commencement opened on Tuesday, September 19, 2023. Visit http://www.gradsupply.com/usa to order your regalia before the deadline on Monday, November 6, 2023, to avoid late fees.
Q: Why is my graduation date different from the date of the commencement ceremony?
A: The graduation date is the official date listed for the awarding of the degree on diplomas, transcripts, and education verifications. Traditionally, the graduation date is the Saturday after final exams. The graduation date is independent of the commencement ceremony as all graduating candidates for the semester will have the same graduation date regardless of their participation in commencement. Commencement dates may vary from semester to semester based on the academic calendar and the number of graduation candidates.
Q: When and how do I RSVP for the ceremony?
A: A Google RSVP form will be sent to your JagMail email account in November. The email will come from graduation@southalabama.edu. Please submit your RSVP even if you do not plan to participate in the ceremony.
Q: What should I expect on the day of Commencement?
A: Check out this brief video (less than 90 seconds): Commencement Orientation
Q: Are there any items I cannot bring?
A: The Mitchell Center's clear bag entry policy will be enforced for graduates and guests. Balloons, glitter, silly string, noise makers, etc. are not allowed in the Mitchell Center. Firearms, smoking/vaping, and alcoholic beverages are prohibited.
Q: How long will the ceremony last?
A: The duration of each ceremony is dependent on the number of graduates who participate.
Q: Am I expected to stay for the entire ceremony?
A: Yes, the last degree candidate is as important as the first so we ask that you be considerate.
Q: Is there a limit on the number of guests I can invite?
A: At this time, there is no limit to the number of guests a graduate may invite to commencement.
Q: Will guests need tickets to attend?
A: Tickets are not required for the Fall 2023 Commencement ceremony.
Q: I have a guest who will need accommodations. What should I do?
A: Wheelchair-accessible parking will be available in the Mitchell Center parking lot on a first-come-first-serve basis. A state-issued handicap placard or license plate is required for parking in this lot. It is recommended that guests with limited mobility enter the Mitchell Center via the ramp at the south entrance. Once inside the Mitchell Center, ushers will be available to assist guests. Sections 104 and 105 are reserved for mobility-impaired guests. Only one person may accompany each guest seated in these sections.
revised 11/29/2023