Faculty Information for Commencement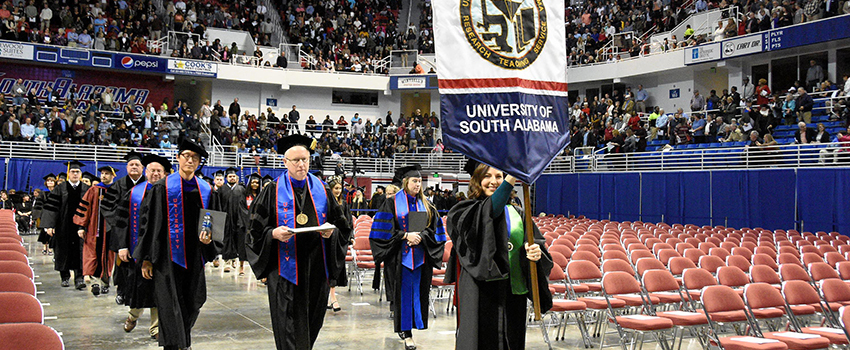 The Office of the Registrar appreciates your help with graduation and commencement. Please see the tabs below for more information about the commencement ceremony.
Participation in Commencement
All full-time faculty members are requested to be present in academic regalia at the commencement ceremony.
Parking
Parking for faculty is located in the lot near the former Engineering Building and the Gamma Residence Halls. You must have your faculty parking hang tag in order to park in this lot.
Ceremony
Please arrive at the Mitchell Center, Room 1101 no later than 45 minutes before the start time of commencement. Robing will take place in Room 1102.
Faculty will line up in double file in the Mitchell Center, Room 1101. Lead Faculty Marshals will oversee the faculty line up process.
After the students have processed into the arena the Faculty Marshals will lead the faculty into the arena in two rows down the center aisle to the front of the stage. When approaching the stage, each row splits off (left and right) and walks toward the ropes. Two Registrar staff members will assist in directing the faculty to the SE and SW stairwells to the concourse level. Faculty Marshals will assist with seating in the designated faculty sections. Please remain standing for the Processional, Presentation of Colors, the National Anthem, and Invocation.
As degrees are being conferred, you will be asked to stand when your college is introduced.

At the end of the ceremony, when the Platform Party exits the arena, the Faculty Marshals will direct the faculty out of the arena beginning with the last row in each section. The faculty will exit through the South East hallway which is the Athletic Administration side of the arena. Do not recess through the South West hallway as the platform party exits through this hallway. Return to rooms 1101 and 1102 to return your rented academic regalia to the Bookstore representatives.

Please note: Valuables should not be brought to the Mitchell Center since the robing area is not secure.