From a Challenging Start, a Fast Finish
---
Posted on December 5, 2016
Joy Washington
---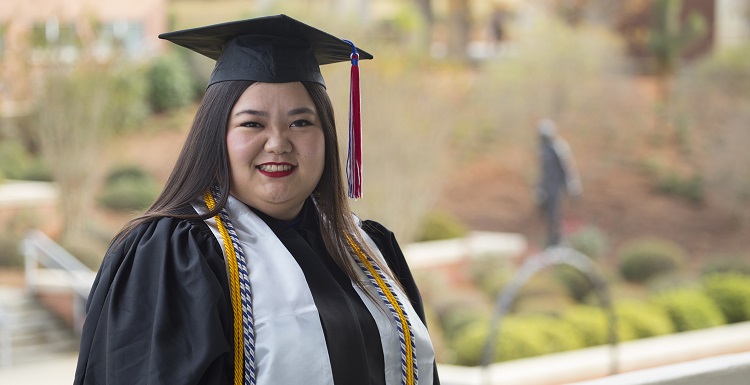 Robin Campbell, who after a little more than two years at South is set to receive her undergraduate degree, plans to pursue her master's degree in industrial organizational psychology.
---
Drive, determination, goal-setting and a passion for learning opened the doors for Robin Campbell of Mobile to graduate from college in just two years and three months.
Campbell, a 20-year-old psychology major at the University of South Alabama, is preparing to graduate with a bachelor's degree during the 2016 Fall Commencement to be held Saturday, Dec. 10. But, when she looks back over her life, it didn't start out smoothly.
She was adopted from an orphanage in Jiangxi Province in the People's Republic of China. Following her adoptive parents' divorce, she went to live with her adoptive father's parents, Ray and Jane Campbell, at the age of 5.
"I was adopted from China at nine months," she said. "I was left on the door step of the police department there and taken to an orphanage. I was told there was a note on my clothes, but I never found out what the note said. What I do know is that I am thankful for the good and bad that has happened to me throughout my life because it has made me who I am today. I am so grateful for the love of my grandparents."
Campbell has never thought that her challenges could be the force that drives her, but she is grateful for her life right now. And she appreciates the love and support she receives from her great aunt, who is a South alumna.
"Robin has a great work ethic, loves learning and the University of South Alabama," said Dr. Mary Michael Campbell, a retiree from South's College of Education's South Alabama Research and Inservice Center. "I remember when she arrived at the airport from China as a baby. We all wore pink ribbons to welcome her home. I will be at commencement cheering her with the rest of the family as she receives her hard-earned degree."
Thanks to the support she has received from faculty and staff at South, along with a scholarship from the Joseph Treadwell Charitable Foundation, her major goal is about to be accomplished.
"I always had good grades and set attainable goals in high school, but because I didn't have the money, I didn't think I would ever go to college," Campbell said. "Thanks to Freda Butts, one of the high school counselors at Mobile Christian, I was encouraged to apply for the scholarship and write an essay. I was honored to become one of the recipients of the Treadwell Charitable Foundation Scholarship."
Campbell has also proven that being able to finish college in four years is not a myth. University President Tony Waldrop greeted the 2016 freshman class back in August by sharing the importance of finishing college in four years.
Campbell, who is graduating magna cum laude, which means graduating with great honor, has earned a 3.71 grade-point average. Due to being a member of the dual enrollment program while she was in high school at Mobile Christian, it afforded her the opportunity to start South Alabama as a freshman with 18 credit hours. Once she started studying at South, she took 15 to 18 hours during most semesters and took classes during the summer sessions.
Campbell is driven and ready to make a difference in the world. And, she can't thank the Treadwell Foundation enough for helping her achieve her major goal.
Each spring, the Joseph Treadwell Charitable Foundation gives scholarships to several graduating seniors in Mobile County who have overcome tremendous challenges and plan to go to college in the Mobile area.
The Board of Managers for the foundation was set up by the late Joseph Treadwell, and they include John H. Wilson, Ralph "Sonny" Middleton and Vincent F. Kilborn III. These gentlemen meet with the students during the interview process and award the scholarships to deserving high school students.
"Robin has done very well, and we are proud of her accomplishments," Wilson noted. "When we help our students in need, we are doing what Joe Treadwell wanted us to do. And, we appreciate South Alabama serving as one of our partner universities."
Campbell is so appreciative for her scholarship that she sent a thank you letter and invited the Treadwell Board of Managers to her commencement ceremony.
"I just received my graduation invitation, and I am so excited for Robin," Wilson expressed. "She has impressed us very much. And we are thrilled to have played a role in helping her reach her desired goal, along with many other students."
Campbell's active education at South includes serving as a research assistant in a directed study with Dr. Joshua D. Foster, associate professor of psychology at South Alabama and serving as an intern with South's Team Based Learning Initiative, managing and coding survey information. She has been named to South's President's List, Dean's List, along with being recognized as the outstanding undergraduate in psychology and other honors. Campbell is also a member of the Psi Chi International Psychology Honor Society. And, she has certifications in American Sign Language and First Aid. Campbell wants to make sure other students have the same opportunities.
"The day I graduate from South Alabama will be because of my family, the great faculty and staff in the psychology department and the generous people associated with the Treadwell Charitable Foundation," Campbell noted. "I have always had the desire to make a difference, and because my education was paid for when I didn't have the money, I want to give back to the Treadwell Foundation one day to help other young people achieve their dreams."
Campbell also plans to pursue her master's degree in industrial organizational psychology, which is the study of the workplace environment, organizations and their employees.
"I can't wait until I am an IO psychologist," Campbell said. "I hope to work in a small business, state or federal agency. I would be handling employee conflicts, discrimination issues, programs, training and other duties. I want to help change someone's life and help people better themselves."
Campbell has had numerous mentors and supporters while she earned her degree. Cheryl Nicholls, educational outreach specialist in the physician assistant program in the Pat Capps Cover College of Allied Health Professions at South Alabama, has served as one of those mentors.
"When I met Robin at the beginning of her freshman year, she confidently laid out her plans for her college career in my office," Nicholls said. "She was bright-eyed and filled with excitement. Robin told me she planned to graduate in two years. Of course, I laughed inwardly and told her to stop and smell the roses along the way. 'What was her rush,' I thought. Robin excelled academically each semester. She came with a goal in mind and did not allow anyone to block her path to success."
---