A World of Good
---
Posted on December 7, 2021
Thomas Becnel
---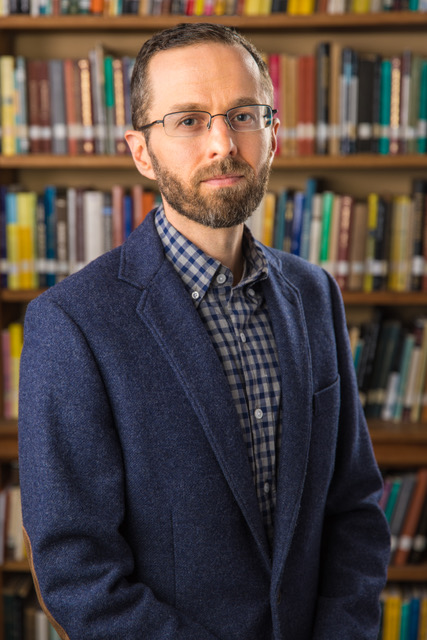 Dr. Samuel Baker, an associate professor of philosophy at the University of South Alabama, is on sabbatical at the Institute for Advanced Study at Princeton.
While on sabbatical at the Institute for Advanced Study at Princeton, where he's writing a book about Aristotle, Dr. Samuel Baker likes to get an early start on his writing and research.
He often rises at 4:30 a.m. to continue his work on the concept of truth as a good in Nicomachean Ethics.
"It's a good thing to do, first thing," said Baker, an associate professor of philosophy at the University of South Alabama. "If the world falls apart in the rest of the day, at least you've got a little bit of work done."
On Tuesday mornings, he travels to Manhattan for a philosophy seminar at New York University. He enjoys visiting the city, but doesn't have much time. On Tuesday evenings, he returns to Princeton for a classical Greek reading group.
Baker has had papers published in journals such as Apeiron, Philosophical Studies and Oxford Studies in Ancient Philosophy. His scholarship has focused on Aristotle's definition of happiness, along with the "ergon argument" by which Aristotle arrives at that definition.
"Right now I am thinking about the way Aristotle conceives of the mind," Baker said. "Aristotle claims that the intellect also has a proper ergon, has a proper work, and that ergon is truth, which sounds a little puzzling. I'm sort of unpacking that claim and explaining the passages that surround it.
"I argue for an interpretation that may sound a little surprising, but Aristotle believes, I think, in degrees of truth. The central idea is that when one truth causes another truth to be true, the first truth, the cause, is truer than the second. The task is then to build a system where you can arrive at these highest truths. So the pursuit of truth is leading you to these first principles, the causes of all other truths. That's kind of the picture."
If Baker had a working title for his book, he says it might be "Aristotle on Truth as the Good of the Intellect."
This fall, he is a member at the Institute for Advanced Study at Princeton. In the spring, he will continue his research thanks to a Loeb Classical Library Foundation Fellowship from Harvard University Press.
Dr. Kevin Meeker, chair of the department of philosophy at South, wasn't surprised that Baker won such prestigious fellowships.
"He's done a lot of groundbreaking work in understanding some of Aristotle's arguments," Meeker said. "He's provided a fresh way of looking at ideas that have been around for a very long time. That's a very unusual thing. He's convinced a lot of people and it's very difficult to convince people of a new reading for an ancient text."
At the University of Chicago, Dr. Gabriel Richardson Lear is a mentor and colleague who has visited Baker's classes in Mobile.
"Samuel was one of the first undergraduates I taught and I well remember his enthusiastic, penetrating questions," Lear said. "One of the great joys of my life is that I now routinely assign Samuel's papers to my students at the University of Chicago. His interpretation of what Aristotle means by saying that our highest human good is the virtuous fulfillment of our characteristic human 'work' is the best I know: clear, subtle, precise and just plain right."
Dr. Patricio Fernandez, a philosophy professor at the University of California, Santa Barbara, is a colleague who is writing a journal article with Baker.
"Samuel is an acute reader of ancient texts in general and Aristotle in particular," Fernandez said. "He is clearly convinced that Aristotle's works, particularly his Ethics, are not only of historical interest, but are also of great value for our present moment. I'm struck by how meticulous he is and sensitive to how far any given philosophical reading of a text can be taken while remaining faithful to the text's letter. Several times he has stopped me from taking some of my own readings too far."
At South, Baker teaches philosophy along with classical languages such as Latin and ancient Greek. It's an unusual schedule that fits his research, which includes close reading of untranslated texts.
He's grateful for seed grants from the Office of Research and Development at South. One allowed him to participate in an advanced seminar, working with other professors in spoken ancient Greek.
"It sounds so useless, but in fact it's very hard, when you're reading an ancient language, to be as comfortable reading it when you don't speak the language," he said. "Speaking the language allows you to see a lot more natural transitions between words."
Some undergraduates at South study Latin through all four semesters taught by Baker. A few go on to take his philosophy courses as well.
He avoids treating language as dusty old text to be translated. There's a growing trend in Latin education, particularly at the high school level, that follows a spoken method.
"That's the only way to really own the language," Baker said. "When you can produce the language, you can really own it."
Yale, Cambridge, Princeton
Baker grew up in Portsmouth, Virginia, where his father was an accountant. He was an accomplished student at a small Christian school who went on to earn a bachelor's degree at Yale, a master's degree at Cambridge, and a Ph.D. at Princeton.
His only brother went to West Point and serves in the Army, where he is now a lieutenant colonel.
Baker started off studying English at Yale, but a philosophy class – Lear's philosophy class – helped him focus on what's become his career.
"Aristotle made sense to me in a way that other philosophies didn't," he said. "It was so convincing as an ethical system and I liked how everything fit together so well."
Baker says he had a difficult time in graduate school and wasn't always the best student in ancient language classes. He had to work at Latin and ancient Greek. His research on Aristotle was rewarding, though, and he found success with his analysis and insights.
"The most important part is that you love it," he said. "If you love it, then you can work really hard at it."
In 2014, Baker converted to Catholicism. He's volunteered at St. Pius X Catholic Church in Mobile. Part of his interest came from the study of Catholic philosophers.
"Thomas Aquinas is a theologian, and because there are so many different theological issues, he basically mastered the whole corpus of Aristotle in order to answer those questions," Baker said. "Of course, he hasn't read the text in Greek, so he does make errors, but he's a really good interpreter. When you read Aquinas, you start realizing that everything is connected, especially when you are talking about theology, and you have to be sensitive to every area of philosophy."
After earning his Ph.D., Baker taught at the University of California at Los Angeles.
Before joining the faculty at South in 2015, he was a postdoctoral researcher at the Sorbonne in Paris. He enjoyed the city and improved his French.
In Mobile, he continues his classical research. In February, he will present a paper – "In a Complete Life: Aristotle on the Human Good and Time" – at a meeting of the American Philosophical Association.
In his spare time, he volunteers with L'Arche Mobile, an organization devoted to people with intellectual disabilities.
"Usually, I'll just go to share a meal or play cards," he said. "We've had Bible studies and done arts and crafts."
Baker sharpens his ancient language skills at retreats where only those languages are spoken. These can be hard to find, but there was one at the Visitation Monastery near his home in the Midtown neighborhood of Mobile.
"There was only one available this past year in the whole continental U.S.," he said, laughing, "and it was across the street from where I live."
At South, he enjoys hiking the Glenn Sebastian Nature Trail on the north side of campus. In Princeton this fall, he relaxes with walks through the Institute Woods, a 600-acre nature preserve.
He appreciates having a sabbatical year to focus on his writing and research.
"It's a time that's refreshing," he said. "It's always valuable to be in the classroom and have a give and take with the material, but it's also good to branch out and have time to pursue your thoughts."
---