Meet 'Mr. Shared Leadership'
---
Posted on December 12, 2016
Alice Jackson
---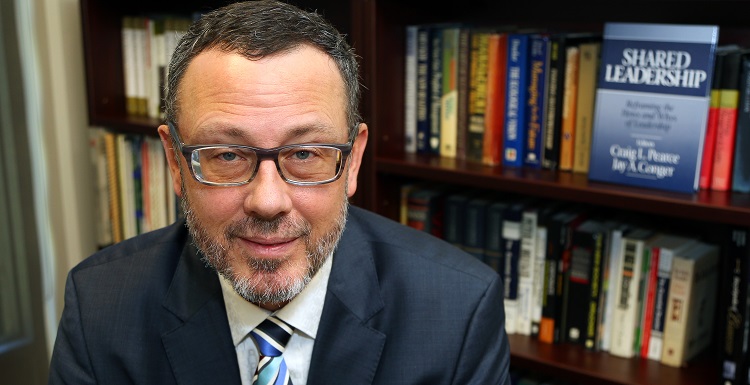 Dr. Craig Pearce, who holds the Ben May chair of business in the USA Mitchell College of Business, pioneered the management technique of shared leadership after working as a consultant in Great Britain.
Download larger image
---
The parents of Dr. Craig Pearce urged him to "dream big," and he took them at their word. The 51-year-old University of South Alabama professor is recognized internationally as a business consultant in "shared leadership" – a management technique he pioneered – and a respected business author as well as an entrepreneur, and last month his alma mater, Pennsylvania State University, honored him with a lifetime achievement award.
After years of teaching and living abroad, returning to the university where he majored in management and minored in psychology brought him full circle to where his career began when he graduated in 1987.
"About 20 Penn State alumni are selected each year for Alumni Fellow Awards, and the awards often go to CEOs of big companies or heads of large government organizations," Pearce said. "It was wonderful to meet with the dean of the business school, speak to a class on international business and give a speech at a public forum in conjunction with being named a Fellow."
Pearce, who holds the Ben May chair of business in the USA Mitchell College of Business, speaks humbly of his years growing up "in a small town in western Pennsylvania with a very rural lifestyle," and he credits his parents with putting him on his successful path to academia, consulting and world travel.
"I was a first-generation student, so I empathize greatly with today's campus programs that aim to help those students, who are the first in their families to go to college, to figure it out," Pearce said.
According to Pearce, figuring things out stems from the confidence instilled by his parents, and he has been good at it. Shortly after graduating from Penn State in his early 20s, he went to the University of Wisconsin for his MBA in management. Feeling the need to acquire "a more worldly view," he accepted a management consulting job in Great Britain, helping to denationalize the British auto industry. What he observed there changed his life.
"It was a very exciting time, and our team didn't act like what I'd read in the textbooks," Pearce said. "In those days, leadership traditionally came from the top down, but the auto industry was spending a half billion dollars in research and development, and everything was sped up to get the cars into the showrooms. To do that, we had to begin shifting our view to where nearly everybody in the process could engage in influence. With my psychology background, I've always been very much an observer of people, and I noticed we were onto something that wasn't in the lexicon of leadership."
His British experience led Pearce to pursue his doctorate at the University of Maryland, which he completed in 1997. Along the way, he pitched a book manuscript about what he had observed in Great Britain, calling the novel approach "shared leadership."
"No publisher would touch it," Pearce recalled. "Today, no one denies the importance of shared leadership. We find, especially in today's global economy, that shared leadership predicts efficiency, productivity and potential profit above and beyond what hierarchical leadership predicts."
He added, "It's very prevalent for a business to be top down, and I think the press feeds into that perspective. If a company does well, the press glorifies the CEO. They are important, but they can also sink an organization, which means the press wants to vilify them. However, the reality is far more complex. Leadership is a complex social process in organizations. Today, we're in such a fast-paced world that one person can't do everything. Shared leadership is the answer. Plus, shared leadership also provides a system of checks and balances against bad behavior."
Pearce finally found a publisher for "Shared Leadership: Reframing the Hows and Whys of Leadership," then went on to write "The Drucker Difference" and "Share, Don't Take the Lead." His fourth book, "Twisted Leadership," is scheduled for publication in July 2017. And, no, it isn't about psychotic bosses who torture their employees.
"The focus is on providing a book that can be used by business, government or nonprofits to see that leadership isn't just about the CEO," Pearce said. "It introduces the 'Four S's' to combat leadership disease of centralized top-down leadership – self-leadership, shared leadership, super leadership, that empowers others, and socially responsible leadership."
Pearce is often referred to as "Mr. Shared Leadership" for his enthusiastic vision of what it can do for companies, organizations and people. He has honed his ideas across Europe, in Spain, the Middle East and Turkey, where he was the founding director of the Deloitte Leadership Institute in Istanbul, and in Nigeria, where he was dean of the School of Business and Entrepreneurship at the American University of Nigeria. He has also sharpened his skills by speaking or consulting with some of the world's top corporations – including American Express, GEICO Insurance, Rayovac and SK Group – and government entities, such as the Central Intelligence Agency.
"The CIA employees live in a world that's opaque, and there I was talking to them about transparency," Pearce shared. "But, actually, they really liked the concepts because their role can be to effect change by convincing groups to do things. All of these seminars and workshops depend on whether or not the person at the top buys in. If he or she doesn't, then you can pretty much forget it."
Through the years, Pearce has branched out to co-found his own agricultural biotechnology company, one of many different businesses he has owned while pursuing his passion for success in the business world. As a result, he relishes sharing
Before coming to South earlier this year, Pearce was at the Peter F. Drucker and Masatoshi Ito Graduate School of Management in California.
Sixteen years ago, he began to consult for Panda Express, the world's most successful Asian food chain, and he continues the relationship today.
"What has been so wonderful for this relationship is seeing people inside that organization rise to the top over the years. The company really values education, and over time the concept of shared leadership resonated with them more and more. You can copy a lot of things in the business world, but you cannot copy the culture of a company, and Panda Express has promoted an exceptional culture," Pearce said.
Ask Pearce why he accepted a position at South, and he is quick to point out the uniqueness of the Mitchell College of Business' new doctoral program in business administration, where his teaching efforts are focused.
"In shared leadership, one of the things I teach is the importance of selection, which is finding the right person for the right job. This program is up and coming, and that means unique opportunities for new ideas. Plus, it's doing doctoral level education with executives," Pearce said. "And, this University is fabulous. It has a beautiful campus, located in a fantastic community with living areas that are wonderful. My wife and I are looking forward to being here for a long time."
---