Johnson Elected SACSCOC Board Chair
---
Posted on December 12, 2019
Bob Lowry
---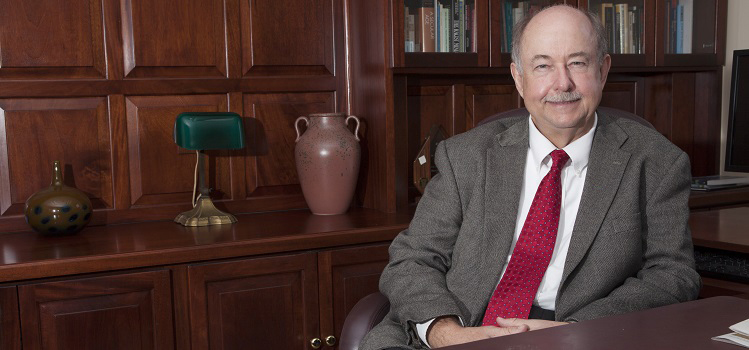 Dr. David Johnson, provost and senior vice president for academic affairs for the University of South Alabama, will chair the board of trustees for the Southern Association of Colleges and Schools Commission on Colleges.
---
University of South Alabama Provost and Senior Vice President for Academic Affairs Dr. David Johnson has been elected chair of the board of trustees for the Southern Association of Colleges and Schools Commission on Colleges. He will serve during 2020.
Johnson's election came during the recent SACSCOC annual meeting in Houston.
The Southern Association of Colleges and Schools Commission on Colleges is the recognized regional accrediting body in the 11 U.S. Southern states (Alabama, Florida, Georgia, Kentucky, Louisiana, Mississippi, North Carolina, South Carolina, Tennessee, Texas and Virginia) and in Latin America for those institutions of higher education that award associate, baccalaureate, master's or doctoral degrees. The Commission on Colleges' board of trustees is the representative body of the College Delegate Assembly and is charged with carrying out the accreditation process.
"The SACS Commission on Colleges is responsible for ensuring that all accredited colleges and universities in our region meet the standards for quality and integrity that are specified in the body's Principles of Accreditation," Johnson said. "I consider it a great honor, and a tremendous responsibility, to have been selected to serve as board chair of this important organization."
SACS was founded in 1895, and the Commission on Colleges was founded in 1917. South Alabama has been a member of SACSCOC since 1968, and accreditation most recently was reaffirmed in 2013. South Alabama's next reaffirmation is scheduled for 2023.
Prior to his election as board chair, Johnson served as vice chair, executive council member and chair of the Alabama state delegation. He has been active with SACSCOC for many years, serving as an accreditation consultant and as a member of several site visit teams.
"This year as vice chair, Dr. Johnson demonstrated a thorough awareness and understanding of the many complex issues before us," said Dr. Belle Wheelan, SACSCOC president. "His patience, compassion and knowledge make him an obvious choice to serve as board chair."
The 77-member SACSCOC board of trustees guides the organization's work to implement the accreditation process. The 13-member executive council is the executive arm of the board, with primary responsibility for interpreting commission policy and procedure. It also functions on behalf of the board between sessions.
Johnson has served as South Alabama's provost and senior vice president for academic affairs since 2009 and is the first South Alabama administrator to serve as SACSCOC chair.
A member of the South Alabama faculty since 1984, Johnson has a distinguished career in teaching, research and community service. He served as dean of the College of Arts and Sciences from 2002-2009. He previously served as associate dean, as well as acting chair of sociology and anthropology.
A native of Newport News, Va., Johnson received his Bachelor of Arts degree in political science and psychology from Coker College in Hartsville, S.C., his Master of Science degree in sociology from Texas A&M University and his doctorate in sociology from Southern Illinois University at Carbondale.
---