New Research Program To Recruit Gulf Scholars From Diverse Fields
---
Posted on December 13, 2022
Thomas Becnel
---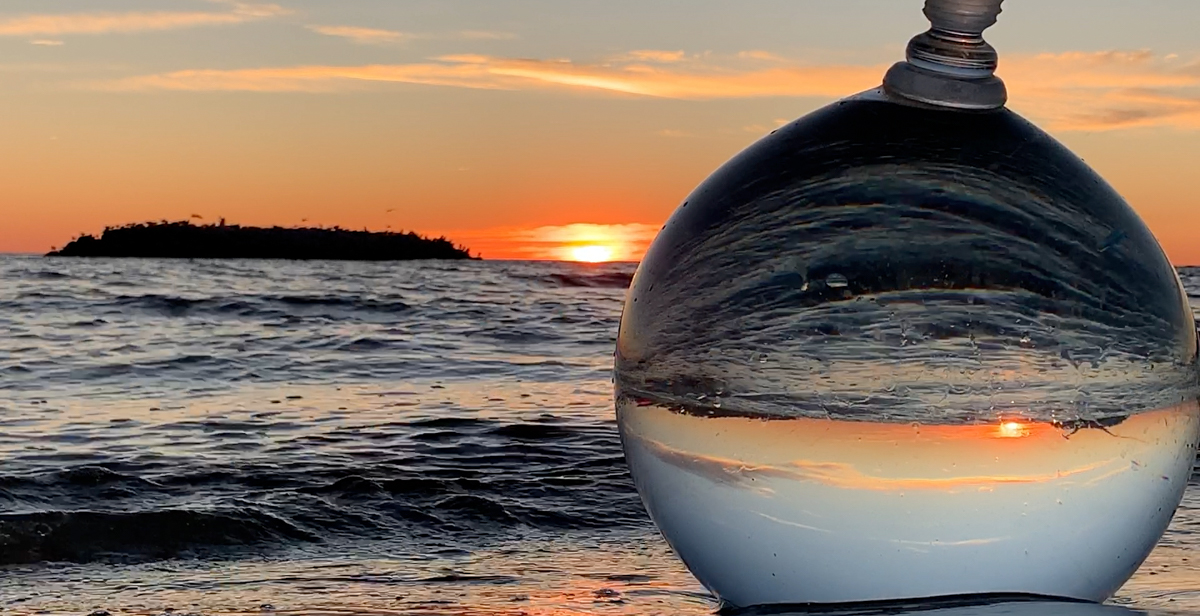 The Gulf Coast Scholars Program seeks to draw students from diverse academic disciplines. There already has been talk about including a visual arts exhibit with glass blowing artist Matthew Patterson, an assistant professor, whose research focuses on exploring identity with an emphasis on the natural world through sculptural applications in glass, wood, metal, and mixed media. (Artist statement on "Sunset" and his Catalysts series can be found below.)
---
The School of Marine and Environmental Sciences will cast a wider net across the University of South Alabama next year with a Gulf Scholars Program that draws students from all academic disciplines.
South will join several universities in a five-year National Academy of Science project funded with $12.7 million from the legal settlement for the 2010 Deepwater Horizon oil spill in the Gulf of Mexico. A spring seminar, Environment and Society on the Gulf Coast, will help recruit undergraduates from business and engineering to health and arts and sciences.
"We really want students from across campus," said Dr. Steven Scyphers, associate professor of marine science, who is faculty director for the research program. "We'd love for students in all of these other programs to have interest in becoming Gulf Scholars."
Ten students will be selected for the University's first year of the program. Another 10 will be chosen each year through 2025.
There will be two meetings for students interested in the Gulf Scholars Program: Jan. 10 and Jan. 18 at 5 p.m. in Room 325 of the Education Outreach Building, 600 Clinic Dr., which is home to the School of Marine and Environmental Sciences.
The School of Marine and Environmental Sciences, established in 2021, launched a new era for education and research at the University of South Alabama. Professors works closely with the Dauphin Island Sea Lab, which helps students gain field experience in diverse habitats.
The Gulf Scholars Program will offer another opportunity for undergraduate scholarly activity, preparing the next generation to address critical challenges including community health and resilience, environmental protection and stewardship, and offshore energy safety.
"For the National Academy of Sciences to recognize the University of South Alabama, to trust us with a new program, reflects the enhanced status of the University," said Dr. Sean Powers, professor and director of the School of Marine and Environmental Sciences. "It will allow us to engage students all over campus, which has always been a goal of the school."
Scyphers, who earned his Ph.D. at South in 2012, spent the last decade at Northeastern University in Boston. He returned to South this fall as director of the Center for Socio-Environmental Resiliency.
He will be teaching the Environment and Society seminar in the fall of 2023.
Each Gulf Scholar will be required to work with a community organization such as the Mobile Bay Estuary Program or the Nature Conservancy in Alabama. There will be funding for events, travel and research expenses. Students will also benefit from visiting speakers, field trips and summer retreats.
The program will accept undergraduates and even first-year students. Scholars will work with academic and community mentors to propose capstone projects for their senior years.
Scyphers is certain some students will want to work on environmental issues such as coastal habitat loss.
"So they could get involved in coastal restoration work or community-based science," he said. "We want to develop these kinds of relationships with local groups."
Scyphers also expects there to be applications and opportunities for students from the Mitchell College of Business.
"This would be a good opportunity for a student majoring in business who has a strong connection with the environment along the Gulf Coast," he said. "There are lots of jobs out there advertising for work in green jobs or with the blue economy."
Scyphers has already spoken with Matthew Patterson, assistant professor of art at South, about the possibility of coordinating a glass-blowing exhibit as part of scholar project.
"Some of the conferences I've been to have had artistic performances based on climate change," he said. "Sometimes it's been dance or music. We'd love to be a part of something like that."
The National Academies of Sciences, Engineering and Medicine, founded in 1863, are private, non-profit institutions that offer independent analysis and advice. The Gulf Research Program has $500 million to use over 30 years for grants, fellowships and other activities in research and development.
On Oct. 6, the National Academies announced that six universities would be included in a second group for the Gulf Scholars program: the University of South Alabama, Eckerd College, Louisiana State University, Eckerd College, the University of Southern Mississippi, and Texas A&M University at Corpus Christi. In 2021, the first group of institutions were announced: Rice University, Tulane University, Xavier University, Jackson State University, Florida State University, Florida A&M University and the University of Alabama at Birmingham.
---
Artist statement on "Sunset": The Catalysts series are site-specific sculptural works incorporating water-filled glass spheres that create optical illusions through magnification, inversion, and distortion. These effects change depending on how, when, and where they are positioned and from what vantage point they are viewed. Catalysts are meant to provide a focal point to fire our curiosity and wonder for the world around us and reflect on the world within. In a rapidly changing technological society, people need ways to feel kinship with nature. Ideally, this work can serve as a bridge that helps us slow down and reflect on our deeper connections to the natural world.
---