USA School of Computing Awarded Prestigious Designation by U.S. National Security Agency and Department of Homeland Security
---
Posted on February 11, 2015 by Alice Jackson
Alice Jackson
---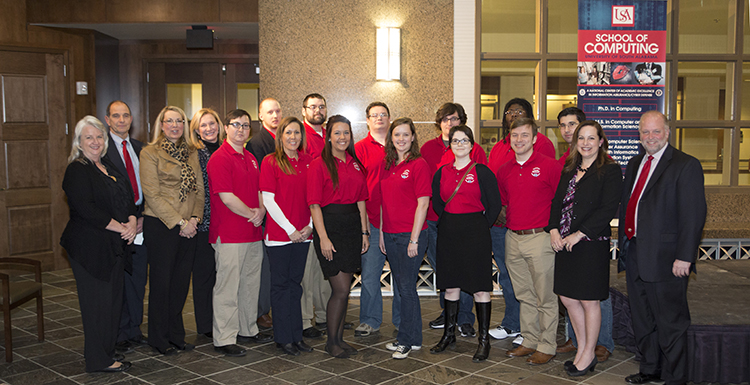 The USA School of Computing and its students welcomed federal, state and local officials to celebrate USA's designation as a National Center of Academic Excellence in Information Assurance/Cyber Defense by the U.S. National Security Agency and the U.S. Department of Homeland Security.
---
National, state and local officials praised the University of South Alabama's School of Computing as USA announced on Feb. 11 its continuing designation as a Center for Academic Excellence in Information Assurance and Cyber Defense from the U.S. National Security Agency and the Department of Homeland Security.
University President Dr. Tony Waldrop announced the designation during a reception in the atrium of USA's Shelby Hall attended by more than 100 local, state and national supporters, alumni, and students of the School of Computing.
"Not a week goes by where we don't hear of another cyber attack, and this requires looking at cyber security in new ways," said Waldrop. "The University of South Alabama School of Computing, with our great faculty and students, has developed the state's pre-eminent cyber security program, and we're very excited about that."
As cyber security concerns increase worldwide, the federal government developed the program as part of its plan to protect the nation's infrastructure by helping higher education train more professionals in the field of information assurance. The designation highlights and reinforces the School of Computing's ever-increasing impact on cyber security education and research, business and industry as well as the job market for Mobile, the region, and its graduates since it became Alabama's first accredited computer science program in 1980. Today, more than 600 undergraduate and graduate students are enrolled in the School of Computing, training to fill critical shortages for computing professionals locally, nationally and internationally in a variety of areas. The School of Computing at USA is recognized as the leading cyber security research and education school in Alabama and one of the leaders in the Southeast.
The new CAE IA/CD designation, based on recent academic criteria for cyber security education, is effective through 2021, replacing an earlier designation in 2011.
Following Waldrop's announcement, speakers included State Rep. Victor Gaston; Mobile County Commissioner Connie Hudson; Mobile City Council President Gina Gregory; USA Trustee Jimmy Shumock; Tera Johnson, aide to U.S. Sen. Richard Shelby; Martha Simmons, aide to U.S. Rep. Brad Byrne; and Dr. Alec Yasinsac, dean, USA School of Computing.
"This designation from the federal government sets the University of South Alabama apart from our peer institutions," said Yasinsac. "The prestige this brings to us can only enhance the opportunities for our students."
The School of Computing focuses on cyber security, forensics, networking, web development, health informatics and robotics. Its cyber curriculum includes classes in information assurance, digital circuits, cryptography, secure software engineering, modeling and simulation, network security, forensics, cyber warfare and operating system vulnerabilities. Undergraduate programs are available in computer science, information systems, information technology, health informatics and cyber assurance. Graduate programs include computer sciences, information systems and doctoral studies in computing.
USA's School of Computing is also home to the Center for Forensics, Information Technology, and Security (CFITS), which promotes advancement of knowledge related to the study and application of digital forensics and information technology security and assurance. CFITS is supported by USA, the School of Computing, and a capacity-building grant from the U.S. Department of Defense's Information Assurance Scholarship Program. CFITS partners with the School of Computing Advisory Board, made up of 20 area organizations. These members participate in accreditation, technology transfer, public/private education partnerships, promotion, K-12 initiative, research, endowments, and industry outreach, as well as providing a source of internships for School of Computing students. CFITS has established relationships with more than 100 industry partners and military organizations in addition to the Advisory Board membership companies.
CFITS is dedicated to the collection and dissemination of information related to digital forensics and information technology assurance security. The eCenter is positioned to enhance the production of world-class research at USA. CFITS research groups include USA Security and Forensics Research Group, Voting Systems Research Group, USA Health Informatics Research Group, Software Protection and Exploitation Research Group, and Information Technology Education.
The USA Cyber Scholars Program is part of the National Science Foundation Scholarship for Service program, designed to increase the number of qualified students entering the fields of information assurance and cyber security. Students receive full tuition, fees, book allowance, and a generous stipend in exchange for internship and service in a federal, state, or local government entity.
The School of Computing's growing reputation has led to graduates hired by companies such as Airbus, AM/NS Calvert, Apple, Austal, Cisco, FBI, Harris, HP, Intel, Mentor Graphics, Microsoft, Mobile County Public School System, Oracle, Sun Microsystems, Televox, U.S. Secret Service and many others.
For more information on what's happening at the USA School of Computing, including lectures and other opportunities, visit www.southalabama.edu/colleges/soc, or call (251) 460-6390.
---