USA Mitchell College of Business Hosts Leadership Seminars for Bedsole Scholars
---
Posted on June 3, 2015 by Joy Washington
Joy Washington
---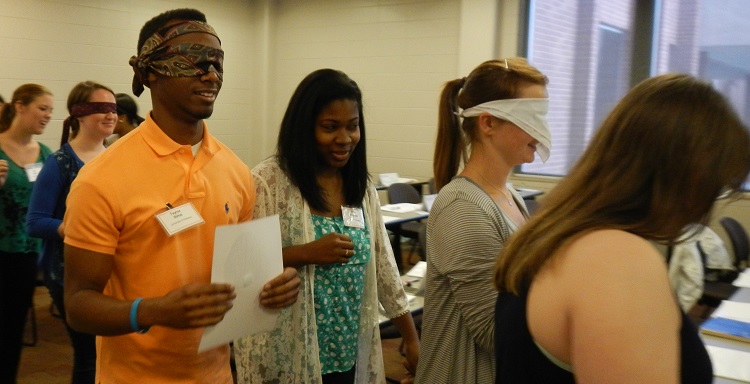 Bedsole Foundation Scholars take part in trust-building exercise during a leadership seminar session at the USA Mitchell College of Business.
---
The Mitchell College of Business at the University of South Alabama recently hosted leadership seminars on the main campus for the Bedsole Scholars.
USA Professor Emeritus of Management Dr. Paul Pietri, seminar sessions organizer, was one of four professors serving as instructors of Leadership Seminar I and II.
The four additional USA Mitchell College of Business professors who conducted the leadership seminar sessions were Professor Emeritus Dr. Ed Harrison, Drs. Bill Gillis and Teresa Weldy, associate professors, and Dr. Bob Shearer, professor.
"The leadership seminars included 70 students from 13 different colleges/universities from across southwest Alabama who have received scholarships from the J.L. Bedsole Foundation," said Pietri. "We are pleased to be able to host the seminar sessions annually."
Leadership Seminar 1, which focused on self-knowledge and goal-setting, included 40 rising sophomores. Leadership Seminar II, aimed at exploring different leadership styles, communication and team-building skills, included 30 rising seniors.
More than 500 college/university students have participated in the seminars since 2008.
The mission of the USA Mitchell College of Business is to contribute to the continuing intellectual, social and economic development of the Gulf Coast Region by offering accredited business education programs to qualified students, producing scholarly research to expand knowledge and support economic development and providing service programs focused on regional needs. It accomplishes this mission and contributes to the continuing success of the University though quality instruction, faculty scholarship and the delivery of external service program
The mission of The J.L. Bedsole Foundation is to ensure the continuing health, welfare and prosperity of the citizens of southwest Alabama by providing greater post-secondary educational opportunities for worthy youth and by supporting expanded civic, cultural, artistic and economic development opportunities for all citizens of our area.
---