USA Physician Assistant Students Host Free Clinic
---
Posted on June 18, 2015 by Joy Washington
Joy Washington
---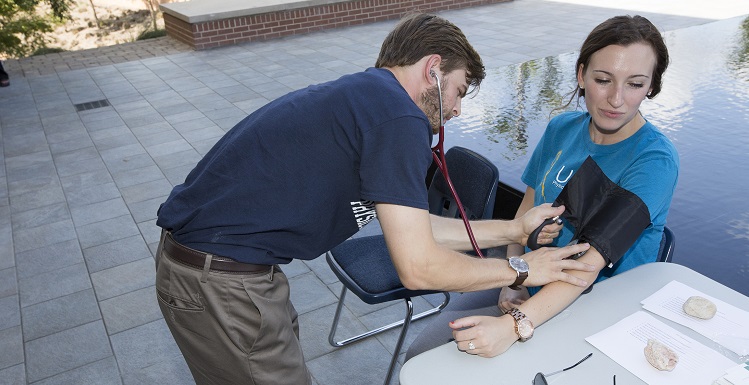 Physician assistant students Tyler Johnson, left, and Cassie Dufano demonstrate a blood pressure check at a free health screening hosted by the 2016 physician assistant class.
---
The 2016 Physician Assistant class at the University of South Alabama offered free health screenings and other health-related services this week in front of the Student Recreation Center and in the Stanky Field parking lot.
"This outreach effort was beneficial for our students and the community," said Elizabeth Eisenbeis, part-time physician assistant instructor in the Pat Capps Covey College of Allied Health Professions. "It's important that our students plan and participate in community health outreach and have a real world and out of the classroom experience."
Students, faculty, staff and the community took advantage of the screenings and services on Thursday that included the following:
· Diabetes Education and Glucose Checks
· Breast Exams done by the Mobile County Health Department
· Blood Pressure Checks
· Drugs, Alcohol and Smoking Cessation Information
· STD Awareness and Safe Sex Education
· Skin Cancer Checks and Awareness
· Vaccine Education
· Diet and Exercise Education
The mission of the USA physician assistant program is to educate compassionate and competent individuals from diverse backgrounds to become highly qualified physician assistants. This is done in accordance with the highest professional standards to provide a broad spectrum of preventative and curative health care to patients in various communities and clinical settings with physician supervision. This includes underserved populations in Alabama, both rural and urban. The emphasis of the program is one of primary care, including a broad foundation in the medical and surgical specialties.
---