Move-In Day Kicks Off Week of Welcome at USA
---
Posted on August 15, 2015 by Joy Washington
Joy Washington
---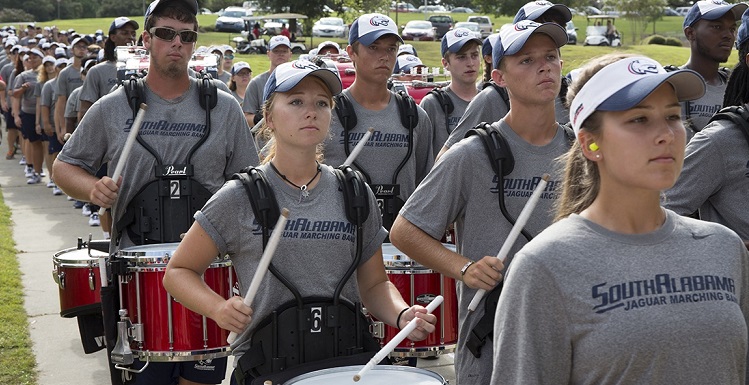 The Jaguar Marching Band greets new students as they move into campus residence halls Saturday during Move-In Day, one of the many events for USA's Week of Welcome.
---
The University of South Alabama's faculty and staff are greeting students and opening the fall semester with the first Week of Welcome and Beyond, underway through Aug. 28.
Week of Welcome kicked off Saturday morning as more than 700 faculty, staff and students helped new students move into residence halls. Other highlights for the week include First Night, Convocation, a Faith Based Organization Open House and Get-on-Board Day.
Week of Welcome, or WOW, was organized by the Division of Student Affairs and the Office of Academic Affairs to help students get connected with people, places and groups that will make the college experience spectacular at South Alabama. Dr. Nicole Carr, executive director of student academic success, and Dr. Krista Harrell, associate dean of students and title IX coordinator, serve as co-chairs of WOW.
Harrell said the programs and services offered the first few weeks will give students a chance to learn about the best ways to engage in campus life.
"We are thrilled for USA's inaugural Week of Welcome and Beyond," Harrell said. "From the beginning, we want students to discover opportunities to connect with faculty and staff, build a sense of community, and of course have fun!"
Carr said one of the biggest highlights of WOW will be the Convocation on Monday, Aug. 17, at 11 a.m. at the Mitchell Center Arena. This gives the University family an opportunity to celebrate the start of the academic year. The goal of Convocation is to celebrate student engagement and recognize accomplishments.
"We get to welcome the class of 2019 and welcome new faculty to the University," Carr explained. "During the Convocation ceremony, we will have a moment to listen to a welcome from our president, student speakers, and words from our alumni. We will reflect on their words and think about what the University means to each of us. Following the program, we will have lunch together, which also provides time for the entire Jaguar family to greet each other as students and faculty."
Ravi Rajendra, president of the USA Student Government Association, is excited about WOW and Convocation. He said the series of events helps freshmen transition to college and supports all students by building a sense of camaraderie.
"The start of the school year should be exciting, and not nerve wracking," Rajendra said. "There are a lot of fun activities for freshmen to help them ease into college, like First Night, which will be the first event that freshmen Jags have the opportunity to attend on campus. Then, right before classes start, Convocation will allow freshmen to really feel the sense of community that we have here in JagNation. For returning students like me, the Week of Welcome and Convocation are great because we get to see a new tradition unfold here at South Alabama."
South Alabama President Dr. Tony G. Waldrop and his wife, Dr. Julee Waldrop, along with more than 700 faculty, staff and students, helped new students move into the residence halls during the annual Move-In Day, which was held on Saturday from 9 a.m.-1 p.m. at the New Hall, Stokes Hall, Epsilon, Delta and Beta/Gamma residence halls.
USA will have 2,394 students residing in campus housing this fall. For a full schedule of WOW 2015 and Beyond events, visit. http://www.southalabama.edu/specialprojects/wow/.
---