The Mitchell Scholars Come Back Home
---
Posted on October 7, 2015
Alice Jackson
---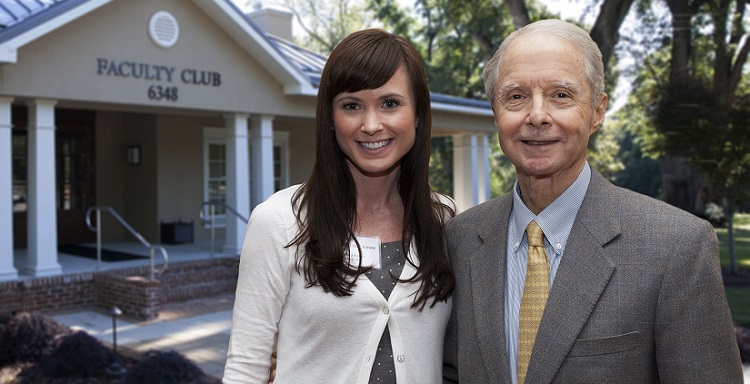 Mitchell Scholars alumnus Dr. Sara Long Jones was one of many former scholars who surprised program benefactor Abe Mitchell at the annual recognition event for Mitchell Scholars freshmen.
---
It was 11 years ago, and Sara Long Jones had a goal and a problem. Her goal was to become a doctor. Her problem was how to get there. When she learned about the Mitchell Scholars program at the University of South Alabama Mitchell College of Business, her problem was solved and her goal was within reach. Today, Sara Long Jones, M.D., is a third-year internal medicine resident at the USA Medical Center and on her way to fulfilling that goal.
"My lifelong dream has been to become a doctor," Jones said. "As a Mitchell Scholar, I was allowed to concentrate on my business classes as well as my pre-medical classes." Now, one might think that a business degree - she majored in finance - has little to do with becoming a physician, but Jones tells how the two work together for her.
"As a medical resident, I have become well acquainted with the impact of social and economic stressors on medical issues that affect so many of our patients," Jones said. "I'm impressed by the availability of patient resources at the Mitchell Cancer Institute that provide access to financial assistance, transportation and support groups during such a difficult time." She earned her medical degree from USA in 2013, and now she has another goal, one inspired by her Mitchell Scholars benefactor, Abe Mitchell.
"During my oncology rotation at the Mitchell Cancer Institute, I saw many patients and families who had been impacted by Mr. Mitchell's generosity. He has had an immeasurable impact on the Mobile community as well as on my academic career," Jones said. "I am inspired by his benevolence, and I hope that one day I will be able to help other students achieve their goals just as he has helped me."
Jones joined dozens of Mitchell Scholars alumni and students on Oct. 6 at the University's Faculty Club for the program's annual recognition of new freshmen Mitchell Scholars. The inclusion of the alumni, which was a surprise to Mitchell, was the idea of Mitchell College of Business Dean Dr. Bob Wood. "Mr. Mitchell mentioned to me earlier this year that he wondered if he had 'really made a difference in the lives of the past students,' so we wanted to assure him that he has and he is." Mitchell launched the Scholars program in 1999.
"This is magnificent to have all of you here," Mitchell said at the event, urging the freshmen scholars to "take advantage of every opportunity and become the best version of yourself."
The Mitchell Scholars program at USA allows elite business students to develop to their full potential. Through faculty mentorship and a four-year, $50,000 scholarship that includes a laptop computer, scholars will pursue challenging programs while developing stewardship and civic responsibility. When completed, they will step into the world as exceptional candidates for the work force or graduate school.
For more information about the Mitchell Scholars program, visit www.southalabama.edu/colleges/mcob/ or contact USA's Office of Enrollment Services at (251) 460-6494.
---