Austal USA President Encourages Internships, Discipline
---
Posted on October 27, 2015 by Alice Jackson
Alice Jackson
---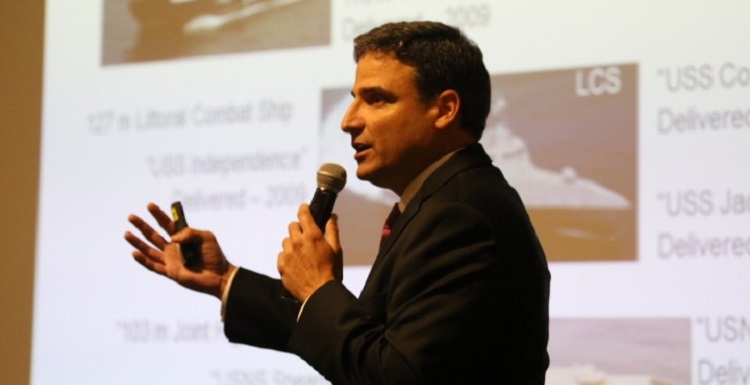 More than 300 University of South Alabama students from various disciplines listened to Austal USA President Craig Perciavalle speak Tuesday as the Mitchell College of Business kicked off its Executive Leadership Series.
---
The University of South Alabama's Mitchell College of Business brought business to campus on Tuesday, Oct. 27, with Austal USA President Craig Perciavalle as the inaugural speaker in its new Executive Leadership Series.
More than 300 students attended Perciavalle's hour-long presentation about Austal USA, the ships it builds and how students can enter the job market successfully. The presentation was held in the ballroom of the University's Student Center.
"Finish school and learn to discipline yourself because it's all about competition today," Perciavalle told the students. He advised them to learn about companies where they hope to work, especially if internships are available. "You can be the sweetest person on the planet, but if you don't fit the company's culture, then it's not going to work for you. Get out there and do the internships and see what you want to do when you grow up."
Dr. Bob Wood, dean of the Mitchell College of Business, said Perciavalle is indicative of the type of business leaders the new series will bring to campus each semester.
"This series will give our students, staff and faculty the opportunity to hear firsthand the experiences of today's corporate leaders," Wood said. "Students can gain valuable insights of successfully incorporating knowledge into practice. We want to bring real-work knowledge into the classroom."
Austal USA is a wholly-owned subsidiary of Australian shipbuilding company Austal Limited and one of Alabama's largest private employers with more than 4,000 shipbuilding professionals providing state-of-the-art high-speed aluminum ships to the U.S. Navy. Since Perciavalle's arrival in 2007, Austal USA has grown to become the fifth largest shipyard in the United States and the largest aluminum shipbuilder in the world. The company successfully captured and is executing on two new Navy ship building programs, the Littoral Combat Ship and the Joint High Speed Vessel, both presently valued at more than $5.1 billion, at its Mobile shipbuilding facility.
Currently, Perciavalle serves on the Executive Control Board of the National Shipbuilding and Research Program, which focuses on reducing the cost of acquiring, operating and maintaining Navy ships. He also serves on the board of directors of the Mobile Area Chamber of Commerce and the Business Council of Alabama, on the Alabama Technology Network Council and is a member of the Navy League of the United States.
Perciavalle graduated with a bachelor of science degree in marine engineering systems from the United States Merchant Marine Academy and served eight years as a commissioned officer in the United States Naval Reserve.
For more information about the Mitchell College of Business and its opportunities, visit http://www.southalabama.edu/colleges/mcob/.
---