Honors Student Ready for Med School
---
Posted on December 10, 2015
Joy Washington
---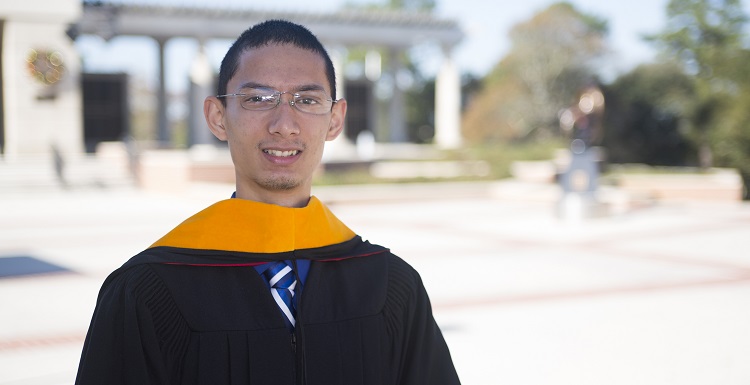 Raaj Ghosal, a Frederick P. Whiddon Scholar, earned a 3.78 grade-point average while enrolled as an Honors Program student. He will receive his bachelor's degree in biomedical sciences and plans to go to medical school.
---
Raaj Ghosal will graduate Saturday from the University of South Alabama with a passion for academics, research, service and well-being.
"I have had a great experience at South Alabama, and I have done it with the challenge of balancing all the things that are important to me," he said. "I could have just focused on my studies, but it was important for me to study, do research with my professors, stay healthy and serve my community."
Ghosal, a Frederick P. Whiddon Scholar, has earned a 3.78 grade-point average while enrolled as an Honors Program student. He recently completed his Honors thesis, "The Use of Liquid Chromatography-Electrospray Ionization-Mass Spectrometry in Detecting Drinking Water Contamination for Cross-Linked Polyethylene Piping." While working on his thesis, Ghosal learned difficult concepts, which has better prepared him when he becomes a medical student.
"As I worked on my thesis with my classmate and lab partner, I was able to take what I had learned and apply it to my thesis," he said. "I also worked on the paper with the guidance of Dr. Alexandra Stenson, who was co-author of my thesis. It was great to see it finished and approved by my professors who were my supportive committee members."
Ghosal, who is a graduate of Murphy High School, will receive his bachelor's degree in biomedical sciences, and has applied to several medical schools, including the USA College of Medicine.
"I want to be a family medicine physician," he said. "I am thrilled to begin my next academic journey, staying dedicated and striving to maintain balance in my life."
Ghosal, 21, is truly a well-rounded and gifted student who has learned from his parents, Bobby and Maya Ghosal, that balance is important and necessary in life.
"I love being challenged, and I also know the importance of taking care of my mental and physical health, and that's why I love the Student Recreation Center. In between my study time and assignments, I enjoyed playing indoor soccer with my friends. It's a great place to de-stress."
Ghosal also volunteers with Camp Kesem, which is a nationwide community of college student leaders that support children through and beyond their parent's cancer.
South Alabama is the only university in Alabama that has a chapter. This is also the only national organization dedicated to this unique population – supporting children with innovative, fun-filled programs, along with providing counseling. The 2016 Camp Kesem will be held at Camp Cosby near Birmingham, Ala. Ghosal serves as a counselor for the USA chapter of Camp Kesem.
"The children experience a week of activities during the summer where they can share their experiences and enjoy all the wonderful programs," Ghosal said. "This experience has been life-changing for me."
Ghosal already has an impressive curriculum vitae with memberships in the Phi Eta Sigma national honor society, the Mortar Board national honor society, Alpha Epsilon Delta, the Biomedical Sciences Society, along with numerous others. In addition, Ghosal has given many volunteer hours supporting Christ United Methodist Church, the Mobile Public Library, Habitat for Humanity, USA Children's & Women's Hospital, Alabama Coastal Cleanup, L'Arche Mobile, and other non-profit organizations.
Ghosal has also shadowed and done research with numerous USA professors, allowing him to attend and do medical presentations and serve as a research assistant in the departments of biomedical sciences and chemistry, and at the Mitchell Cancer Institute.
"Raaj is an outstanding student who has completed the USA Honors Program in three-and-a-half years," said Dr. Michael Doran, director of the USA Honors Program. "Like all Honors students, Raaj has engaged in research since he joined the program, and he had a passion for it. But, Raaj has also been a great member of our Honors community. He is always at the Bethel making it a welcoming environment for other students. He was a pleasure to have as a member of the Honors Program."
Ghosal said Doran was very supportive, along with his mentor, Dr. Julio Turrens, associate dean of Allied Health professions; Dr. Cindy Stanfield, pre-med advisor and biomedical sciences associate professor; Chante' Hendrix, diversity coordinator for Health Sciences; Dr. Padmamalini Thulasiraman, biomedical sciences assistant professor and research mentor; Dr. Michael Spector, biomedical sciences and Honors 301 professor; and Dr. Alexandra Stenson, chemistry associate professor and research mentor.
Not only has Ghosal had great support while attending South, he has had the love and guidance of his parents. His father is also a USA alumnus earning his bachelor's and master's degrees.
"I am so proud of my parents, who came to the United States in the 90's from eastern India," Ghosal said. "They made a great life here in Mobile for my brother and me. I have worked diligently to make them proud and to be a great example to my younger brother, Reeshi."
---