College Years Helped USA Graduate Select Her Career Path
---
Posted on December 11, 2015
Alice Jackson
---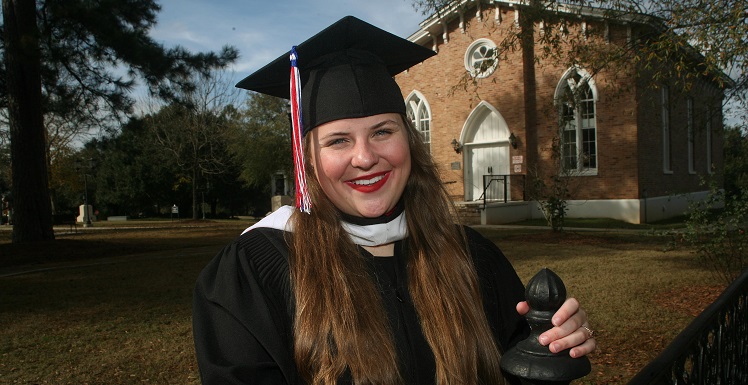 Katherine Sweet, 21, graduated from the University of South Alabama in fewer than four years. During that time, the Honors Program student spent many hours in the Seaman's Bethel Theatre where the program is centered.
---
University of South Alabama graduate Katherine Sweet completed college in three-and-a-half years, and along the way she learned that college can put you on a different path than the one you had planned.
While still a senior at Mobile's McGill-Toolen High School, her enjoyment of and excellent grades in mathematics led her to the University's Early Acceptance Program for pre-med students planning to become doctors.
"It's a phenomenal program where everyone becomes likes family, and I even was able to shadow physicians as they went about their day," Sweet said. "I was successful in all my classes, but after two years I decided becoming a doctor wasn't what I really wanted to do."
That's because she'd discovered philosophy, a discipline that demands the use of logic on a par with mathematics.
"Philosophy wasn't taught in my high school, but when I was exposed to the concentration of logic in philosophy and how it plays a role in every other subject, changing my major was the best decision I ever made," Sweet said.
Last summer, she studied philosophy in Chiang Mai, Thailand, where she learned meditation skills from Buddhist monks.
"That was very different because I'd never studied Buddhism or yoga, and I was able to immerse myself into a new culture," Sweet said.
No school of higher education in Alabama offers graduate programs leading to a doctorate in philosophy, so she has applied to several out-of-state universities, including the University of Notre Dame and the University of North Carolina at Chapel Hill. She hopes to learn by March if she has been accepted.
Sweet selected USA for her undergraduate work because it was close to her Mobile home and offered everything she wanted. She even lived on campus her freshman year "to be my own kind of person."
The 21-year-old member of the USA Honors Program also stayed busy outside the classroom. She and a friend started the first nonprofit theatre group in Mobile for people with special needs.
"In 20 years, I hope to be married, living in a small town, teaching at a college or university and working in some way with special needs children," she said.
As she walks across the stage Saturday in the Mitchell Center to receive her degree, Sweet said she'll be thinking about her parents and sister and the time she has spent at USA.
"I think like everyone else who'll be there with me, I'll be happy to be graduating, but I've had so many people who have helped me along the way," Sweet said. "If I hadn't had such great advisers, I never would have graduated early, and if I hadn't had such great professors, I probably wouldn't be pursuing a graduate degree. I appreciate all my time at South. I've really enjoyed every semester here."
---