Coastal Conversations USA Site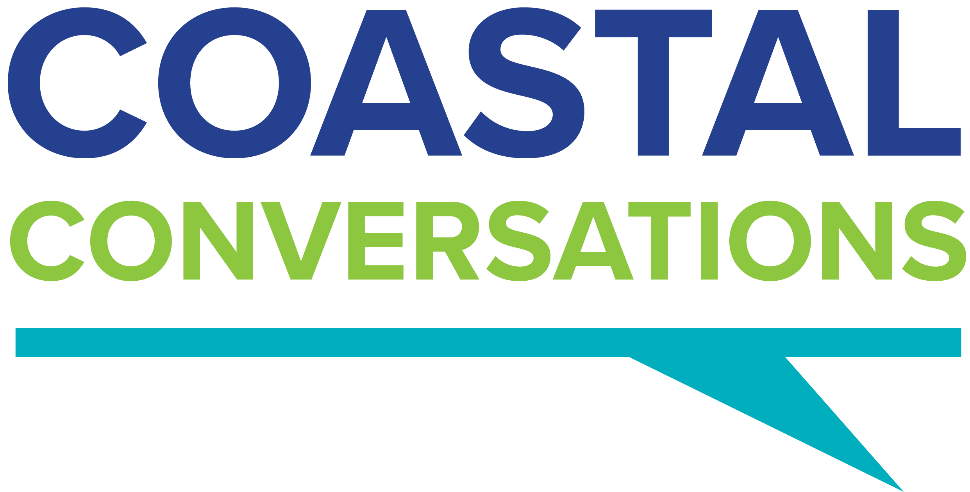 To view the livestream of the Coastal Community Dashboard on May 27, 2021 at 10:00am please click here: Facebook Live or Youtube

Leaders in coastal Alabama have developed Coastal Conversations as a platform for increased civic awareness and engagement across our region. ­
Working together with members of our community, we will host world-class experts on critical issues like diversity and inclusion, social justice, health, education, work force development, housing, the environment, infrastructure, tourism/hospitality, leadership/civic engagement, entrepreneurship and small business.
Our goal is simple: to make our region the best place to live, work and play. ­
Coastal Conversations is a program of the Coastal Alabama Partnership, under the leadership of Wiley Blankenship and Andrew Levert. This program received initial seed funding from the J.L. Bedsole Foundation and the Crampton Trust.
Dr. Michael Chambers, University of South Alabama associate vice president for research, serves as executive director of Coastal Conversations. For more information, contact him at michaelchambers@southalabama.edu.

Upcoming Coastal Conversations Programs
Costas Christ - The Transformation of Travel: The power of sustainable tourism to make the world better
Tuesday, June 22, at 6:30 PM
Where: In-person at Gulf Quest or online via Facebook Live and YouTube
Coastal Conversations will host Costas Chris as he presents "The Transformation of Travel: The power of sustainable tourism to make the world better". This program will be presented on Tuesday, June 22, 2021 at 6:30 PM at Gulf Quest Maritime Museum or online via Facebook Live and YouTube. Coastal Conversations is a program of the Coastal Alabama Partnership.
The program is FREE and open to the public.
With a dynamic career spanning decades, Costas Christ has gained many titles: Ecotourism Pioneer, Sustainable Tourism Visionary, Award-Winning National Geographic Travel Writer – to name a few – and his life's work has helped shape the world of travel and tourism as we know it today.
His media appearances include Travel Channel, Good Morning America, National Geographic Channel, NatGeo Weekend, BBC World, CNN International, FOX News, National Public Radio and several film documentaries. Costas has served as a senior advisor to CEOs, nonprofit organizations, government officials and heads of state. He was honored together with Dr. Jane Goodall for his lifelong work to protect the environment and was also recognized as a "Tourism Visionary" by the International Restaurant and Hotel Awards.
Costas' program will highlight how our region can achieve tourism development success, while respecting the environment, based on a model of doing well by doing good.
Click here to RSVP to attend in-person at Gulf Quest. Click here to watch on Facebook Live and here to watch on YouTube.
Thank you and thank you again for your help with the RAMP event today!

View Past Coastal Conversations Programs

Coastal Community Dashboard Launch
Thursday, May 27th
Online via Facebook Live or Youtube
In-person at the Mitchell College of Business, Lecture Hall 264
Join us Thursday, May 27th at 10:00 am for the release of the Coastal Community Dashboard. A signature project of Coastal Conversations, the Dashboard will provide an in-depth look into 20+ metrics that define how our community performs and indicate areas of needed improvement and focus. The Dashboard will be available to the public and will be updated as new information is available.
The Coastal Dashboard was produced in partnership with the University of South Alabama's SABRE (South Alabama Center for Business Analytics, Real Estate and Economic Development) and Dr. Reid Cummings and Jana Stupavsky.
This program is FREE and open to all.
Released on Thursday, April 29, 2021, the Coastal Conversations Community Survey indicates that coastal residents are optimistic overall when it comes to the quality of life and generally buy into the vision for and development in our region.
Overall, the survey indicated that Coastal Alabama residents are generally satisfied with their quality of life and most aspects of living in Baldwin and Mobile Counties – but there are pressure points for many groups.
Across both counties, traffic/transportation and availability of affordable housing are sore spots, as well as the availability of high-quality jobs. In Mobile County, public safety is more pressing. The economy, race relations, and public schools also receive lower marks – much of which can be attributed to racial divides within Mobile County. In Baldwin County, residents are more pleased with their quality of life, but they also show more concern about water quality in the Bay.
Throughout the poll, there are concerns about younger residents' opportunities and retention. These younger residents have more negative opinions on the job market and cultural opportunities, and many admit they've considered leaving the region.
Chuck Marohn: Strong Towns 101
Chuck Marohn's presentation focused on understanding ways to help America's cities, towns, and neighborhoods become financially strong and resilient. He created his non-profit organization, Strong Towns, as a way to educate others on communities, planning, and cities. Marohn advocates for a public investment process for a Strong Town including:
Humbly observe where people in the community struggle.
Ask the question: What is the next smallest thing we can do right now to address the struggle?
Do that thing. Do it right now.
Repeat.
Strong, wealthy, prosperous. This is what our communities are aiming to be, Strong Towns helps communities develop to their potential.
Dr. Ron Ferguson: From Cradle to Career
Dr. Ron Ferguson's presentation focused on understanding early childhood brain development, understanding that learning gaps start before children turn two years old, educating families on the importance of early childhood education and how communities can work together to create a great environment for kids to grow up. His program, The Basics, is made up of 5 science-based and caregiving tenants that should be implemented in a daily routine. They are:
Maximize Love, Manage Stress
Count, Group, and Compare
Talk, Sing, and Point
Explore through Movement and Play
Read and Discuss Stories