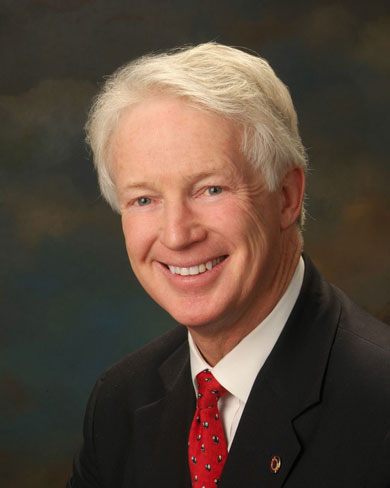 Michael Chambers, J.D., Ph.D.
---
Bio
Prior to joining the University of South Alabama as Assistant Vice President, Research Innovation, Dr. Chambers founded and served as President and CEO of Swift Biotech, a company developing technologies to fight cancer. Before Swift, Chambers helped found and served as CEO of InnoRx Pharmaceuticals, an ocular drug delivery company. He negotiated its sale to SurModics (NASDAQ: SRDX) in 2005.
Prior Chairman of ProUroCare, a public company based in Minneapolis, he has served on the boards of InQ Biosystems, Gene Capture, BioAlabama and the EDPA. He was a co-author of the Commercialization portion of the Alabama Science & Technology Roadmap commissioned by then Governor Bob Riley.
Dr. Chambers has been recognized in Best Attorneys in the United States in Commercial Law, Arbitration and Mediation, and recognized as a Top Attorney in Health Care. He has taught arbitration for the American Arbitration Association for over 20 years to certify new arbitrators in the US and routinely serves as an arbitrator in complex disputes. He was previously certified as a Civil Trial Specialist by the National Board of Trial Advocacy and has served as an examiner for those seeking certification.
He served as Chairman of the Mobile Area Chamber of Commerce in 2014. He co-founded 1702, an entrepreneurship and mentoring organization and was named "Start-Up Executive of the Year" in 2014 by Alabama LaunchPad. An active Rotarian, he served as District Governor in 2015-2016.
He received B.A. and J.D. degrees from the University of Alabama and a Ph.D. from the University of Geneva in Switzerland where he was a Rotary Ambassadorial Scholar and a Swiss Confederation Fellow. He speaks French and Spanish.
He serves as an Adjunct Professor of Oncologic Sciences at the Mitchell Cancer Institute and has served as a grant reviewer for the National Science Foundation.