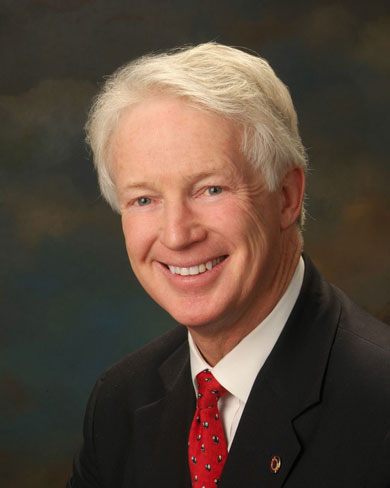 Michael Chambers, J.D., Ph.D.
Assistant Vice President for Research Innovation

---
Biography
Dr. Michael Chambers currently serves as Associate Vice President of Research. Before joining USA, he founded and served as President and CEO of Swift Biotech, a company developing technologies to fight cancer. Before Swift, Chambers helped found and served as CEO of InnoRx Pharmaceuticals, an ocular drug delivery company. He negotiated its sale to SurModics (NASDAQ: SRDX) in 2005.
Prior Chairman of ProUroCare, a public company based in Minneapolis, he has served on the boards of InQ Biosystems, Gene Capture, BioAlabama and the EDPA. He was a co-author of the Commercialization portion of the Alabama Science & Technology Roadmap commissioned by then Governor Bob Riley. Dr. Chambers has been recognized in Best Attorneys in the United States in Commercial Law, Arbitration and Mediation, and recognized as a Top Attorney in Healthcare.
He served as Chairman of the Mobile Area Chamber of Commerce in 2014. He co-founded 1702, an entrepreneurship and mentoring organization and was named "Start-Up Executive of the Year" in 2014 by Alabama LaunchPad. An active Rotarian, he served as District Governor in 2015-2016.
He received B.A. and J.D. degrees from the University of Alabama and a Ph.D. from the University of Geneva in Switzerland where he was a Rotary Ambassadorial Scholar and a Swiss Confederation Fellow. He speaks French and Spanish.
He serves as an Adjunct Professor of Oncologic Sciences at the Mitchell Cancer Institute and has served as a grant reviewer for the National Science Foundation.
He is the Executive Director of the USA I-Corps Site designated by the NSF and the Executive Director of RAMP, a MIT licensed, business mentoring program serving the Gulf Coast. He is the Principal Investigator on one NSF funded industry collaboration (IUCRC) and co-PI on another NSF grant teaching transition of technology into practice (TTP).