Majors and Minors Home
About the Major
The health informatics program combines healthcare, technological and interpersonal skills. Students learn to use technology to improve patient care by supporting providers, making organizations more effective and empowering patients to be more involved in their care.
Jobs in Health Informatics
Clinical informatics manager
Clinical informatics data analyst
Healthcare information technology project manager
System analyst
Application developer
Related Programs
Health Informatics Major Finds Help Whenever and Wherever She Needs It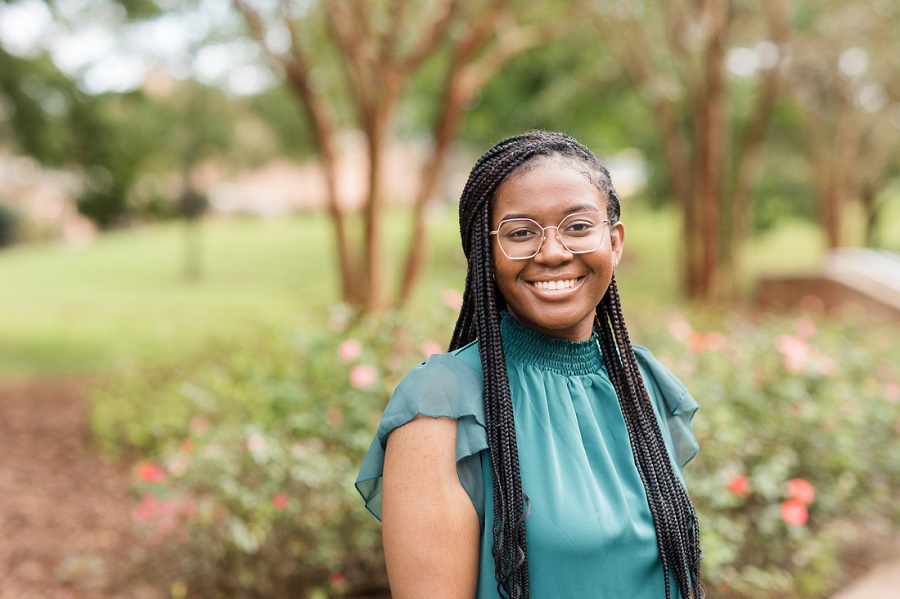 Everyone needs help sometimes. Jayla Young can find it almost anywhere at the University of South Alabama.
As a health informatics major, she said, "I have advisors in the department who have been more than willing to help me figure out what I'm going to do in life."
As vice president of the Black Student Union, she has brainstormed career possibilities with the union's advisor, Jarmora Valrie, director of South's Office of Multicultural Student Affairs. At her on-campus job in the Enrollment Services Communication Center, her boss is always ready to listen and suggest.
In fact, she said, "All the faculty and staff here are pretty helpful."
The department looks for ways to connect students with their field, she said, and not only through internships. Thanks to an alert about a travel scholarship, she was able to attend a global Healthcare Information and Management Systems Society conference in Las Vegas, free.
"I have advisers in the department who have been more than willing to help me figure out what I'm going to do in life."
That gave her access not only to seminars, speakers and networking opportunities, but also to a career fair featuring resume evaluation and professional headshots.
Young is from Hoover, Alabama, near Birmingham. She came to South after earning a USA Freshman Leadership Scholarship for her high school accomplishments.
She began as a biology major, switched to speech and hearing sciences, then changed to health informatics, which involves using technology to improve healthcare. The ongoing industry switch from paper to electronic health records has helped make it a growing field.
"Technology is constantly evolving," Young said. "Electronic health records have definitely impacted the medical field in an extremely positive way." For example, she said, patients can now make appointments through an app rather than taking the time to navigate voicemail or wait on hold.
"All of that has definitely lessened the burden on the healthcare field."
Did You Know?
---
The U.S. Bureau of Labor Statistics projects that demand for medical records and health information specialists will grow 9% from 2020 to 2030, adding 37,100 jobs in the field.
The average salary for health informatics professionals nationwide is $67,080, according to Payscale, with many specialized positions averaging more than $100,000.
The department offers many academic scholarships. Students also have opportunities for scholarships covering specific learning opportunities, such as off-campus meetings and conferences.
Contact:
Dr. Matt Campbell
Associate Professor, Health Informatics Coordinator
Department of Information Systems and Technology
(251) 460-6723