Down the Bay: A Historic Mobile Neighborhood
---
Posted on January 12, 2023 by Rachel Hines
Rachel Hines
---
Community is a group of people who have genuine connections with each other based on shared traditions and values, ultimately forming a people's culture. Further, learning about that culture fosters a deep-rooted pride in one's heritage as well as celebration in the hearts of others. There exists one such community in Mobile, Alabama, rich with culture, though it has been impacted by time and the displacement of its people: Down the Bay. Today, community members, oral historians, and archaeologists are working to acknowledge and preserve the history and culture of the neighborhood.
Exploring the origins of Down the Bay, the land was first made a part of Mobile in 1819; however, the area didn't start to build its reputation as a community until the late 1800s and early 1900s. This is evidenced by a possible newspaper reference from the year 1860 and an observable increase in housing shown on historic maps from the time. Maps and newspapers alone could not tell us where exactly Down the Bay was, which is why it is necessary to interview those who experienced life in the neighborhood.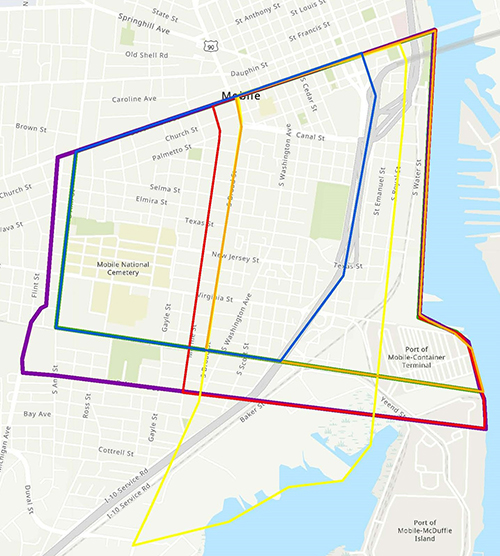 Down the Bay's boundaries vary, depending on who you ask. The boundaries above were collected from oral histories with community members.
Through a collection of retellings, Down the Bay's boundaries are generally defined as: North to Government Street, South to Baltimore Street, West to Broad Street (or sometimes as far as Michigan Avenue), and East, of course, being Mobile Bay (above). Down the Bay is remembered as a thriving, self-sustained interracial community. This diversity fostered the establishment of Black and immigrant-owned businesses. Black first responders, cab companies, newspapers, stores, cinemas, 'juke joints', and over 32 churches and 1 mosque are all proud achievements Down the Bay boasts throughout its lengthy history. Further, Down the Bay birthed a great many legends from influential Civil Rights leader John L. LeFlore, to baseball stars Hank Aaron, Satchel Paige, Willie McCovey, and Amos Otis.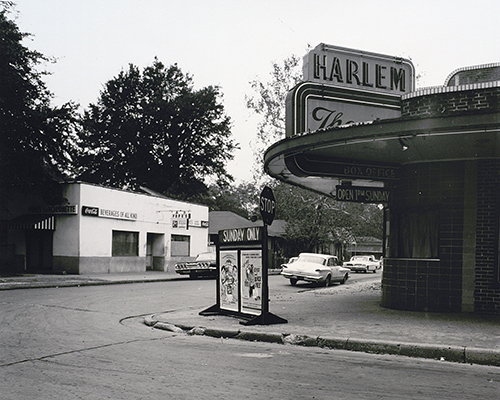 The Harlem Theater and Pope's Luncheonette. Mobile Housing Board Collection, the Doy Leale McCall Rare Book and Manuscript Library, University of South Alabama.
Former Down the Bay resident Marjorie Jones describes the neighborhood in her book Who Are You: Staking a Claim in this Land: "There was rarely a reason to leave the community because most everything was in walking distance. A feeling of security existed and it was a city with its own culture, pride and roots." Down the Bay was a strong community in all aspects from neighborly compassion to economic standing. Beginning in the 1950s, Down the Bay was reshaped through the construction of I-10 and the City of Mobile's urban renewal efforts (below). While Down the Bay remains a community today, many businesses were closed and families were displaced.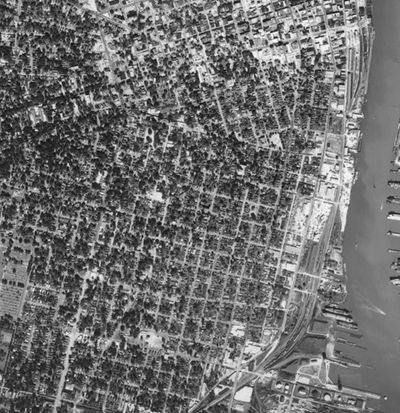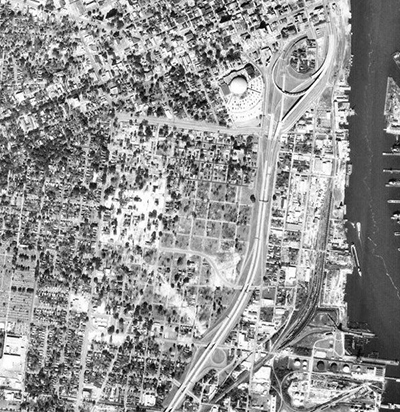 Left: 1960 Aerial photo of Down the Bay. Right: 1974 Aerial photo of Down the Bay after I-10 construction, the Texas Street Urban Renewal project, and the construction of the Civic Center. Courtesy of the University of Alabama Map Library.
Oral history aims to collect and preserve public memories through interviews. To be truly effective, oral historians create space in the archives for narratives that might not otherwise be formally recorded. The McCall Library Oral History Team is currently working to record these memories through the Down the Bay Oral History Project. With the combined efforts of historians and community members, we are that much closer to celebrating all that makes Mobile, rich with culture.
This blog post was written by Brandon Clark, a Communications student at the University of South Alabama. If you're interested in contributing your memories to the Down the Bay Oral History Project, call (251) 341-3900 or email oralhistory@southalabama.edu. This effort is part of the I-10 Mobile River Bridge Archaeology Project. Stay tuned for more updates about our archaeological and oral history projects!
Reference:
Jones, Marjorie. Who Are You? Staking a Claim in This Land. Available at the Doy Leale McCall Rare Book and Manuscript Library at the University of South Alabama.
---
---